Good Morning, BellaNaijarians, It's a bright and sunny Thursday!
How are you all doing? Hope great! BN is back with this week's edition of Events This Weekend, where Africa's pace setter for all things entertainment, fashion, lifestyle, music and loads more, brings you all the most buzzed about events and places of interests to be spotted this weekend.
We have searched high and low, wide and far to bring you all the best of events from Lagos, Abuja, Enugu and Rivers. So sit back, relax, grab a soda and see for yourself where you need to be spotted with your loved ones.
Keep dreaming BIG, stay safe and always show love. See you next week.
Ciao!
Sunny Rose Shopping Spree
Nigerian design label, Sunny Rose would be having a shopping spree on all its collections. Admission is free for all.
Date: Thursday 8th November 2012 – Friday 9th November 2012
Time: 12 Noon – 7 PM
Venue: Sommerset Hotel, Usuma Street, Maitama, Abuja
___________________________________________________________________________________________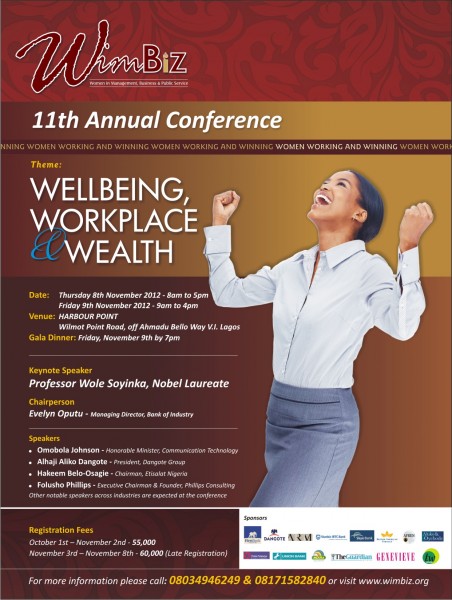 WimBiz 11th Annual Conference: Wellbeing, Workplace & Wealth
Today, the 11th Annual Conference of WimBiz tagged "Wellbeing, Workplace and Wealth" will take place in grand style at Harbour Point, Victoria Island, Lagos. The keynote speaker is Prof Wole Soyinka and the conference chair is Evelyn Oputu, the Managing Director of the Bank of Industry. Other speakers include Hakeem Belo-Osagie (Chairman, Etisalat) and Alhaji Aliko Dangote. The registration fee is N 55,000 – there are special discounts for ladies between ages of 25 and 30, be sure to contact them.
Date: Thursday 8th November 2012 – Friday 9th November 2012
Time: 8 AM – 5 PM
Venue: Harbour Point, Wilmot Point Road, Victoria Island, Lagos
Contact: For more information and general inquiries, call 08034946249 | 08171582840
______________________________________________________________________________________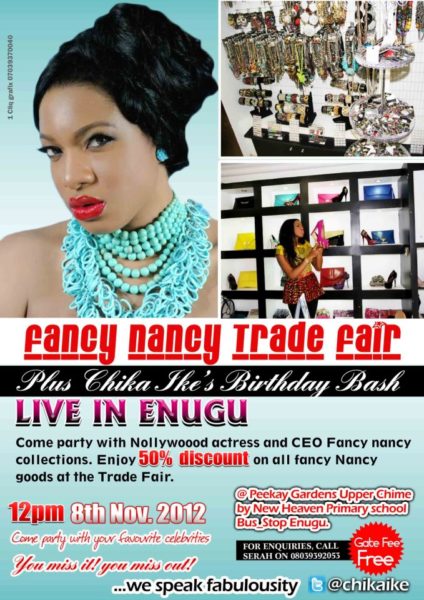 Fancy Nancy Trade Fair + Chika Ike's Birthday Bash
Nollywood star, Chika Ikeh's store, Fancy Nancy will hold a trade fair today in Enugu. She will also be throwing her birthday party as well. Come party with her and enjoy a 50% discount on all items at the store.  Admission is free for all.
Date: Thursday 8th November 2012
Time: 12 Noon
Venue: Peekay Gardens Upper Chime by New Heaven Primary School, Bus Stop, Enugu
Contact: For more information and general inquiries, call 08039392055
______________________________________________________________________________________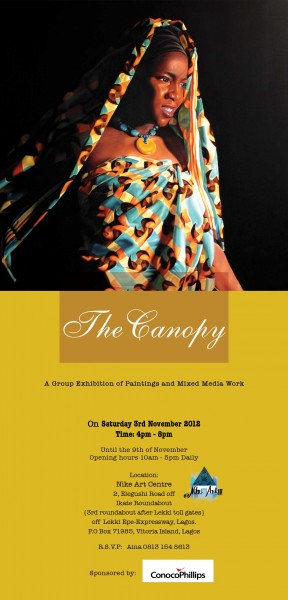 The Canopy
ConocoPhillips in association with Nike Art Centre presents The Canopy, an art exhibition exploring the relationship between mother and child, and a mother's role in Nigerian society. The exhibition will feature 7 up and coming artists, Badejo Abiodun, Tyna Adebowale, Oladimeji Alabi, Owolabi Ayodele, Olawunmi Banjo, Rafhue Distinction and Adeleke Akeem. These artists were chosen because of their vision, inspiration and commitment to the world of art. This Friday is the closing day.
Date:  Friday 9th November 2012
Time: 10 AM – 5 PM
Venue: Nike Art Centre, 2 Elegushi Road, Lekki, Off Lekki Epe-Expressway (3rd Roundabout after Lekki Toll Gates), Lekki, Lagos
Contact: For more information and general inquiries, call 08131548613
______________________________________________________________________________________
Miss Campus Tourism Queen 2012 Finale
The Enugu State Government in partnership with S 'n'A BAF Online and House of Twich, will host the finale of the 2012 Miss Campus Tourism Queen this Friday. Performing artistes at the finale include Iyanya, Eva, Vector, Solid Star, Phyno, Doray and Fame.
Date: Friday 9th November 2012
Time: 1 PM
Venue: 125 Club/City Park, Independence Layout, Enugu
Ticket Prices: Regular N 1000 | Table of 6 N 15,000 | VIP N 3000
Contact: For more information and general inquiries, call 08037371477 | 08137061514 | 08086411157 | 08029153996
______________________________________________________________________________________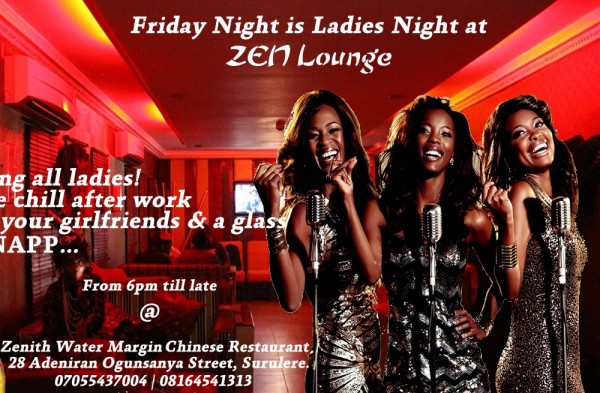 Ladies Night Out at Zen Lounge
Tomorrow, Friday 9th November 2012, will be another fabulous edition of Ladies Night Out at Zen Lounge, Surulere. The event is the perfect place for all ladies to relax and unwind with their colleagues after work, celebrate birthdays and bridal showers. Admission is free for all.
Date: Friday 9th November 2012
Time: 6 PM
Venue: Zenith Water Margin Chinese Restaurant, 28 Adeniran Ogunsanya Street, Surulere, Lagos
______________________________________________________________________________________
Se'Se' – A Special Birthday Celebration Party with Nse Ikpe-Etim
You are cordially invited this Friday to Deuces Bar Lounge for "Se'Se'", a special birthday celebration party organised by 360 Nobs for Nollywood star, Nse Ikpe-Etim. There will be performances by lots of Nigerian artistes. Admission is free for all.
Date: Friday 9th November 2012
Time: 9 PM
Venue: Deuces Bar Lounge, Chase Mall, 19 Ademola Adetokunbo Street, Victoria Island, Lagos
______________________________________________________________________________________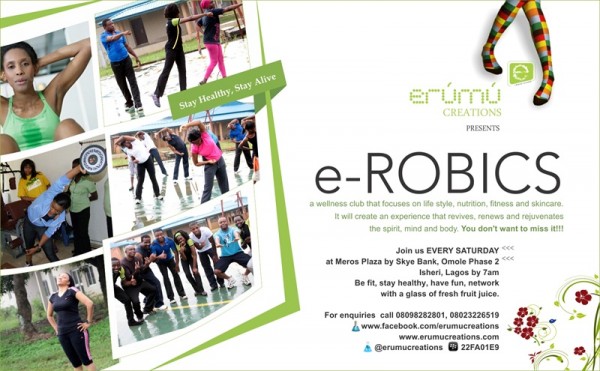 e-ROBICS
e-ROBICS is a wellness club that focuses on life style, nutrition, fitness and skin care. It will create an experience that renews and rejuvenates the spirit, mind and body and you are invited. Admission is free for all.
Date: Saturday 10th November 2012
Time: 7 AM
Venue: Meros Plaza by Skye Bank, Omole Phase 2, Isheri, Lagos
______________________________________________________________________________________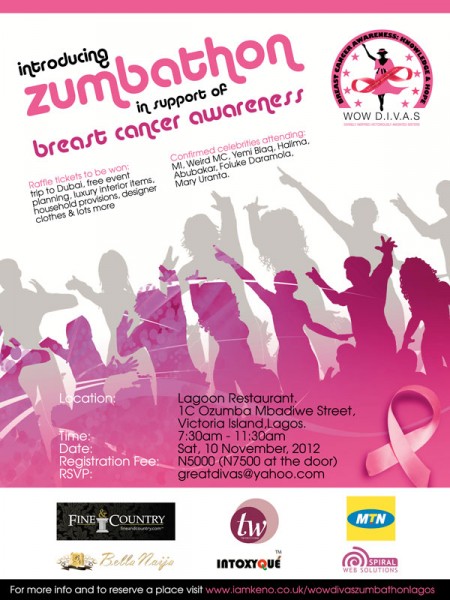 WOW D.I.V.A.S presents Zumbathon in Support of Breast Cancer Awareness
The WOW D.I.V.A.S, a network of international and professional women whose core mission is to impact society, one woman, one family, one nation at a time, will be hosting a Zumbathon (non-stop zumba dancing) in aid of Breast Cancer Awareness in Lagos this Saturday. The Zumbathon event will see in attendance some of Nigeria's favorite entertainers including MI, Weird MC, Yemi Blaq, Halima, Abubakar, Foluke Daramola, Mary Uranta, who have all confirmed their attendance and demonstrated a strong support for raising awareness for breast cancer. There will also be a surprise guest performance. Proceeds will go towards treating patients that are affected as well as the production and distribution of breast cancer awareness brochures. To register and reserve a space, log on to www.iamkeno.co.uk/wowdivaszumbathonlagos
Date: Saturday 10th November 2012
Time: 7.30 AM – 12 Noon
Venue: Lagoon Restaurant, Ozumba Mbadiwe Street, Victoria Island, Lagos
Dress Code: Pink, Black or White
Ticket Price: N 5,000 in Advance and N7,500 at the Door
______________________________________________________________________________________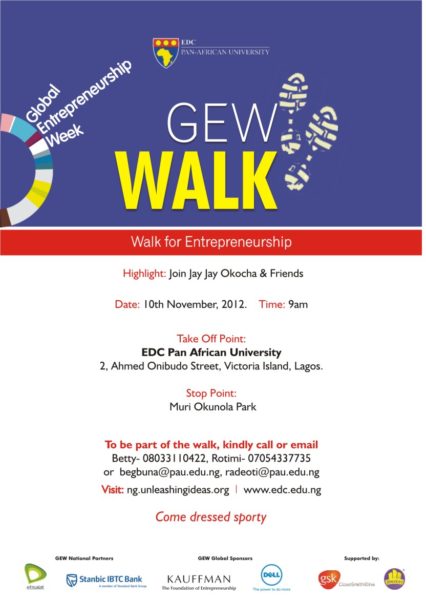 Global Entrepreneurship Week Walk
As part of its global efforts to promote entrepreneurship and innovation, the Enterprise Development Centre (EDC) of  the Pan African University in collaboration with host organizations is promoting the Global Entrepreneurship Week. To kick off the Global Entrepreneurship Week 2012, there will be a campaign walk in Lagos to create awareness of entrepreneurship. Pro-Footballer, Jay Jay Okocha will also be joining in the walk which will take-off at the EDC Pan African University, Victoria Island, Lagos. To be a part of the walk, be sure to contact them. All attendees are advised to come in their sports wear.
Date: Saturday 10th November 2012
Time: 9 AM
Venue: EDC Pan African University, 2 Ahmed Onibudo Street, Victoria Island, Lagos
Contact: For more information and general inquiries, call 08033110422 | 07054337735 | e-mail [email protected] | [email protected]
______________________________________________________________________________________
LaPosh Virgin Hair Sale Extravaganza
Get quality human hair extensions this Saturday at the LaPosh Virgin Hair Sale Extravaganza. Attendees will get to buy all human hair types and accessories at an affordable rate. Admission is free for all.
Date: Saturday 10th November 2012
Time: 9 AM – 7 PM
Venue: Silverbird Galleria, 133 Ahmadu Bello Way, Victoria Island, Lagos
Contact: For more information and general inquiries, call 08138041288 | add BB pin 28EC607B
______________________________________________________________________________________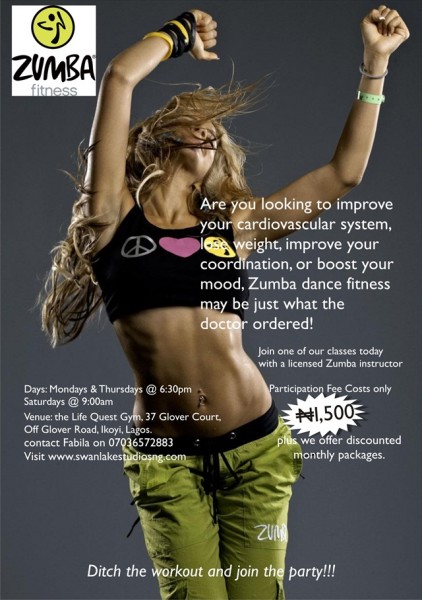 Zumba Fitness Training
Are you looking to improve your cardiovascular system, lose weight, improve your coordination or simply boost your mood? Then join Zumba Fitness training taking place this Saturday and Monday.
Date: Saturday 10th November 2012 & Monday 12th November 2012
Time: Saturday 9 AM | Monday 6: 30 PM
Venue: The Life Quest Gym, 37 Glover Court, off Glover Road, Ikoyi, Lagos
Fee: N 1500
Contact: For more information and general inquiries, call 07036572883 | Log on to their website
______________________________________________________________________________________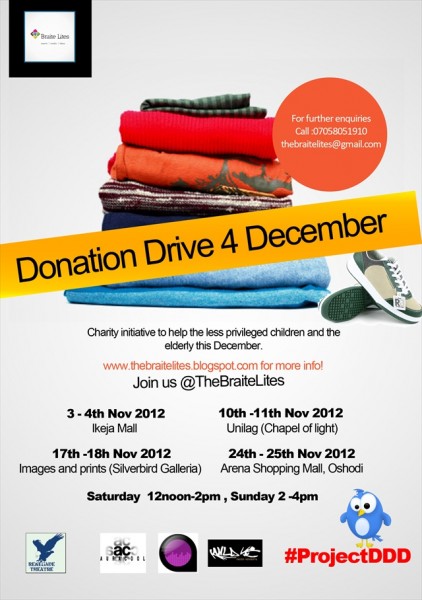 Donation Drive for December
Braite Lites has introduced an initiative, Donation Drive for December aimed at helping the less privileged by giving them food items, clothes, shoes, and lots more. They have set up 4 collection centers and this Saturday and Sunday, they will be present at the UNILAG Chapel of Light to collect donations.
Date: Saturday 10th November 2012 – Sunday 11th November 2012
Time: Saturday 12 Noon – 2 PM | Sunday 2 PM – 4 PM
Venue: University of Lagos Chapel Of Light, Akoka, Yaba, Lagos
Contact: For more information and general inquiries, call 07058051910 | 08028386151 | e-mail [email protected]
______________________________________________________________________________________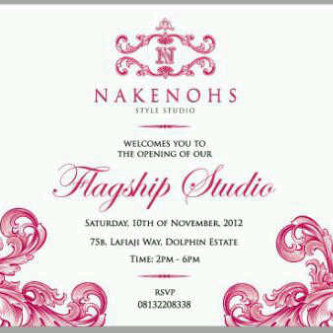 Nakenohs Style Flagship Studio Opening
You are invited to the opening of Nakenohs Style flagship studio this Saturday. Admission is free for all!
Date: Saturday 10th November 2012
Time: 2 PM – 6 PM
Venue: 75B Lafiaji Way, Dolphin Estate, Lagos
_______________________________________________________________________________________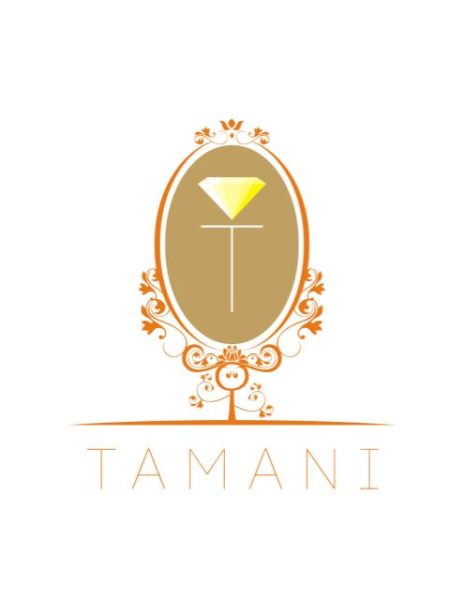 The Official Opening of Tamani
This Saturday in the Nation's oil rich city, Port Harcourt, fashion accessories boutique, Tamani will officially open its flagship store. The store's owner, Nana Dikibo Marshall-Harry will showcase international and home-made designer accessories and attendees will be able to shop for watches, shoes and bags at an affordable rate. Admission is free for all.
Date: Saturday 10th November 2012
Time: 3 PM
Venue: 95 Woji Road, GRA Phase 2, Port Harcourt, Rivers State
______________________________________________________________________________________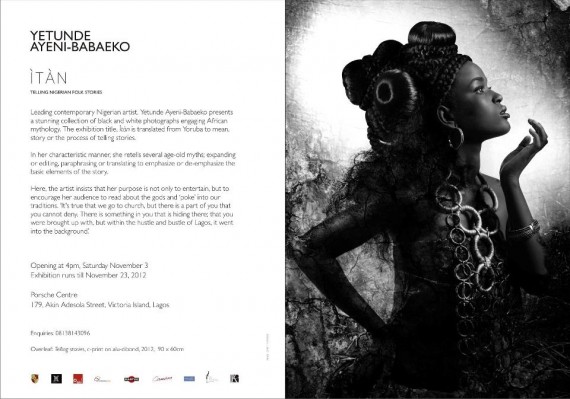 Yetunde Ayeni-Babaeko Unveils the Mystery of "Itan"
Acclaimed photographer and artist, Yetunde Ayeni-Babaeko will unveil a collection of black and white photographs engaging African mythology. The exhibition, Itan is translated from Yoruba to mean, story or the process of telling stories. The event according to the artist is not only to entertain, but to encourage her audience to read about the gods and poke into our traditions. Works will be presented as photography prints mounted on Di-Bond. Admission is free for all!
Date: Saturday 10th November 2012 – Friday 23rd November 2012
Time: 4 PM
Venue: Porsche Center, Akin Adesola, Victoria Island, Lagos
______________________________________________________________________________________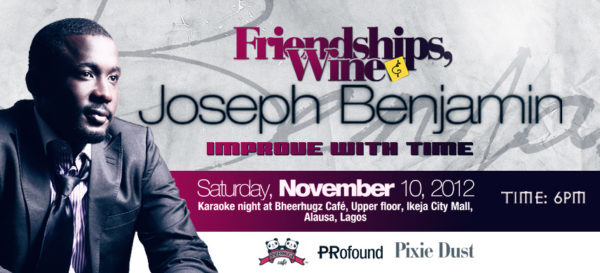 Friendships, Wine & Joseph Benjamin
Join Nollywood star, Joseph Benjamin this Saturday at the BheerHugz Cafe, Lagos at an event where attendees will talk about all things friendship, sip on refreshing cocktails while mingling and asking Joseph Benjamin all they want to know.
Date: Saturday 10th November 2012
Time: 6 PM
Venue: Karaoke Night at BheerHugz Cafe, Upper Floor, Ikeja City Mall, Alausa, Ikeja
______________________________________________________________________________________
Runway 3 – Fashion & Music Event
It's going to be a fun Saturday in Abuja this weekend as the 3rd edition of the Runway, a fashion and music event will take place in style. The event which promises to be fun filled from start to finish, will feature a mix of 12 menswear and womenswear designers showing exclusive collections with thrilling interludes of music and comedy performances. An after party will be held at Vanilla.
Date: Saturday 10th November 2012
Time:  7 PM
Venue: ThisDay Dome, Abuja
Ticket Prices: Gallery N 3,500 | Regular N 7,000 | VIP N 20,000 & N 190,000 For 10 Seater Tables | Cabanas N 350,000 for 10 Seater
Ticket Locations: Lake Chad Palace Hotel, 4 Lake Alao Close, off Lake Chad Crescent, Maitama, Abuja | Hayah Fashion, Shop C02 Maitama Shopping Complex, FHA, Maitama, Abuja | Bold & Beautiful, 2nd floor, Israel Plaza, Opposite Wine Shop, Wuse 2, Abuja | Dzyn Couture, Ground Floor, Asokoro Shopping Mall, off T.Y. Danjuma Crescent, Asokoro, Abuja | Add Ons, 2A, ABM Plaza, Opposite Utako Mkt, Utako, Abuja
Contact: For more information and general inquiries, follow them on Twitter and log on to website 
______________________________________________________________________________________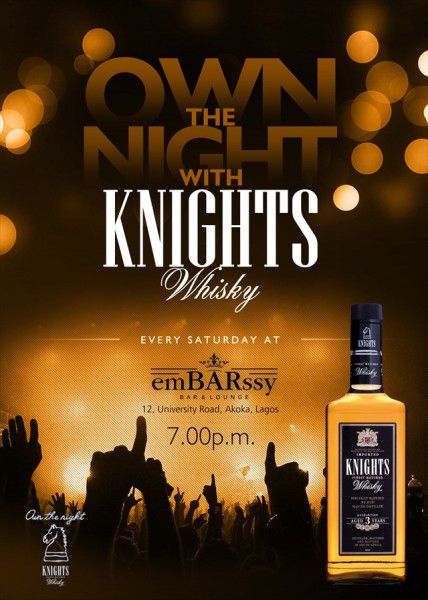 Own the Night with Knight Whisky
Top Nigerian comedian, Basketmouth's club, emBARssy Lounge will hold another fun edition of its soiree tagged "Own the Night with Knights Whisky". Be sure to come and join Basketmouth and other celebrities at the party. Admission is free for all.
Date: Saturday 10th November 2012
Time: 7 PM
Venue: emBARssy Lounge, 12 University Road, Akoka, Lagos
______________________________________________________________________________________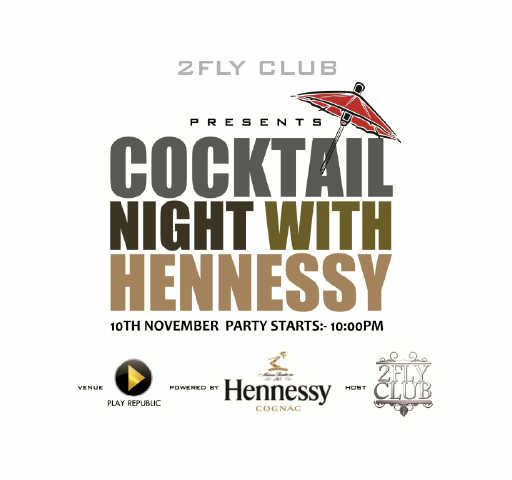 2Fly Club presents Cocktail Night with Hennessy
Join the fun and excitement this Saturday at 2FlyClub Abuja as they hold a fun edition of Cocktail Night with Hennessy. There will be a special bartender serving exotic Hennessy based cocktails and attendees will take home complimentary gifts. To attend, call 08066261222 or send an e-mail to [email protected].
Date: Saturday 10th November 2012
Time: 10 PM
Venue: Republic of Play, 167, Adetokunbo Ademola Street, Wuse 2, Abuja
______________________________________________________________________________________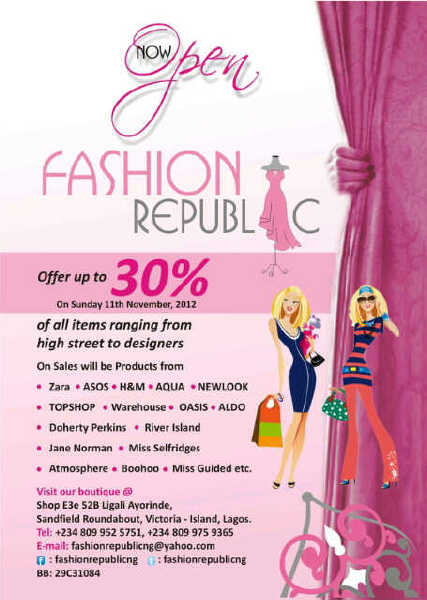 The Opening of Fashion Republic
Winner of the 2012 Sisi Oge  Beauty Pageant, Sikeola Olowe is diversifying into the fashion world with the launch of a fashion retail store called Fashion Republic. The beauty queen has promised that all items on sale at the store will include affordable brands like Asos, Zara, H&M, New Look, Top Shop, Miss Selfridges, Aldo and many others. There will also be exciting offers for all guests and gift vouchers for the first 50 people.
Date: Sunday 11th November 2012
Time: 9 AM – 6 PM
Venue: Store E3E Abeni Shopping Plaza, Ligali Ayorinde  (Round About) Victoria Island, Lagos
______________________________________________________________________________________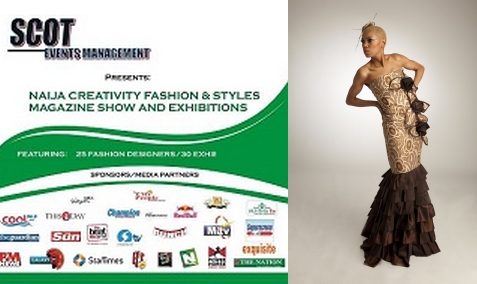 Naija Creativity Fashion & Styles Magazine Show & Exhibition
The Naija Creativity Fashion and Styles Magazine Show and Exhibition hosted by Denrele Edun and Fagboye Rachel, will take place this Sunday in Lagos at the Golden Tulip Hotel. Designers scheduled to attend include, Adebayo Adegbe of Modela Couture, Frank Richard Oshodi of House Of Bunor, Ohimai Atafo of Mai Atafo Inspired, Folake Folarin Coker of Tiffany Amber, Zizi Cardow of "Zizi" Design and Estella Couture. There would be musical performances by Flavour, Vector, Kas, Sound Sultan, Chidinma, Solid Star, Korede Bello, Rock Steady and Dickin-C while rib cracking jokes will be provided by Seyi Law Plenthy Mouth, Aje Baba and Mr Melody 4 Comedy.
Date: Sunday 11th November 2012
Time: 1 PM
Venue: Banquet Hall, Golden Tulip Hotel, Lagos
Ticket Prices: Regular N 2000 | VIP N 5,000 | VVIP N 8,000 | Table of 5 N 75,000 | Table of 8 N 100,000
Ticket Locations: Banquet Office, Golden Tulip Hotel, Lagos | All Taste Fried Chicken(TFC) Outlets | Silverbird Galleria, 133 Ahmadu Bello Way, Victoria Island, Lagos | Ozone Cinemas. 1-11 e-Commercial Avenue, Yaba, Lagos | Shoprite Mall in Surulere and Victoria Island | Lagos State Government (LASAA OFFICE), Amuwo Odofin, Lagos
________________________________________________________________________________________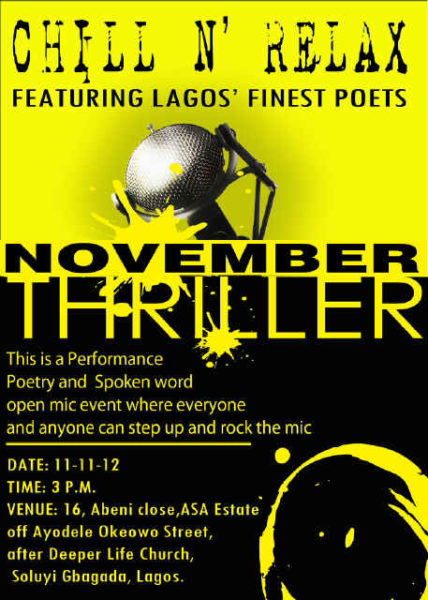 Chill & Relax presents November Thriller
This Sunday, the November edition of the monthly performance poetry and spoken word open mic event, Chill and Relax featuring Lagos' finest poets, will take place once again. Tagged the "November Thriller", the event where you can display your poetic prowess with no inhibition, is free for all to attend.
Date: Sunday 11th November 2012
Time: 3 PM
Venue: 16 Abeni Close, Asa Estate, off Ayodele Okeowo Street, After Deeper Life Church, Soluyi, Gbagada, Lagos
______________________________________________________________________________________
The Wives
The Performing Arts Workshop and Studio is back at Terra Kulture this November with another thrilling stage play, The Wives, written by Ahmed Yerima and directed by Kenneth Uphopho. The producers are giving all prospective attendees an offer; for every 2 tickets you buy, you get 1 free.
Date: Sunday 11th November 2012
Time: 3 PM & 6 PM
Venue: Terra Kulture, Plot 1376 Tiamiyu Savage off Ahmadu Bello Way, Victoria Island, Lagos
Ticket Prices: Students with ID N 1,500 | Regular N 3,000
_____________________________________________________________________________________________
BellaNaija.com is not responsible for the organization or further promotion of these events, neither do we have a stake in their sales or popularity. Inclusion in "Events This Weekend" is Free. Contact – adsales (at) bellanaija.com on or before Wednesday every week if you will like your event to be included. Note that BN reserves the right to choose which events are featured. "Pay to attend" parties attract a fee