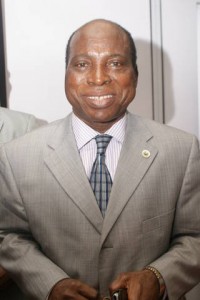 The governing council of University of Lagos (UNILAG) has announced the appointment of Professor Rahamon Adisa Bello, a Professor of Chemical Engineering as the 11th Vice-Chancellor of the university. This is coming six months after the death of the former Vice Chancellor, late Professor Adetokunbo Sofoluwe who passed on during his tenure as VC.
According to a statement released by the University's governing council over the weekend, his appointment which is for a period of five years and takes effect from today, November 12, 2012.
Professor Bello who was the Deputy Vice-chancellor (Management Services) has been serving in the Office of the Vice-Chancellor in an acting capacity since May 12, 2012, following the death of former Vice-Chancellor, Professor Adetokunbo Sofoluwe.
The new VC obtained his first degree in Chemical Engineering (1974) from the  University of Ife (now Obafemi Awolowo University). He earned his M.A.Sc (1977)  and his PhD (1981) in Chemical Engineering  from the University of Waterloo, Canada.
He joined the service of the University of Lagos as Assistant Lecturer in 1977 and has risen steadily since then. He was appointed Deputy Vice-Chancellor (Management Services) in April 2010 and became the Acting Vice-Chancellor in May 12, 2012.
Professor Bello is married and blessed with four children, all of whom are alumni of the University of Lagos.
We wish him the very best as he begins his tenure as Vice Chancellor of the prestigious University.