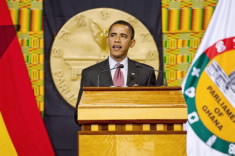 If you visit BellaNaija daily, you will see that there are so many amazing things happening on the African continent. In the midst of all the poverty and corruption, entrepreneurship is on the rise and the world is sitting up and taking notes.
On the 28th of November 2012, acting U.S. Commerce Secretary Rebecca Blank announced the launch of the "Doing Business in Africa " campaign. The DBIA campaign is part of a larger U.S. Strategy Toward Sub-Saharan Africa , which President Obama issued in June. The "Doing Business in Africa" campaign will promote economic growth, trade and investment in Africa.
In a message released to coincide with the launch of the campaign, President Obama outlined the reasoning for the campaign – "Through the DBIA campaign, we are responding to the emergence of African regional economic communities, and working with our partners to deepen integration, reduce barriers to trade and investment, and support existing and new investments by American businesses. By doing so, we continue the work of creating jobs and expanding economic opportunity that will help drive our economy and support the growth of our African trading partners…"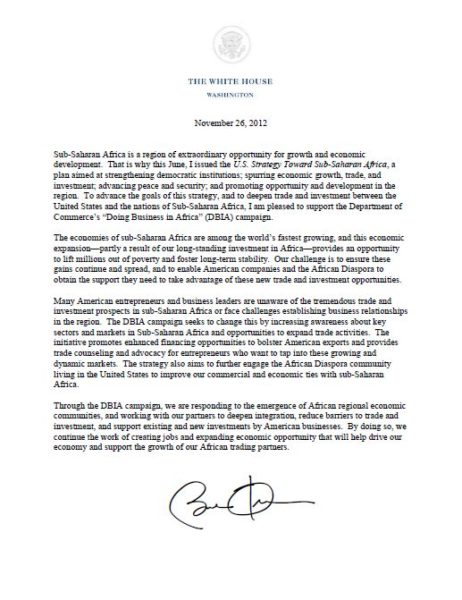 In a statement posted to the United States Department of Commerce blog, it states the connections of the campaign to the USA's current objectives for Sub-Saharan Africa – "The United States is pursuing four objectives in Sub-Saharan Africa: strengthening democratic institutions; spurring economic growth, trade and investment; advancing peace and security; and promoting opportunity and development. The new Doing Business in Africa campaign is a key part of this effort"
USA based businesses interested in pursuing opportunities in Sub-Saharan Africa can sign up via http://export.gov/africa/
This is good news as it opens up new opportunities for collaboration between Nigerian businesses and USA based businesses. Americans and Africans including Nigerians based in the USA who have been seeking ways to invest back home will have access to specially trained export counselors, take advantage of special trade programs, access special export financing programs and set inside scoop from top US officials. We hope that the Nigerian aspect of the campaign opens up soon as well.