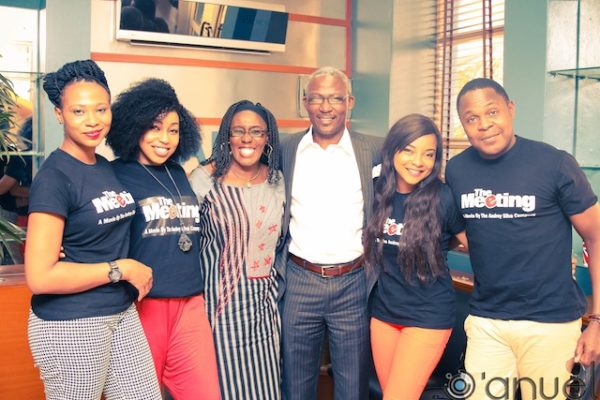 It's very refreshing to get all excited about the release of a movie and not get dissappointed after watching it. Mildred Okwo's romantic comedy, The Meeting was one of the most anticipated movies of 2012, but has lived up to the expectations of many as it has been getting fab reviews since its premiere in the cinemas.
Produced by Rita Dominic and Mildred Okwo and written by Tunde Babalola, the movie has been a crowd puller and a  favourite among viewers at the cinemas.
Some members of the cast including Rita Dominic, Nse Ikpe Etim, Linda Ejiofor and Femi Jacobs went on a media tour to promote the movie. They visited Channels TV where they spoke on a live programme, Sunrise, about their roles and experiences while shooting the movie. They also had a fun day at the cinemas interacting with their fans
The Meeting features Rita Dominic, Nse Ikpe Etim, Jide Kosoko, Femi Jacobs, Kate Henshaw, Chinedu Ikedieze Basorge Tariah and others. The story set in Abuja follows the trials of Lagos-based corporate executive, Makinde Esho (Femi Jacobs) who finds himself at the mercy of political patronage, bureaucratic red tape and Cupid's arrow while in hot pursuit of a 'meeting' to secure a government contract. The Meeting addresses an array of contemporary issues audiences are sure to identify with from love to African time, to the trials of tackling officials and maneuvering red tape.
So, want to find out what the movie is about, head to the cinemas today!
Watch their interview on Channels TV