Jewelry is a form of personal adornment and it includes bracelets, brooches, rings, neckpieces, earrings and wristwatches. They beautify, complement and add zest to an outfit. Sometimes, all an outfit needs to go from ordinary to extraordinary is a piece of jewelry.
Wrong  jewelry choices have landed elegant clothing pieces in worst dress lists and the modern woman is not ignorant about the importance of jewelry even if it only involves simple stud earrings. Picking the right piece of jewelry has, however, become the issue.
So how do you know what jewelry works for your outfit?
Determine what the jewelry is supposed to function as. If the jewelry is to be the focus of your outfit then you obviously want to ensure your clothing choices work around it.
If your jewelry is to complement your outfit then you have to choose the latter first. Since your jewelry is not the focus of your outfit, it is only reasonable you first put your clothing ensemble together, after which you choose the jewelry that should complement and match it.
Ensure your jewelry choice is suitable and fits the mood of the occasion or event you'll be wearing it to. For instance, while sexy oversized chokers might be more appropriate for a night out, smaller jewelry with simple design would be more fitting in a professional setting.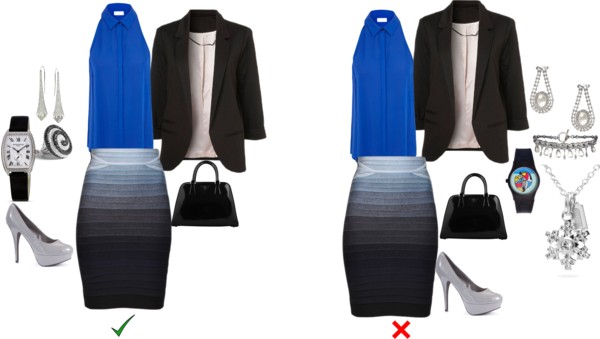 One jewelry piece doesn't fit all. While some jewelry pieces can match a variety of outfits, ensure jewelry choices always complement outfit choice and this is where most individuals get it wrong. So how do you match your jewelry to different types of outfits?
• Embroidered outfits – This kind of detailing on outfit is normally associated with our traditional local fabrics. You want to pick simply designed jewelries most especially when the embroidery has a lot of detail. The error a lot of individuals make is wearing neckpieces on clothing with lots of detailed embroidery on the neck area. The jewelry choices should enable the embroidery stand out rather than trying to be the centre of focus.
• Clothing with dramatic designs such as frills, trimmings, high shoulder pads, etc – For clothing with such patterns and designs, an individual would do well to choose jewelries that play up the designs rather than clash with them. While an outfit with very high shoulder pads will look better with smaller earrings, a gown with frill at the neckline should go without a neckpiece and choose a bracelet instead.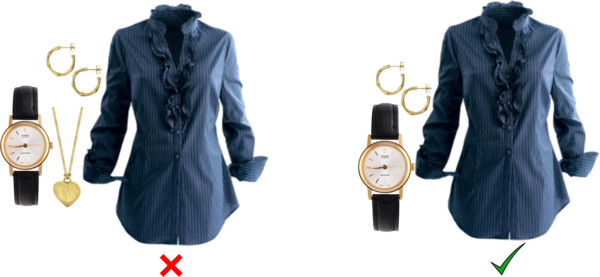 • Clothing made of sparkly fabric or adorned with gems, beads, sequins, etc – The best choice is simple jewelry with minimal design. While sparkling jewelry can be nice with clothing with sequins and sparkle, you only want the jewelry to resonate and complement rather than clash and try to be the focus.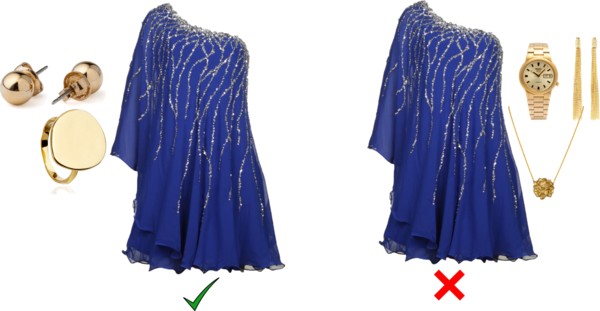 • Multiple layers of clothing – Multilayered clothing usually call for simple jewelry mostly when belts and scarves play an important role in the layering.
• Clothing with different colours – With a multicoloured outfit, the safe option is to pick neutral coloured jewelries like gold and silver. Choosing jewelry pieces in a colour that matches one of the colours on the outfit can be beautiful. Never choose different jewelry pieces in a bid to represent all the colours on the outfit e.g. green bracelet, red earrings, yellow neckpiece, etc because it will exude a tacky look and a disorganized appearance.
• Clothing made with intricately patterned fabrics e.g. lace – For fabrics such as lace that already have a lot of intricate detailing all over, the best options are simply designed jewelries with understated elegance. The jewelry should complement and bring out the beauty of the fabric.
• Simple outfits – This type of outfits enables allows for more freedom with jewelry choices most specially when the outfit is in one or two colours. With simple outfits, feel free to experiment and spice up the simplicity of the outfit with different choices.
Your jewelry choices should take cognizance of accessories. Accessories may include belts, bags, shoes, scarves, turbans, sunglasses, fascinators and headbands. When using a lot of accessories with clothing, jewelry should be minimal to avoid a muddled up appearance. For instance, if outfit includes a neck scarf, adding a neckpiece to the ensemble becomes a no-no. A brooch becomes a better option. Designs and patterns on accessories should also be taken into consideration when picking jewelries. A bag designed and adorned with gem stones all over will be best matched with simple understated jewelry pieces.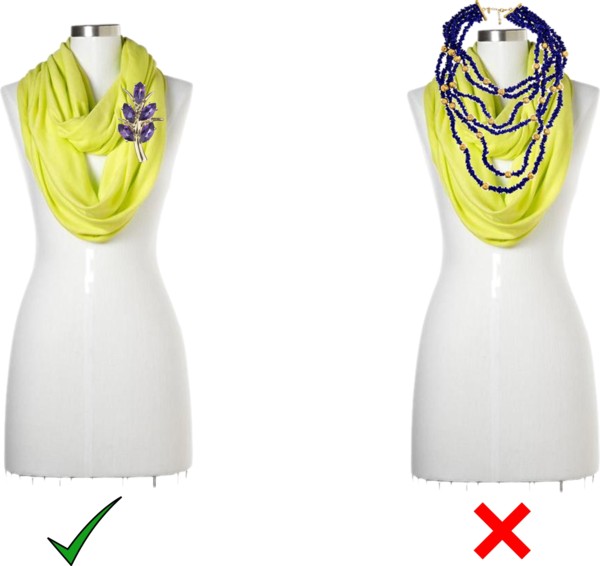 Jewelry should not converge at the same point with another jewelry, accessory or cloth detail. An example is a neckpiece that stops on the waist belt or long dropping earrings that end on dramatic details on shoulder of a garment. It looks tacky and exudes lack of organization and confidence. It is also not visually pleasing as it takes the eye everywhere.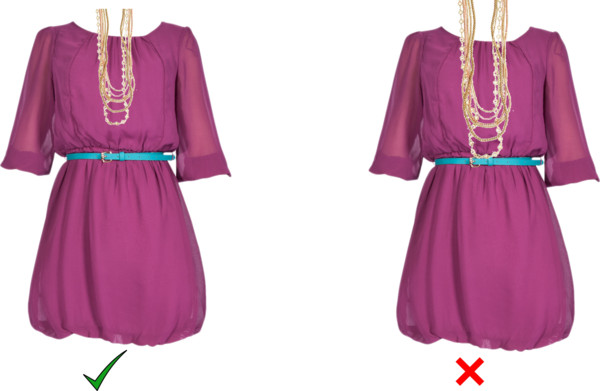 Be cautious picking the right quantity of jewelry for each ensemble. Sometimes all an outfit needs is a neckpiece and earring, other times it requires more than that but always pick the right quantity so as not to choke the beauty of your style ensemble with jewelry.
While considering jewelry for clothing, you also want your jewelry choices to flatter your features. After all what is the point of splurging and wearing jewelries that do your features no good. While there are no rules cast in stone in fashion there are some basic guidelines that can help you pick out the right type of jewelry that will suit you.
• It's best to pick jewelries that are in proportion to your size. While there is nothing wrong with having oversized or very tiny jewelry pieces, let most of your jewelry selections resonate with your size because truth is they are more flattering.
• With face shapes, it's best not to pick earrings that resembles the exact shape of your face. Big loop earrings will only make a round shaped face rounder.
• For necks, avoid long neckpieces if you have a long neck as they will make the neck seem longer. While chokers will flatter long necks, individuals with short necks (most especially double chins) will do well to avoid thick chokers. A neck piece with a fine delicate design flatters short necks.
• Individuals who want to take away attention from broad shoulders should avoid putting brooches close to the shoulder area.
Your jewelry should be an expression of your personality and match your personal style. Select your jewelry in the same way you select your clothing and accessories because it is futile purchasing jewelry you are not comfortable with. It is great to step out of one's comfort zone once in a while however; it is more practical to pick more of what one is comfortable with and represents personal style. While an outgoing individual might prefer jewelry with lots of flair and flamboyance, an individual with a more reserved personality would likely favour smaller jewelry pieces with simple designs.
While you want your jewelry choices to complement your clothing so as to bring out the best of your personal style, remember no one gets it right all the time. Let the tips above act like a guide and try different things until you find out what works specifically for each particular outfit and generally for your personal style.
Photo credit (Feature image only): crystalkaysworld.wordpress.com
______________________________________________________________________________________________________
Agofure Eguono is an Economist who lives by the motto "live and let live". She is also a trained Image and Style Consultant, eclectic by nature and believes the world can only be a better place when everyone becomes a staunch disciple of love.