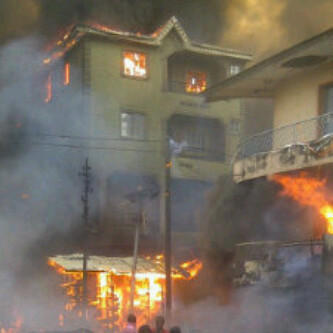 It is being reported that a warehouse containing fire crackers exploded in a storey building on Lagos Island this morning, with fire spreading to several houses and cars close by. Witnesses said fireworks were stored in the warehouse on Lagos Island, and the blaze quickly spread to other buildings.
The blast reportedly shook windows of homes several miles away and a thick cloud of smoke could be seen rising over the island. The fire caused panic to traders and shoppers.
According to Channels TV, the explosion reportedly occurred at 9:30 in Oroyiyin\Jankara area, Lagos Island as residents of the area marked boxing day.
National Emergency Management Agency spokesman, Yushau Shuaib said in a statement. "NEMA has mobilized response agencies and volunteers to an explosion in a building suspected to be loaded with (fireworks) in the Jankara area of Lagos. Search and rescue officers of NEMA having hectic time to reach the place due to traffic and crowds."
Two firemen showed up in a fire truck and local residents grabbed fire hoses to try and put out the flames. The explosion is reported to have caused an alarming vibration in the area while the noise was deafening.
A huge crowd was said to have besieged the area making it difficult for firefighters to put out the fire. More firefighters were drafted to the scene of the fire and security agencies have also helped in putting out the fire that reportedly gutted 15 adjoining buildings.
The casualty figure is yet unknown but some injured persons have been rushed to the hospital with serious burns.
Fire crackers are banned in Nigeria although it is commonly used during Christmas and New Year celebrations in the country.
UPDATE: According to Sahara Reporters, one person has been reported dead and about 40 people were injured in the fire.