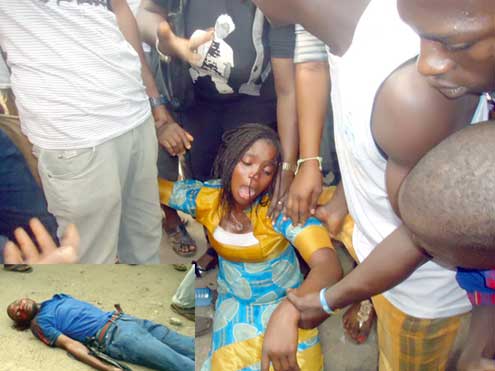 The importance of using pedestrian bridges when crossing busy roads was again emphasized on Tuesday 15th January 2013 after a sad accident which claimed the life of a middle aged man in Lagos.
The man had reportedly traveled safely with his wife from Ibadan to Lagos only to be crushed by a speeding vehicle at Ojota area of Lagos, just minutes after alighting from the bus. He was crossing the busy Ikorodu expressway when a speeding yellow commuter bus popularly known as danfo, crushed him. The pedestrian bridge which he ignored was just some metres away.
According to PM News, the couple left Ibadan at about 2.30 p.m only for the man to be killed minutes on arrival in Lagos at about 4.30 p.m. The bus driver, it was learnt, was fleeing from officials of the Lagos State Traffic Management Agency, LASTMA, who had sighted him plying a BRT lane, a restricted lane not meant for commuter bus drivers.
According to witnesses, the man's wife had thought her husband was by her side. However, after hearing the big bang, she looked back and saw him lying on the road with blood gushing out of his broken head.
What followed after the crash raises a lot of concern about this news story and emergency response services in Nigeria.
It was reported that because the man did not show any sign of life, coupled with the blood spread all around him, other passersby pronounced him dead right there without any medical report. Witnesses said there was no attempt to take the man to the hospital since he "was no longer breathing."
As the wife wailed uncontrollably and looked at the lifeless body of her husband in disbelief, many people held her and tried to console her but no one took her husband to the hospital on time to ascertain whether he was actually dead or only unconscious.
***
Doctors have often said that a man who does not seem to be moving after an accident or even breathing may still be alive. But this man was left on the road, bleeding, without any certified medical practitioner pronouncing him dead.
This is indeed worrying. Often times, people whose lives could have been saved if they had received prompt medical attention are wasted when accidents occur in Nigeria. Either for fear of being held responsible by the Police or the unavailability of proper ambulance and emergency response services, people are usually assumed dead before they eventually die.
We don't know if that was this man's case, or if he was killed on the spot, but his death is indeed sad. The Lagos Sate Government has continually encouraged people to take the pedestrian bridges to avert such disasters.
The series of such errors and infractions seem to have led to the death of Olamide, who left behind a young wife and probably some little innocent kids.
May his soul rest in peace.
Photo Credit: PM News