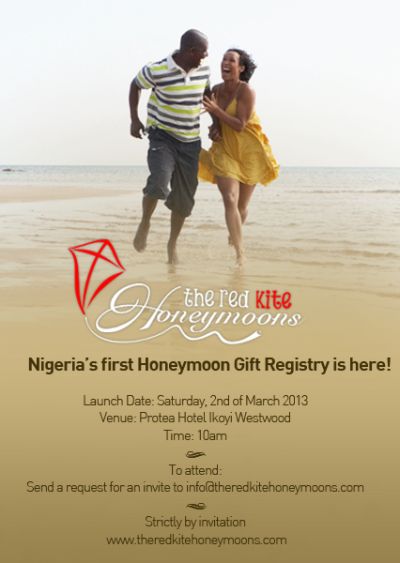 Every couple deserve an amazing honeymoon without much financial strain. To make this happen, The Red Kite Limited unveils Nigeria's first Honeymoon Gift Registry; The Red Kite Honeymoons.
It is an innovative gift registry that creates a new dimension to the concept of wedding gifts. Friends and family can now purchase different elements of a couple's honeymoon as a gift for them instead of/ in addition to the traditional wedding gifts thereby being part of creating memories that will last forever.
You are cordially invited to the launch of The Red Kite Honeymoons. To attend, send a request for an invite to [email protected] The event is strictly by invitation.
Date: Saturday 2nd March 2013
Time: 10AM
Venue: Protea Hotel Ikoyi Westwood. 22, Awolowo Road Ikoyi, Lagos
____________________________________________________________________________________________
Sponsored Content