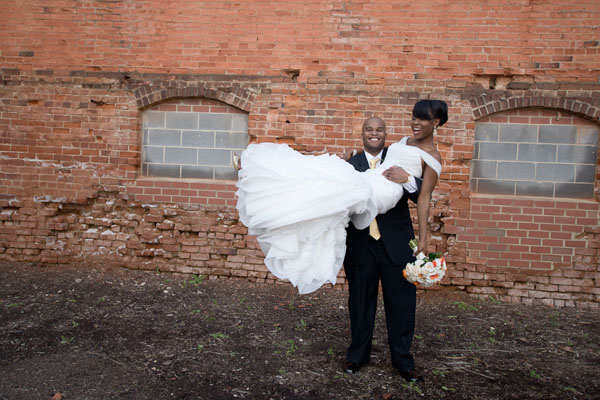 Yay! It's time to showcase another sweet celebration of love with Munaluchi Bride Magazine. BellaNaija Weddings has been collaborating with the luxe wedding publication to present some of the best weddings.
Today we have the uber intimate ceremony between Freshman sweethearts – Adebola and Thomas in North Carolina, USA. Adebola, a Nigerian OB/GYN resident physician and Thomas, an African-American oil and gas project manager met when they enrolled into Duke University and instantly hit it off.
For their wedding day, it was all about blending the Nigerian and American wedding traditions. Adebola dazzled all as she glided down the aisle with her father in a gorgeous wedding creation by Canadian based bridal designer Lis Simon. With her hair swept up into a chic chignon, she styled her stylishly artistic dress with drop earrings and sparkly sliver Jimmy Choo stilettos. She was surrounded by bridesmaids in pretty coral dresses.
Her beau Thomas complemented her in a sharp dark navy suit, light orange tie, a white shirt and black shoes.
We love the amazing attention-to-detail and cute yet significant elements of Adebola and Thomas' day, including flag pins for guests stating where they were from and taking photos at their college.
_____________________________________________________________________________________________
Bride: Adebola Falae
Groom: Thomas Stratton
Occupations: Bride – OB/GYN Resident Physician | Groom – Oil & Gas Project Manager
Wedding Date: Saturday 20th April 2013
Location: Duke University, North Carolina, USA
Photography: Jameka Autry at Paper Heart Weddings
The Wedding Details
From the bride:
The wedding day was a bit of a blur but it was truly the best day of our lives. There were so many great memories on the day from the impromptu dance battle at the reception, to signing the wedding registry witnessed by two of our closest friends; but the most memorable part of our day was visiting the dorm where our relationship began.
Thomas and I hadn't been to the Pegram Residence Hall together since we graduated college, so when we headed to Duke's East Campus following our wedding ceremony to take pictures at the dorm where we spent our formative first year of friendship together, it was always going to be memorable.
The campus was low key and serene with a few students studying on the quad. There is a tradition at Duke in which each year, the residents of each dorm will build a bench and paint the name of the dorm on it along with an indicative design. These designs range from clever and witty to downright lewd, so when we headed to Pegram not having seen the bench yet, we were a bit trepidatious.
When we arrived, however, the Pegram bench was perfectly painted in Blue and White with "Pegram" emblazoned on the bottom and a picture of the basketball court from Duke's famous Cameron Indoor Stadium painted on the top. Taking pictures there was definitely memorable and took us back to the genesis of our relationship as 17 year old freshmen.
As we were taking pictures on the bench, a couple of Duke freshmen girls walked by and asked "Did you guys go to Duke?". After hearing our response that we had and we'd actually both been residents of Pegram freshman year, the girl gave an us an "awwww" and exclaimed to her friend "See! there is hope!". I know the odds of meeting your future husband in your freshmen dorm are slim so perhaps her hope was a bit optimistic, but it was really cool to reflect on how lucky we both are to have found each other that way.
All things told, our wedding turned out more amazing than we could have ever anticipated. During the planning process, the conventional point of view is that a wedding is a celebration of the love between two people. What we found through this journey and our wedding day was that the celebration extended beyond the love between Thomas and I. Our wedding was truly a testament to and celebration of the love and effort that our families and friends have heaped onto us. We thank God daily for bringing the two of us together and we feel so blessed to have such amazing people in our lives.
Culture
Thomas is African American and I am Nigerian, so we definitely had a mix of cultures throughout our wedding. Thomas and I ended up having a traditional Yoruba ceremony the night before our wedding. There was Nigerian food, music, and attire on full display.
That colour and spirit carried over into our wedding day as all of the members of my family showed up in full Nigerian attire. Aso-Ebi (cloth of the family) was donned by majority of the Nigerian guests. Husbands and wives and sometimes sons and daughters wore these traditional Nigerian outfits with matching fabrics.
My father sported the Aso Oke consisting of an Agbada (a large flowing gown that covers from the neck to ankle and from the left wrist to the right wrist), a Buba (a loose and roomy top that is shorter and smaller than the agbada and falls to the knees. It has long sleeves extending to the wrists), Sokoto (roomy garment like a pair of pants with an elastic band or string to tie it at the waist) and of course his Fila (traditional hat).
Outside of the natural infusion of culture, we also wanted to make sure our guest book captured the diversity of friends and family in attendance, so instead of a traditional guest book, Thomas and I made a few canvas world maps and staged them with some writable flag pins so guests could write their name on a flag and pin it on the board indicating where they were from.
For more on the beautiful ceremony, click here – http://munaluchibridal.com/nigerian-and-african-american-wedding-by-paper-heart-weddings-adebola-thomas/
Vendors
Wedding Dress Designer: Lis Simon
Wedding Dress Salon: La Raine's Bridal Boutique – Atlanta, GA
Bridesmaids Dresses: The Dessy Group
Hair: Lavish Hair Spa – Durham, NC
Make-up: Tiwa Lawrence
Shoes: Jimmy Choo at Saks Fifth Avenue
Wedding Ceremony: Duke Chapel
Wedding Reception: The Cotton Room
Planner: Ad Bernstein
Photography: Paper Heart Weddings by Jameka Autry
Assistant Photographer: DaJuan Jones
Florist: Tre Bella Flowers
Cake: Cinda's Creative Cakes
Wedding Invitations: Wedding Paper Divas
D.J: Dare Kumolu-Johnson