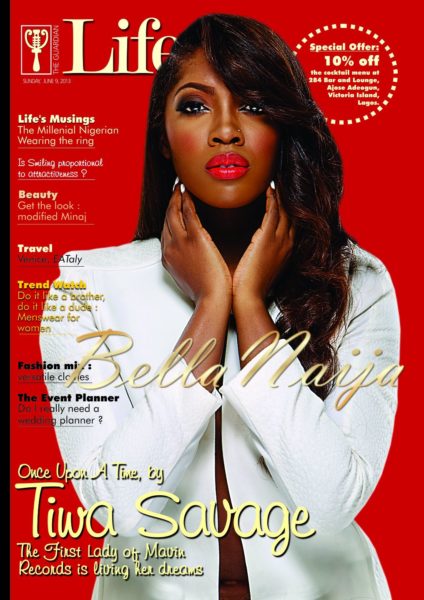 Life Magazine is a weekly that comes with the Guardian Newspaper on Sundays. Most recently, a new editor took over by the name of Tabia Princewill and she is very set to switch things up for the publication. Speaking to Tabia, she said:
"The magazine has been recently revamped. It is now a lifestyle magazine featuring lots of great new content such as travel, fashion, beauty, relationships and of course great interviews."
Since she took over her new post, she's had such cover personalities as  D'Banj, ACN National Press Secretary Lai Mohammed, Onyeka Onwenu,  Ilyasah Shabazz; Chimamanda Adichie, Dr Joe Okei-Odumakin and this week,  Tiwa Savage.
In this week's issue, they get the full lowdown on Tiwa Savage, from her early beginnings in the music industry all the way up to her forthcoming debut album, "Once Upon A Time". It also features an exciting article about Wedding planners by Yewande Rwang-Dung of Sara O Events.'
Speaking on this week's issue, Tabia says:
"There's a new section in the magazine called 'Inside men's minds'. This week's article is on 'wearing the ring', asking why Nigerian men refuse to wear their wedding rings when they are out. The 'fashion mix' article is our stylist's tips on how to combine different pieces, to make them versatile and fit different functions. Also, Adaku Ufere of thirdworldprofashional.com is also one of our contributors, this week and her article is on women's wear for men." [sic]
Share your thoughts!
Check on it!
Photo Credit: Tabia Princewill