Murad's clinically proven, scientifically innovative formulas make you look healthier and more youthful in a way no other products can. By offering high-performance ingredients in easy-to-use regiments, Murad products deliver beautiful skin and amazing confidence that have transformed the lives of millions of users across the globe. Only Murad products are guaranteed to deliver the flawless, healthy skin known the world over as the "Murad Glow".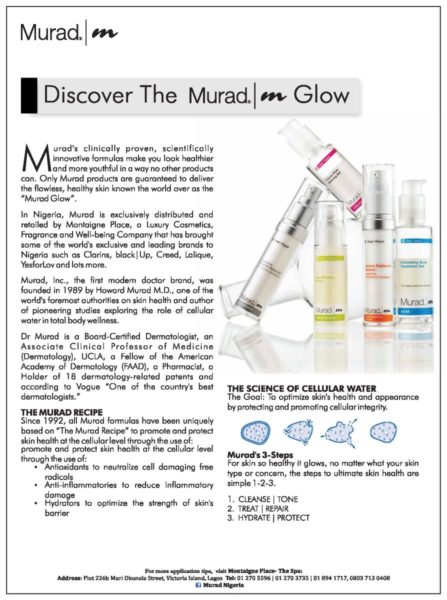 In Nigeria, Murad is exclusively distributed and retailed by Montaigne Place, a luxury cosmetics, fragrance and well-being company that has brought some of the world's exclusive and leading brands to Nigeria such as Clarins, black|Up, Creed, Lalique, YesforLov and lots more.
Murad's mission is to create topical skincare products and dietary supplements that transform lives by helping people look and feel confident, healthy and beautiful while transforming the skincare industry by raising the standards for performance and innovation. That's why transforming skincare is the promise of performance that stands behind every product we offer.
Murad products are formulated based in the science of cellular water. The world's most comprehensive approach to understanding health and aging, the science of cellular water looks at the ability of cell membranes to hold water within cells as the fundamental marker of youthful good health.
Murad, Inc., the first modern doctor brand, was founded in 1989 by Howard Murad M.D., one of the world's foremost authorities on skin health and author of pioneering studies exploring the role of cellular water in total body wellness.
Murad offers 130 high- performance, science-based, topical and internal skincare products and is headquartered in El Segundo, California. Murad is a family-run company, co-directed by Dr. Murad as CEO and his nephew, Richard Murad as General Manager.
Murad products are available in over 1,600 leading-spas, salons including over 400 Massage Envy locations as well as medical offices including the Montaigne Place- The spa in Victoria Island, Lagos and other Montaigne Place outlets across Nigeria. Murad is currently sold in 41 countries and is rapidly expanding its international presence.
Murad founder, Howard Murad, M.D., defines vision and direction for Murad, Murad Medical Group and Murad Research Laboratories and travels the world speaking both as a brand ambassador and skin-health educator. Dr Murad is a Board-Certified Dermatologist, an Associate Clinical Professor of Medicine (Dermatology), UCLA, a Fellow of the American Academy of Dermatology (FAAD), a Pharmacist, a holder of 18 dermatology-related patents and according to Vogue "One of the country's best dermatologists."
The Murad Recipe
Since 1992, all Murad formulas have been uniquely based on "The Murad Recipe" to promote and protect skin health at the cellular level through the use of:
• Antioxidants to neutralize cell damaging free radicals
• Anti-inflammatories to reduce inflammatory damage
• Hydrators to optimize the strength of skin's barrier
The Science of Cellular Water
The Goal: To optimize skin's health and appearance by protecting and promoting cellular integrity (ABCD goal points)
A. A healthy young cell has an intact membrane and the ability to hold
vital intra-cellular water.
B. Over time, age, disease, free-radicals, stress and inflammation attack the cell membrane.
C. When the cell membrane is compromised vital water seeps out and the cell starts to die.
D. The body is flooded internally with micro-nutrients to create the ideal environment for the production of healthy cells with the strongest membranes possible.
Murad's 3-Steps
For skin so healthy it glows, no matter what your skin type or concern, the steps to ultimate skin health are simple 1-2-3.
Cleanse | Tone
Wash your face twice daily to remove dirt, debris, makeup, dead skin cells and accumulate oils. Use toner- no more than twice a day- to restore skin's pH and prepare it for the next step.
Treat | Repair
This is the most important step of every skincare regimen. Use as instructed to repair existing damage and optimize the health of your skin so it can defend itself against further injury. This includes both topical and internal supplement care.
Hydrate | Protect
Apply a moisturizer to replenish and restore your skin. Be sure to use a sunscreen every day, regardless of your activities or the weather.
Product Range
Acne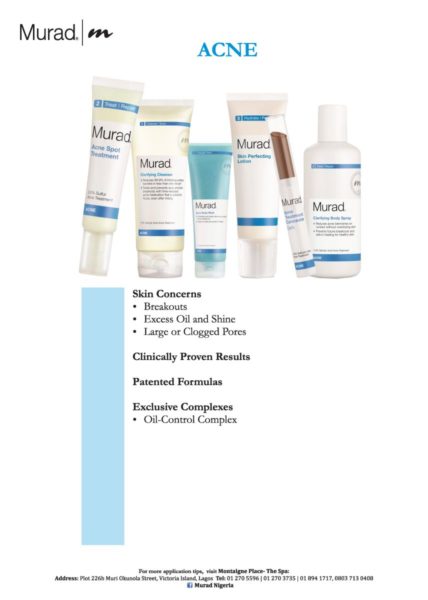 Skin Concerns
• Breakouts
• Excess oil and shine
• Large or clogged pores
Clinically Proven Results
Patented Formulas
Exclusive Complexes
• Oil-control complex
Anti-ageing Acne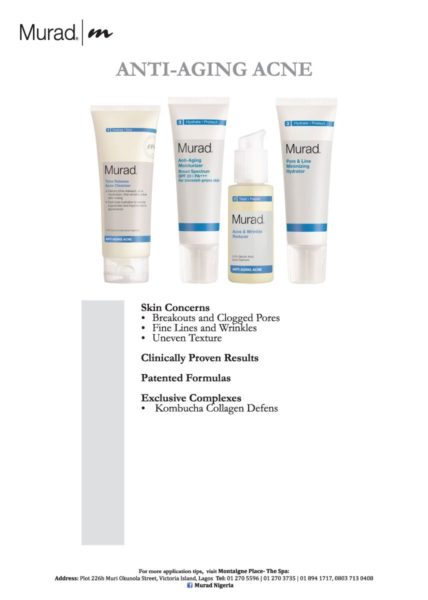 Skin Concerns
• Breakouts and clogged pores, fine lines and wrinkles
• Uneven texture
Clinically Proven Results
Patented Formulas
Exclusive Complexes
• Kombucha collagen defense
Age-proof Suncare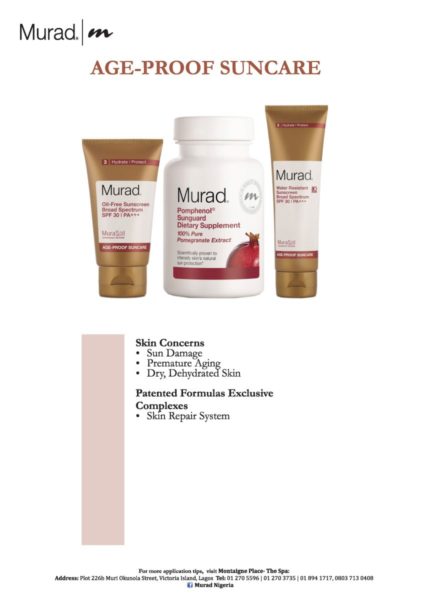 Skin Concerns
• Sun damage
• Premature aging
• Dry, dehydrated skin
Patented Formulas Exclusive Complexes
• Skin repair system
Age Reform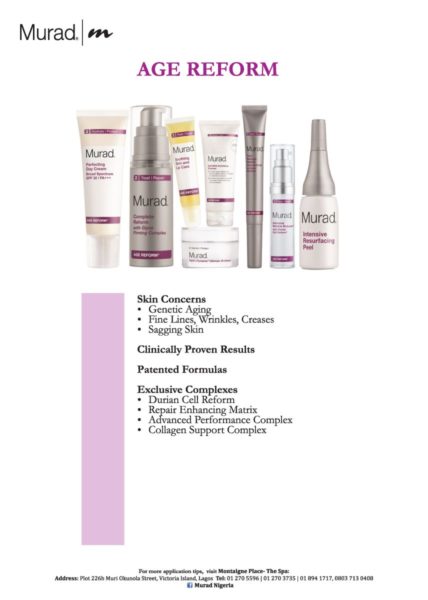 Skin Concerns
• Genetic aging
• Fine lines, wrinkles, creases
• Sagging skin
Clinically Proven Results
Patented Formulas
Exclusive Complexes
• Durian cell reform
• Repair enhancing matrix
• Advanced performance complex
• Collagen support complex
Bodycare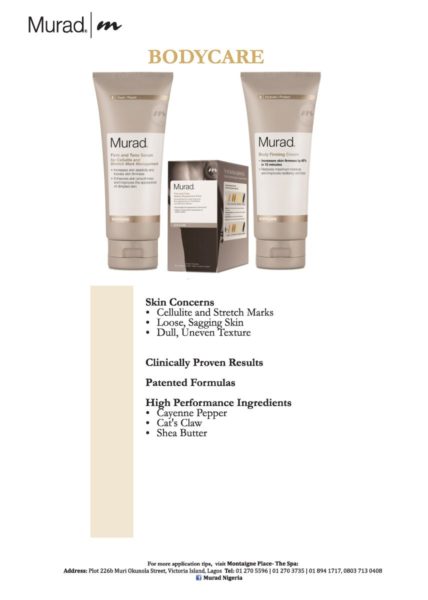 Skin Concerns
• Cellulite and stretch marks
• Loose, sagging skin
• Dull, uneven texture
Clinically Proven Results
Patented Formulas
High Performance Ingredients
• Cayenne pepper
• Cat's claw
• Shea butter
Environmental shield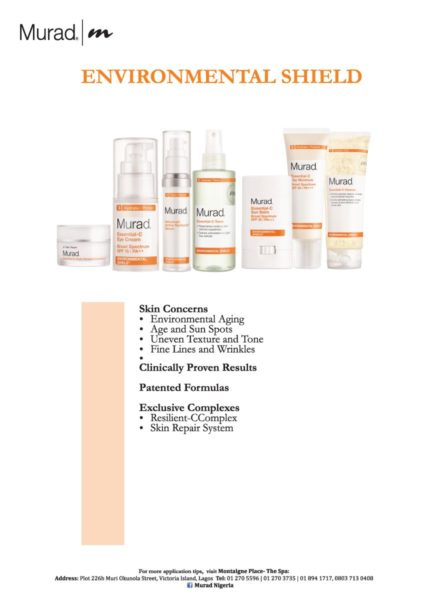 Skin Concerns
• Environmental aging
• Age and sun spots
• Uneven texture and tone
• Fine lines and wrinkles
Clinically Proven Results
Patented Formulas
Exclusive Complexes
• Resilient-CComplex
• Skin repairs Ssystem
Hybrids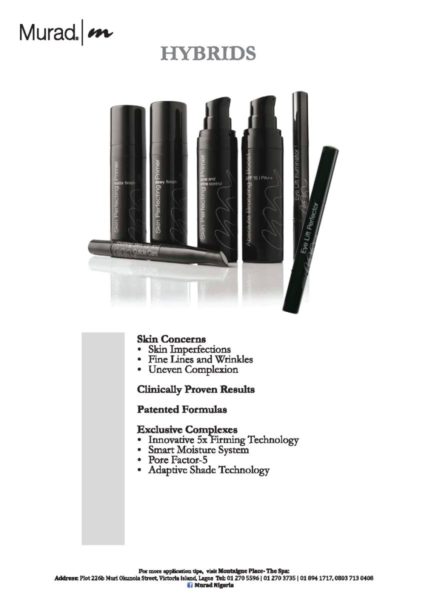 Skin Concerns
• Skin imperfections
• Fine lines and wrinkles
• Uneven complexion
Clinically Proven Results
Patented Formulas
Exclusive Complexes
• Innovative 5x firming technology
• Smart moisture system
• Pore factor-5
• Adaptive shade technology
• Probiotic complex
Murad Man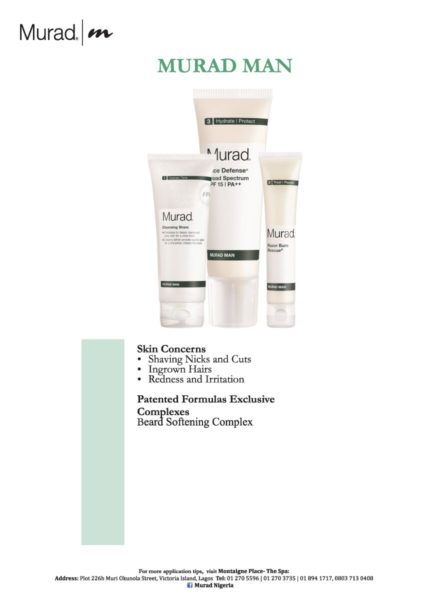 Skin Concerns
• Shaving nicks and cuts
• Ingrown hairs
• Redness and irritation
Patented Formulas Exclusive Complexes
Beard softening complex
Redness Therapy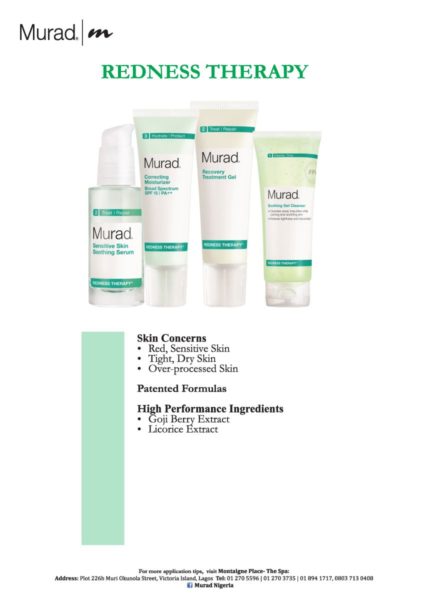 Skin Concerns
• Red, sensitive skin
• Tight, dry skin
• Over-processed skin
Patented Formulas
High Performance Ingredients
• Goji berry extract
• Licorice extract
Resurgence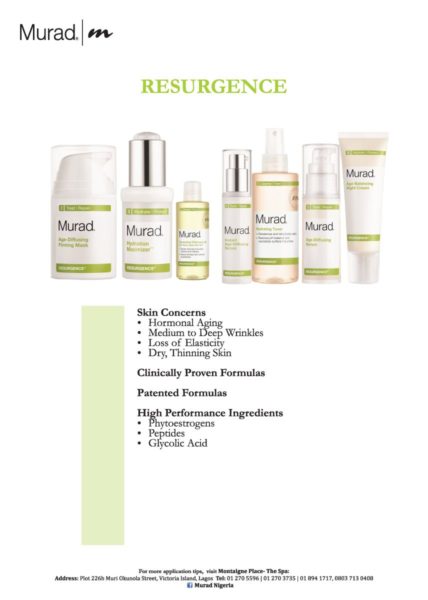 Skin Concerns
• Hormonal aging
• Medium to deep wrinkles
• Loss of elasticity
• Dry, thinning skin
Clinically Proven Formulas
Patented Formulas
High Performance Ingredients
• Phytoestrogens
• Peptides
• Glycolic acid
Vitalic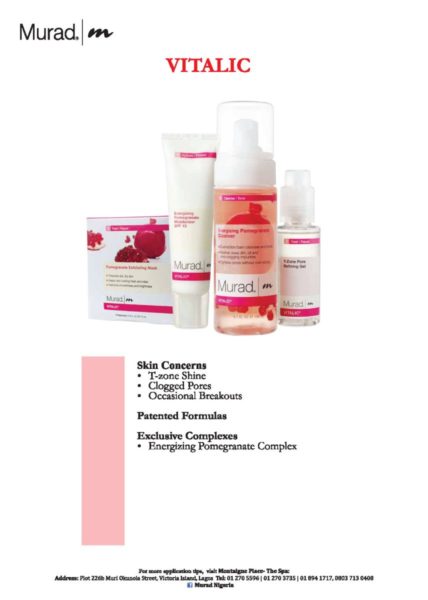 Skin Concerns
• T-zone shine
• Clogged pores
• Occasional breakouts
Patented Formulas Exclusive Complexes
• Energizing pomegranate complex
White Balance
Skin Concerns
• Discolorations and dark spots
• Inconsistent Sskin shading and texture
• Dull, lackluster skin
Clinically Proven Results
Patented Formulas
Exclusive Complexes
• 3X white technology
For more application tips, please visit Montaigne Place- The Spa: at Plot 226b Muri Okunola Street, Victoria Island, Lagos | Call: 01 270 5596 , 01 270 3735 , 01 894 1717 or 0803 713 0408 | Like them on Facebook: Facebook.com/Montaigne Place or Facebook.com/Murad Nigeria
You can also visit any of the following Montaigne Place\ Clarins outlets below
Montaigne Place
Address: Shop 16, Palms Shopping Centre, 1 Bis Way, Lekki Expressway, Victoria Island, Lagos.
Telephone: 01 851 7774 | 0806 486 3969
Montaigne Place
Address: Shop 8, Air Side, Departure Level, New Murtala Mohammed, Local Airport, Lagos.
Telephone: 01 279 9889
Montaigne Place
Address: Shop 10 Land Side, Departure Level, New Murtala Mohammed, Local Airport, Lagos.
Telephone: 01 448 2230
Montaigne Place Shop
Address: Ikeja City Mall, Shop L033, Obafemi Awolowo Road, Alausa, Ikeja
Telephone: 0819 045 0712
Montaigne Place
Address: Shop 8, Adebola Shopping Mall, 53 Isaac John Street, GRA Ikeja, Lagos.
Telephone: 01 270 7913
Montaigne Place
Address: Shop B7, Adeniran Ogunsanya Shopping Mall, Adeniran Ogunsanya Street, Surulere, Lagos.
Telephone: 0813 029 5258
The Clarins Shop
Address: Shop 13b & 14b, Delta Plaza, Balogun, Lagos International Tradefair Complex, Lagos- Badagry Expressway, Lagos.
Telephone: 0819 180 7801
Montaigne Place
Address: Silverbird Entertainment Centre, 1161 Memorial Drive, Cadastrial Zone, Central Business District, Abuja.
Telephone: 0819 180 7807
Montaigne Place
Address: Ground Floor, Worldway Plaza, 129 Aba Road, Port Harcourt, Rivers State.
Telephone: 084 462 975
Montaigne Place
Address: Genesis Center, Shop 2b1, Tombia Street, Gra Phase 2, Port Harcourt.
Telephone: 0819 045 0711
Montaigne Place
Address: Happy Bite Plaza, 1 Stadium Road, Opposite Air Force Base, Aba Road, Port Harcourt, Rivers State.
Telephone: 0819 180 7805
For Public Relations & Press contact please email Ono Bello for PR Uno at [email protected]
______________________________________________________________________________________
Advertorial – Sponsored Content