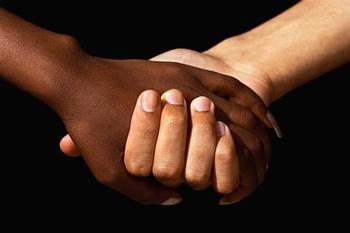 Seeing that I am a woman whose mother is mixed race, this topic has forever interested me. As a child growing up, I fantasised about my caucasian boyfriend. The boyfriend I would get once I went to school abroad. Don't get me wrong, it wasn't that I wasn't interested in any male Nigerians, it was just like the saying goes, you want what you can't have. As a child, my imagination was fuelled by posters I collected of some of the boy bands at the time like Busted, (Harry was my favourite), and actors on TV.
I recall how I fell in and out of love with the actors I saw on screen. A long time crush of mine was Wentworth Miller from Prison Break, and I had my heart broken when I found out that he was of a different sexual orientation. This however, did not stop me from going through the same process again and again and to be honest, it still hasn't fully stopped.
As I've grown older, travelled and experienced different cultures, I have realised how incredibly big the world is. As a third culture kid, that exposure has given me the ability to have rapport with almost anyone, not limited by age. However, what it has also made clear to me is how different people are. We could all have similar political ideals, similar financial backgrounds but what defines us is our culture, the way we were raised and our life experiences. That can be seen as a blessing but it can equally be viewed as a curse. For the purposes of this article, I do not want to see it as a curse, but rather a hurdle that must be overcome. The reason I say this, is because in a relationship, two ultimately become one, and seemingly minor differences are usually what cause relationships to fail, whether religious or otherwise.
I have noticed that in order for an inter – racial relationship to work, one of the partners will have to sacrifice a lot of themselves and their culture to ensure their relationship is successful. Take Nigeria for example, most of the mixed race people I know, their fathers are Nigerian and their mothers from different parts of the world. Their mothers left where they consider, 'home' and travelled to an entirely different country to be with who they love. We do not concern ourselves here with how they raise their kids, as the cultures are fused and the children are exposed to everything. We focus here on the couple, the man and the woman. They have made the ultimate sacrifice, but the question is: are they truly happy? Even though some of you will argue that they made the choice to move and thus are ultimately bound by it, the issue is that your spouse adopts a culture that is not theirs, one that they in certain situations get lost in.
On another note, someone I know made a comment recently, he stated, 'how will my Caucasian girlfriend flow with my friends and their future spouses. When we are cracking jokes about Nigeria and Nigerian culture, how much can she really contribute to the conversation?' I reprimanded him immediately saying that 'she obviously would be able to comment. She is your girlfriend for crying out loud – so she must be able to comment on some aspects of Nigerian culture.' He remarked that he didn't think it was possible and that was why he would never marry someone who wasn't Nigerian. Looking back on that conversation now, and in the interest of being controversial, he might have a point.
Bear with me for a second, someone who has not lived in Nigeria cannot really have a full idea of what life is like here. They might not understand the kinks of the system. The fact that most well off people have huge houses (in comparison to most English houses), the fact that it takes hours to get from Lekki to Ikoyi depending on the traffic, the fact that we call people 'Aunty and Uncle' even though we are not related to them is something they will grow to understand. However, there are things like how we had to 'pick pin' in primary school when we were naughty and used an iron over paper filled with Milo to make chocolate candy; or how we cooked Indomie using a kettle, and how we used to look forward to hot dog for breakfast. These are things that one can only understand if they have experienced it.
Therefore, although his girlfriend can comment on some aspects of Nigerian life, she can never really comment as an authentic Nigerian. You might ask me, why does it matter? Well, it does in the interest of integration. Your partner will need to be able to integrate with your friends and family who laugh and joke about these things regularly.
With that being said, does that mean that people should not be in inter-racial relationships? No, certainly not, but it comes with a lot of sacrifice, a lot of patience, tolerance and understanding.
Photo Credit: www.sodahead.com
_______________________________________________
Georgette Monnou was born in Lagos, Nigeria and has lived in various countries since then. She is in the final year of her Law degree in the UK. She updates her two blogs regularly, which are inspired by her passion for Nigeria and life itself.http://theunspokenwords93.blogspot.co.uk/ and http://wordsanddesigns.wordpress.com/.