Yay! Wedding bells are ringing so sweetly on BN Our Wedding Story today! Rolake and Tolu are not only a fun gorgeous couple they're also the best of friends! Their wedding was such an exciting time – you can feel the love and joy from the pictures and video of their first dance.
Enjoy!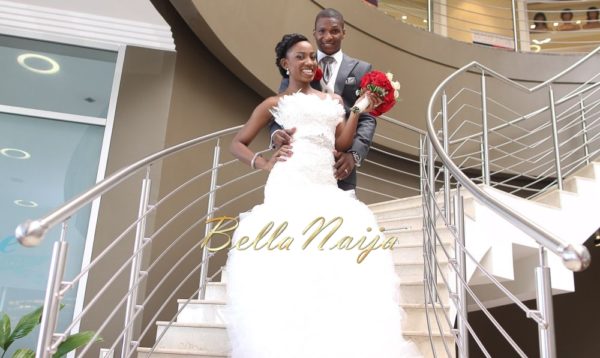 _________________________________________________________________________________________
How We Met
We met while in the University of Lagos sometime in 2003. A mutual friend introduced us and well, let's just say it wasn't love at first sight; she thought he was arrogant, he thought she talked too much.
Fast forward a couple of weeks. It turned out we were in the same faculty but he was a year ahead and in a different department. We got talking and realised we had so much more in common. Anyone who knows Tolu will agree that the guy has a silver tongue…there's something suave about the way he talks and I could listen to him forever. Okay, so I fell for him.
The Proposal
Okay, so Tolu and I left Nigeria in 2011 for our Masters in the UK. We decided to visit Paris and Tolu left me to plan the entire trip; I picked the travel dates and our itinerary so I really wasn't expecting anything 'special' outside the plan. On the train to Paris he gave me a pink envelope with a poem he had written for me in a card, but this was not completely unusual cos he does sweet things like that from time to time. The next morning, he gave me a second pink envelope with an even nicer poem about us. In my mind, he was just catching the romance of Paris.
Later that night, after a long day touring Versailles, we ordered room service and after dinner he gives me a third envelope, but this time it was a letter, handwritten in silver ink. It was the sweetest letter ever, talking about our history, how we met and the sweetest memories of us. Then the final lines in the letter just took me to a whole new level:
"So today, I ask you for your all; for keeps for always; to make more memories with you as you take your place as Queen of my Castle, the Herald of my future and Mother of our legacy"
My first thought was "hmmmm, shay this young man doesn't know how serious this his letter is" … and then, I heard our song playing in the background "Alicia Keys – If I Ain't Got You" at this point the tears just started rolling, in fact flowing! Then Tolu sat down and puts me in his lap, kissed my forehead, wiped my tears and asked me "Do you know what comes next?" Before I could answer, he showed me a tiny box wrapped with a cute bow and asked me to open it. I removed the bow and the silver wrap, then he takes the box from me, goes down on one knee, opens the box and says "Morolake Yoyinsola, my best friend and better half, will you marry me?"
By now I was crying even harder but I managed to say Yes, nodding my head. Then he took my finger and slips the most beautiful ring on it, and held me until I stopped crying.
Like I said, the guy is good at what he does.
***
For their traditional engagement, Rolake shone in a stunning sequin aso-oke gele with matching accessories. The groom Tolu looked handsome by her side in a khaki and red agbada andd fila. Family and friends were all smiles as the bride's family accepted the groom's proposal, to pluck a precious flower from their home.
On their wedding day, the bride wore a show stopping custom mermaid style gown by Couture by Brenda adorned with lace appliques on the bodice complete with clear crystals and embellishments, a silver diamante adorned belt and real feathers lacing the neckline. The groom looked dashing in his custom suit by Mai Atafo, lined with lilac trimmings. The bride later changed into the perfect red sequin dress – which she loved! The couple danced till dawn with their dearest friends and family and looked absolutely dashing while rocking into their newlywed life.
The couple's advice for intending couples – be best of friends!
9 years is a long time and we have learned a lot about each other to know how to manage our strengths and weaknesses. It's all about the unity of purpose. Mutual respect for each other and constant communication are essential.

It is easy to get caught up in the boyfriend/girlfriend stereotype without really becoming friends and in my opinion, true friendship is the essence of lifetime relationships.
BellaNaija Weddings wishes the couple the absolute best in love and life!
~ Photography: DuduGuy Photography | Jobi Photography
White Wedding
Rocking First Dance!
The bride says this was the highlight of her wedding day!
"We started out with our song; "If I ain't Got You", by Alicia Keys (the same song he proposed to) and then mimed through six other songs which basically told a story of us; boy meets girl, girl fronts, boy tries harder and finally girl falls for him. Each song had quirky punchlines. It was borderline cheesy but we had so much fun…i'd say its better in video!"
Traditional Engagement
Photography: Duduguy – www.duduguyphotography.com | info (at) duduguyphotography.com
Additional Photography: Jobi Photography – Ridwan Adepoju and Tunde Ogunjobi
Wedding Details
Wedding Dates: Traditional: 4th April, 2013 | White Wedding: 6th April, 2013
Venues
Traditional Engagement: Sheraton Hotels & Towers, Ikeja – Lagos
White Wedding: Catholic Church of Divine Mercy, Lekki – Lagos
Wedding Reception: Ruby Gardens, Lekki – Lagos
Wedding Attire
Traditional Engagement
Aso-oke: Jumoke Fasuyi at the Bridal Gallery
on Bride –
Engagement Veil & Fan: Fascination Bespoke Accessories www.bespokefascination.com | [email protected] | 07068179174
Beads: Princess
Shoes: Creative Sugar
Clutch: adorned by bride
Makeup: Saydat Makeovers – +234 8088987137
Hair: Roland from Bobbys – 08039121566
White Wedding
Bride's First Dress: Couture by Brenda
Bride's Red Reception Dress: Precious Formals
Bouquets by Mrs Ajayi – 08033294593
Groom: Mai Atafo
Bridesmaids
Dresses: Couture by Brenda
Fascinators: Fascination Bespoke Accessories www.bespokefascination.com | fascination "at" bespokefascination.com | 07068179174
Groomsmen
Black suits and Lilac accessories: Couture by Talade Bespoke
Vendors
Planner: Oasis Events – jd (at) oasisevents-ng.com
Cake: 5 Tier Lavender and Gold Cake by Celebration Cakes
Desserts: Creme brulee www.cremebrulee.com.ng | info (at) cremebrulee.com.ng| 08178592592
Food: Malas
Drinks: TAIT Drinks
______________________________________________________________________________________
We love weddings as much as you do – get in touch for inquiries, inspiration & more!