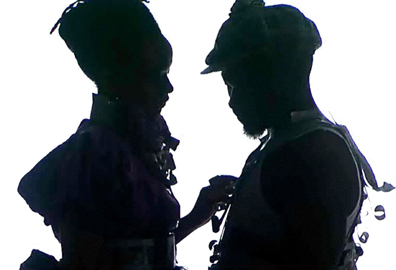 The first time I tasted the delightfully sweet and savoury goodness called 'GizDodo' I knew I was hooked for life. That perfect blend of the sweetness of fried plantain, with the sensory crunchiness of peppered gizzard – absolutely mind blowing. It's one of those things I enjoy eating without having to worry about how to make it but on Friday, the craving for GizDodo was strong. Braving the weather, I headed out to find a place to buy plantain and gizzards.
15 minutes, a chilly nose and 4 closed shops later, I gave up and headed back home. It was while that GizDodo dejection was brewing that I looked up and saw this fair complexioned guy smiling at me. I smiled politely back and I noticed he was slowing down.
"Hello. You're Nigerian"
I wasn't sure I heard properly the first time so I took off my ear phones just to confirm he wasn't just muttering and he was actually speaking to me. I angled my head slightly to the right and held up the right side of the earphones to indicate I hadn't been listening.
"Are you Nigerian?" He asked again. I nodded, trying to mentally check whether it was something in the way I was walking, or my forest thick head of hair.
"You're from which state?"
I was more puzzled by the question than by the syntax of the sentence but both were issues that told me a lot about him. I wasn't about to start a lecture on grammar and sentence structure so I hurriedly pushed that thought away. Then, I wondered why it was important to know what part of Nigeria a person is from. I hadn't spoken so there was no question of trying to determine if I had a strong Yoruba accent. Was my Ogbomosho/Ilorin personality oozing through my pores in a way that could be sensed just by looking at me? I was truly puzzled.

Also, because I'm not the most sociable person in the world, so I wondered if this was how things were done – meet a Nigerian, query them about where they're from. If that fails, ask them where they worship and what they worship. (Yes, the same guy asked me what I believe especially as he wasn't getting any favourable responses about my spirituality or lack of it therein).
I wondered if his questions were for the purpose of establishing a sense of kinship? If this was so then was it not enough that I was Nigerian? Did it matter where I was from specifically? Did it say something about how disunited we are as a people? Was the absence of plantain and my inability to make my GizDodo somehow sending my brain into overdrive?
As I walked home, I pondered upon the issue. Was it meant to be an ice breaker? If I had said I was from Oyo State would he have asked what local government area? If I then said Ogbomosho north, would he have asked where my family house was? The possibilities were endless. How do people start conversations these days? Is it like "First things first, let's get where you're from out of the way…"
He found it quite exasperating that I didn't answer but he did get my number. However, I'm sure after hitting a dead end on the spiritual issues, he might not call again. Good for him. He might have had to endure me correcting his tenses after every conversation.
I shall leave you 'at this particular junction' *In O'Neal's voice*. Have a great week ahead. Keep your head up and remember to smile. Don't forget to share your thoughts on the subject of knowing where a person is from. How important is it to you to know a person's place of origin? Or is it just a way of starting a conversation? Oh, and share some of your favourite 'conversation starters' and the most awkward ones. How did you respond and why are they so memorable?
Peace, love & cupcakes!
Toodles!