Aren't you excited about the first weekend in November? The weekend should be fantastic as Tripican brings you the number 1 movie of the year Thor: The Dark World. Are you ready to enter the dark world?
Log on to www.tripican.com and enjoy discounted ticket prices, advance bookings, the convenience of avoiding long ticket queues and free popcorn and Drinks at the movie theatre.
You can't get this offer anywhere but on Tripican.com.
Feature Movie: Thor – The Dark World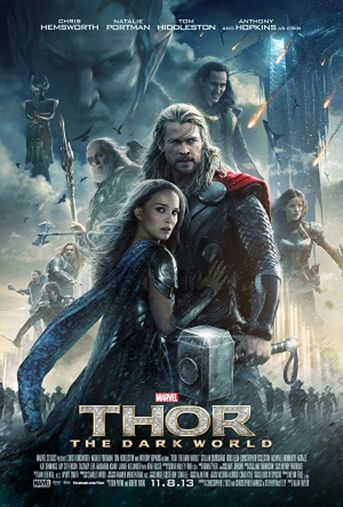 Genre: Action |Adventure | Fantasy
Starring: Chris Hemsworth, Natalie Portman, Tom Hiddleston, Idris Elba
Synopsis: Marvel's "Thor: The Dark World" continues the big-screen adventures of Thor, the Mighty Avenger, as he battles to save Earth and all the Nine Realms from a shadowy enemy that predates the universe itself. In the aftermath of Marvel's "Thor" and "Marvel's The Avengers", Thor fights to restore order across the cosmos…but an ancient race led by the vengeful Malekith returns to plunge the universe back into darkness. Faced with an enemy that even Odin and Asgard cannot withstand, Thor must embarkon his most perilous and personal journey yet, one that will reunite him with Jane Foster and force him to sacrifice everything to save us all.
Genre: Action | Comedy | Crime
Starring: Bruce Willis, Helen Mirren, John Malkovich
Synopsis: Retired C.I.A. agent Frank Moses reunites his unlikely team of elite operatives for a global quest to track down a missing portable nuclear device.
Genre: Action |  Sci-Fi | Thriller
Starring: Vin Diesel, Karl Urban, Katee Sackhoff
Synopsis:Left for dead on a sun-scorched planet, Riddick finds himself up against an alien race of predators. Activating an emergency beacon alerts two ships: one carrying a new breed of mercenary, the other captained by a man from Riddick's past.
Genre: Action | Comedy | Crime
Starring: Aaron Taylor-Johnson, Chloë Grace Moretz, Christopher Mintz-Plasse 
Synopsis: The costumed high-school hero Kick-Ass joins with a group of normal citizens who have been inspired to fight crime in costume. Meanwhile, the Red Mist plots an act of revenge that will affect everyone Kick-Ass knows.
Genre: Drama | Action
Starring: Mike Ezuruonye, Dayo Amusa, Desmond Elliot
Genre: Biography | Crime | Drama | Thriller
Starring: Tom Hanks, Barkhad Abdi, Barkhad Abdirahman, Faysal Ahmed
Synopsis: The true story of Captain Richard Phillips and the 2009 hijacking by Somali pirates of the US-flagged MV Maersk Alabama, the first American cargo ship to be hijacked in two hundred years.
Genre: Comedy
Starring: Ramsey Nouah, OC Ukeje, Ali Nuhu, Gold Ikponmwosa
Synopsis: Confusion Na Wa is a social comedy drama that traces the lives of a disparate group of individuals as their paths cross over the course of one day. Their result is a story of lust, infidelity, friendship, revenge, heartbreak and confusion.
Genre Comedy | Drama
Starring: Mark Ruffalo, Tim Robbins, Gwyneth Paltrow, Josh Gad
Synopsis: On the surface Adam (Ruffalo), an over-achieving environmental consultant, Mike (Robbins), a long-married small-business owner, and Neil (Gad), a wisecracking emergency-room doctor, have little in common. But all are in different stages of dealing with addiction.
Genre: Biography | Drama
Starring: Forest Whitaker, Oprah Winfrey, John Cusack
Synopsis: As Cecil Gaines serves eight presidents during his tenure as a butler at the White House, the civil rights movement, Vietnam, and other major events affect this man's life, family and American society.
Genre: Adventure | Animation | Comedy | Family
Starring: Carlos Alazraqui, Dane Cook, Stacy Keach, Brad Garrett
Synopsis: A crop dusting plane with a fear of heights lives his dream of competing in a famous around-the-world aerial race.
Genre: Action
Starring: Olu Jacobs, Patience Ozokwor, Juliet Ibrahim, Yemi Blaq
Synopsis: There was a general plan by Senator Ivan (Olu Jacobs) and his cabal of power hungry men to subvert the Nation and eventually take over the leadership. A biological weapon was imported to terrorize the nation so that the masses would cry for the return of the military. When the canister was hijacked suddenly, it became a rat race, as senator Ivan recruited the services of his arch enemy and a political thug, Prince (Yemi Blaq) and the State Counter Terrorism Unit headed by Ms. Jane (Patience Ozokwor) to retrieve the canister from Felicia a young girl abused by Senator Ivan driven by vengeance and not minding the cost…
Genre: Music
Starring: Josh Holloway, Laz Alonso, Josh Peck, Caity Lotz, Chris Brown
Synopsis: Battle of the Year attracts all the best teams from around the world, but the Americans haven't won in fifteen years. Dante enlists Blake to assemble a team of the best dancers and bring the trophy back to America where it started.
Genre: Drama | Sci-Fi | Thriller
Starring: Sandra Bullock, George Clooney, Ed Harris, Orto Ignatiussen
Synopsis: A medical engineer and an astronaut work together to survive after an accident leaves them adrift in space.
R.I.P.D. (Rest In Peace Department)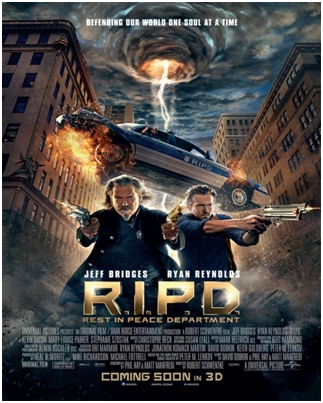 Genre: Action | Comedy | Crime | Fantasy
Starring: Ryan Reynolds, Jeff Bridges, Mary-Louise Parker, Kevin Bacon
Synopsis: A recently slain cop joins a team of undead police officers working for the Rest in Peace Department and tries to find the man who murdered him.
Genre: Comedy
Starring: Paula Patton, Taye Diggs, Jill Scott, Djimon Hounsou, La La Anthony
Synopsis Pledging to keep herself from being the oldest and the only woman in her entire family never to wed, Montana embarks on a thirty-day, thirty-thousand-mile expedition to charm a potential suitor into becoming her fiancé.

For more information and to buy movie tickets visit www.tripican.com.
Movie Ticket Pricing (Genesis Deluxe Cinemas):
                                          Adults                                                      Children/Students
Mondays:                                 N950.00                                                                N950.00
Tuesdays (Before Noon):       N450.00                                                               N450.00
Tuesdays (After Noon):        N1,450.00                                                 N700.00
Wednesdays:                            N550.00                                                               N550.00
Thursdays:                                 N950.00                                                               N950.00
Fridays:                                      N1,450.00                                                           N700.00
Saturdays:                                 N1,450.00                                                           N950.00
Sundays:                                    N1,450.00                                                           N950.00
3D                                                N2,450.00                                                           N2,450.00
2D                                                N1,950.00                                               N1,950.00
Movie Ticket Pricing (Silverbird Cinemas):
                                          Adults                                                      Children/Students
Mondays:                                 N1000.00                                                             N500.00
Tuesdays:                                  N1000.00                                                            N1000.00
Wednesdays:                            N1000.00                                                            N500.00
Thursdays:                                 N1000.00                                                            N500.00
Fridays:                                      N1500.00                                                            N1000.00
Saturdays:                                 N1500.00                                                            N1000.00
Sundays:                                    N1500.00                                                            N1000.00
3D                                                N2000.00                                                            N2000.00