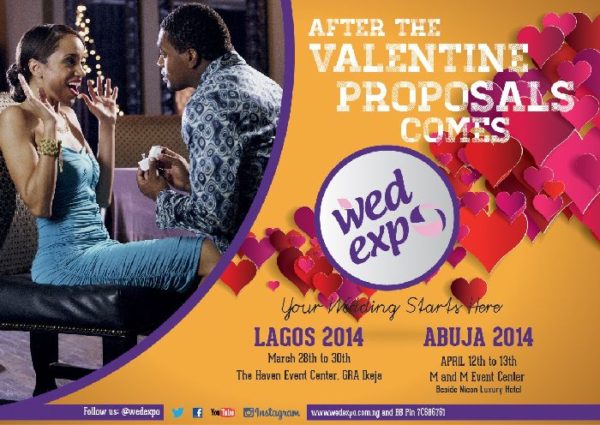 Valentine's is a lovely time when lots of relationships are sealed with marriage proposals. After the proposal comes the wedding and at WED Expo, they are pleased to tell you that with regards to your wedding planning, they've got you covered!
WED Expo, Africa's Largest Wedding Exhibition is set to hold two editions in March and April shortly after Valentine, offering newly engaged couples a chance to start their wedding planning process. WED Expo is set to host over 200 exhibitors in Lagos and over 100 exhibitors in Abuja giving couples a wide array of options for their wedding vendors.
It is FREE to attend the WED Expo so bring your friends, family and everyone dear to you. You have the chance to interact one-on-one with these wedding vendors and get great discounts for their services!
The whole country is ready for a different type of exhibition and now you can choose which one you will be attending.
WED Expo Lagos
Dates: Friday 28th – Sunday 30th March 2014
Venue: The Haven Event Center, Ikeja GRA, Lagos.
WED Expo Abuja
Dates: Saturday 12th – Sunday 13th April 2014
Venue: M&M Event Center, Garki, Abuja.
Already, hundreds of wedding vendors have booked their booths for the event. Are you a wedding planner, decorator, makeup artist, photographer, Aso-oke maker, designer, bridal house, groom house, cake maker, dessert or cocktail specialist, hotel, venue, honeymoon expert etc who hasn't booked a booth? If yes, you would be missing out on the chance to expand your business if you don't grab this opportunity today!
It has been proven from their previous editions that thousands of guests will walk through the doors of the Expo and the 2014 edition is no different. Call 07001111933, 08147217096, 08023188820 or 08187357215 | Add BB Pin 7C6B6761 | Email [email protected] today.
Updated Booth Costs:
| | | | |
| --- | --- | --- | --- |
| Name | Booth Description | WED Expo Lagos | WED Expo Abuja |
| Economy Booth | These are 3 by 2 meter booths that are allocated last. | N100,000 | N100,000 |
| Standard Booth | These are 3 by 2 meter booths allocated as soon as you pay based on the next available option. | N150,000 | N120,000 |
| Preferred Booth | These are 3 by 2 Meter booths and are the first 2 booths on each lane. | N250,000 | N200,000 |
| Premium Booth | These are 3 by 3 meter booths and as the name suggests are located in the most prime location in the hall. They are the first set of booths you see when you enter the hall. | N450,000 | N300,00 |
| Booth Sharing | We allow a maximum of 2 vendors to share a booth. Note that conditions apply. | N60,000 | N60,000 |
Here is the list of exhibitors who have already booked their booths for the event:
Lagos Vendors
4 Tees Rentals and Baloons | Add Ons Accessories | Awelewa Makeovers | Beauty Cook | Besaz Boutique | BM Pro | Bubbles & Scents | Café Jade Ltd | Cake and Candy | Chocolat Royale | Chocolate Delight | Collageo | Concepteur De Fruitee | D'Acero Limited | Darlo House of Beauty| Delightful Edibles | Divine Events | EasyBuy Retail Store | Elvira Jude | Ese Bee | Ester of Kish | Event Movers | Finesse Events | Gcfworld | Go Wedding Direct | Goldielux| Gtrends | Home Royale | House of Dorothy | Itsy Bitsy Kids | Jacynthe Cards | Jade's Gourmet Bakers | Jidalight | Just Fabulous | Kassamire Makeup | Kayge Cosmetics | Klala Photography | Kravins Desserts | Laviva Bridals | Liri Tent | Luxe Beauty Lounge | Molbaks Alaso Oke | Nwandos Signature | On and On Digital Studios | Paw Couture | Peculiar Designs | PhotoGenic Photobooth | Planification | Purple Haze Events| Rhemie Roses | Rings et al Jewellers | Rosety Gardens | Sellirite | Souvenirs by Tosyne | Squarecircle Solutions Ltd | Superb Tent | Sweet Indulgence | Sybil's Jewelry House | TAP Studios | The Elect AsoOke | The Fabric Room | The RedKite Honeymoon | The Wardrobe | The Wedding Care | Toju Foyeh | Tolufashe Event Décor | Torge Events and Décor | Vogue Aso Oke | Xenora | Xposure Studios | Yellow Velvet | You Makeovers | Zena Accessories
Abuja Vendors
AA Couture | Add On's Accessories | Belleza Faces Makeup Studio | Celebrity Creations and Event | Cher Luxury Events and Gifts | Classic Golden Pot | Colours In Ice | Croft Pictures | De Party Shop | Dreamweavers Events | Events By Valerie Kay | Festive Occasions | Fragrance Bar | Gemcy Cakes | Go Wedding Direct | House of Merola | Kokies World | LB Events | Liri Tent | Makeup by Naxeefah | Merry Makers Event Center | Mumhood | Patrick Ayanski | Sculptors Event Planners | Selcah Events | Soletrain Shoes | Structured Spaces | Qupid Bridals | Riqueza Events | Tasty Treats | The Elect AsoOke | TL Cake Boulevard | Zena Accessories
_________________________________________________________________________________________
BellaNaija is a media partner with Wed Expo 2014