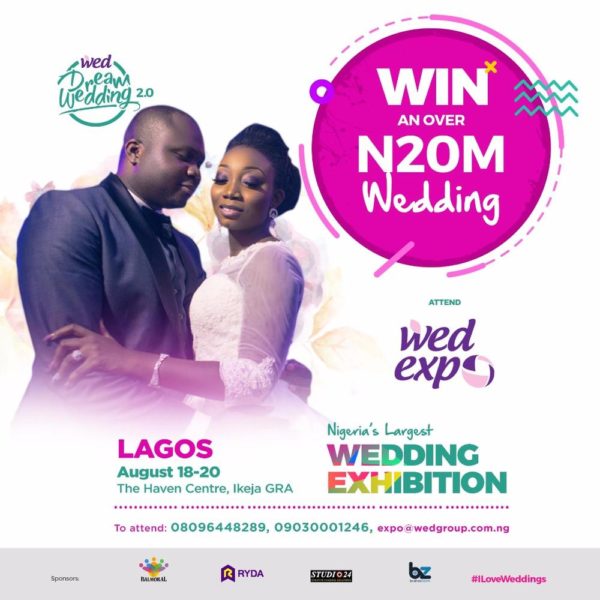 WED Expo, Nigeria's largest wedding exhibition is back with more features than ever before. Asides being a major hub for couples planning their wedding we have also included some major giveaways as well as a "beauty market" which allows you shop the best products at great prices and this is not all.
Remember the February 14th WED Dream Wedding? Well, a few couples are going to have the opportunity to WIN this amazing luxury wedding. Come with your family and friends to cheer you up to victory.
WED Expo Beauty Market is an addition to the WED Expo Family so asides the wedding related items we now have amazing beauty vendors that cater to all things beauty. Everyone can attend to get these great deals!
Date: Friday, August 18th – Sunday, August 20th, 2017
Time: 10.00 am – 6.00 pm (Friday & Saturday); 12.oo pm – 7.00pm (Sunday)
Venue: The Haven Event Center, Ikeja GRA, Lagos (Police college road beside Arch Bishop Vining Memorial Church)
Guess what? Admission is FREE…
 You should definitely attend the WED Expo if you:
Are a bride or groom to be;
Are that female seeking the best beauty products at best prices;
Plan on getting married between now and 2018;
Love weddings and want some wedding inspiration;
Plan on getting into the wedding industry.
A few reasons why you should be at the Wed Expo:
Get the best products and services at the best rate;
Stand a chance to WIN up to N100,000 in cash and millions in giveaways and discounts;
Enter for an opportunity to WIN a Wedding worth Over N20 Million;
Get all your beauty products at the best rate;
Experience an amazing time with good food, cakes and a whole lot more.
Are you a wedding vendor or beauty merchant? Then, you have to be at WED Expo Lagos!
Remember Admission is totally FREE!
For more inquiries, Call/SMS: 08096448289, 09080000903, 09030001246 (Whatsapp: 08096448289). You can also send in an email to [email protected] and follow us on Instagram and YouTube.
Some exhibitors already listed are;
Studio 24 | Liri Tent | Bolsy Asooke | Alexis Couture | Bakers Option | Bellz Maurice Ltd | Cusine Naturelle/ Naturelle Cocktails | Ooma Studios | Dj Fresh | Jabi | Tinaz Wedding Cakes | Saint Tracy | Pearl Weddings | HG cards | Be-Fab by Beadakraft | Executive Events | Hairport.ng | Purple Dazzle Events | Diko Photography | Sahara Sunrise | PEC Events | Slayon Extensions | Bees Bridal | Ekaabo travels and tours | SLURP Natural Juices | Hanah Facials Makeover | TWS | Even Yisrael Center | Intimatesng | D'Lux Events | PK Lamour | Miraclegael Style | Events By SI | Deuroyale Apparel | July7ven Events | Simple and Beautiful | Blendz | AutoGele  | Leotravent | Oriade Beads Jewelry | Atmospheric Events | WedhubApp | Sooge Regal Concepts | Emporium Beauty | True Blings Home of Jewelry | Esse Hair | Gam Collections | Daniel Folley Weddings | Kwinrach Beauty | Beauty By AD | Frozenrolls | Krystal Klear Souvenirs | Chalice Cocktails | Memorable Signatures | Cromia Lash and Makeup | Shadecrown | 5D Imagery | Rings Et Al Jewellers | Team Nhyira Photography and Videography | Ecopantry | Molbaks Aso Oke | BMPro | Ryda Logistics | Ask Onyeka | Bluberry Cakes | Ayinke Oge | The Potato Twirl Company | Golden Events Solution | Balmoral | Business Zoom | WED Business School | Nwandos Signature | Cakes by Tosan |
You can't afford to miss this!
——————————————————————————————————————————————–
Sponsored Content