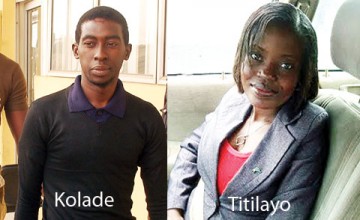 Akolade Arowolo who made headlines in 2011 for stabbing his banker wife Titilayo to death, has been sentenced to death by a Lagos high court.
The judgement was made today Friday 21st February 2014 by Justice Lateefat Okunnu. "I pronouce the defendant guilty and accordingly sentenced to death", she said.
The Justice revealed that although there were no eyewitnesses, the evidence presented by the prosecution had proved the murder charge against the convict.
A forensic pathologist who testified in court, revealed that there were at least 76 stab wounds found on the deceased. The wounds damaged her organs including the lung, liver and the diaphragm; it also penetrated through her heart.
The forensic investigation was to prove wrong claims by the defense team that the injuries were self-inflicted.
if you recall, 32-year old Arowolo was arrested for the murder of his wife in December 2011 at their home in Isolo Lagos. Titilayo was an employee at Skye Bank Plc.