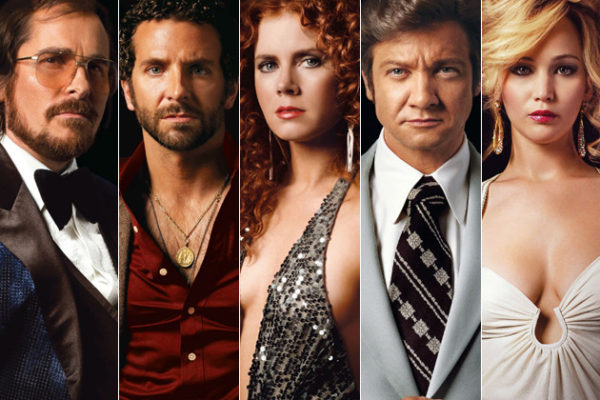 Directed by:David O. Russell (The fighter, Silver lining Playbook, Three Kings).
Written by:Eric Warren Singer, David O. Russell.
Principal Actors: Christian Bale (Batman Begins, The Dark Knight Rises, The Fighter), Bradley Cooper (Limitless, Silver-Lining Playbook, The Place Beyond the Pines), Amy Adams (Man of Steel, The Fighter, Her), Jennifer Lawrence (X-men: First Class, X-men: Days of Future Past, The Hunger Games, Silver-Lining Playbook)
The Synopsis
Everyone Hustles to Survive
Step into one of 70's biggest scams to rock the US showcasing the world of con-men & women, wild FBI agents, a corrupt city mayor, scams, drugs and lots and lots of cleavage. (Yes, we are talking to you Amy Adams). American Hustle tells the story of Irving Rosenfield who teams up with the seductive con-lady Sydney Prosser who significantly improves Irving cons.
Irving & Sydney get caught in a failed loan scam by a wild FBI agent Richard DiMaso and are promised a clean slate if they can help DiMaso get 4 additional high profiled arrests.
The Script
Like the prologue states 'Some of this actually happened'. But as expected from David O. Russell, a lot of it has been twisted and turned into a comedic masterpiece. The fan favourite and talented writer/director seems to be having the decade of his life with all projects he has laid his hands on in the last 5 years earning him Oscar nominations.
The relatively unknown screenwriter Eric Warren Singer first penned down a script titled American Bullshit before being joined by David Russell and the title was changed to American Hustle and given one of the most interesting character development and dialogue themed movies of 2013 with most of the characters written exclusively for the actors and the actresses. The dialogues were funny, intelligent and a lot of them improvised. That goes to show the amount of talent packed into the movie. It's like the Avengers of Rom-Crime-Comedies
The Directing
After watching this movie, I have come to two conclusions about David O. Russell from his works in the past 2 years.
One, like all of us, I think he has a soft spot for Jennifer Lawrence (and basically everyone else in this movie) and likes giving her key roles in his movies as we have seen here and in Silver Linings Playbook.
And secondly, he loves releasing his movies during the awards season. The man sure loves having some gold statues in his closet. But don't get me wrong, this is not to take any credit away from Mr. Russell, he's a pretty awesome director and one of the most artistic of our time. The artistic 70's direction of this movie was a joy to behold, the cast being one of the best of 2013 and the makeup and hair styling which was shamefully ignored by the Academy Awards board in the category for best makeup and hair styling being original and impressive (even Robert Deniro didn't recognize bale on the set, he had to ask who he was several times from Director David O. Russell).
But thankfully, it did land the nomination for best costume design, best directing, best picture, and 7 other nominations making this the second David O. Russell movie in a row to be nominated in all 4 acting categories.
This is one of the best movies from 2013 and a couple of awards await at the Oscars next month
The Acting
What adjective can be used to describe the cast in this movie other than impeccable, invigorating and to a large extent refreshingly different.
For me Jennifer Lawrence as always, showed why she's one of Hollywood's most talked about actresses, that is not to say Amy Adams role as Sydney Proser wasn't a joy to watch and equally revealing (we might just be talking about her cleavage, you never can tell)…both ladies were irresistible.
Christain Bale and Bradley Cooper also came to the party with pure acting prowess.
Like most of David O. Russell's films you could feel the raw emotions flowing and each cast having a great time giving nothing but top notch acting. Christain Bale needs to slow down with the physical transformation he undergoes in his movies though. This is the 4th time he is either loosing or gaining some major weight. Here he gains 40 pounds.
Most of the characters were developed specially for the actors and based on David Russell's working with many of them previously that most likely promoted their chemistry.
Verdict
It's a Popcorn & Soda from us here at S&P HQ.
Even with its 2 hours 20 minutes length you're still fully entertained. But if you're not attentive enough you just might lose sight of the beauty behind this great piece.
So, have you seen it and what do you think about the movie? Do let us know in the comments box below. This review was brought to you by  www.sodasandpopcorn.com We Watch Movies So You (Don't) Have To.
Photo Credit: www.thestranger.com
Synopsis Credits: imdb.com | wikipedia.com