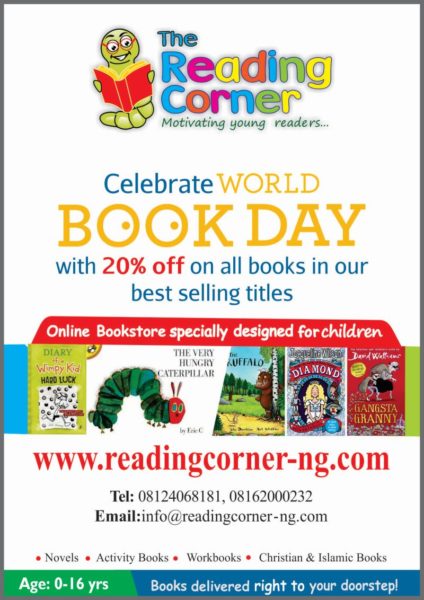 Presenting The Reading Corner – A website dedicated to fostering and encouraging the love for reading among children in Nigeria.
To celebrate the World Book Day, www.readingcorner-ng.com is offering you a 20% discount off its best selling books. They have a range of childrens' books for children between the ages of 0-16 including workbooks, toddler books, the latest David Walliams' book (The Demon Dentist) and the award winning series 'The Diary of a Wimpy kid'.
You can buy with just a click and they will be delivered to your doorstep within 1-2 days.
For more information please call +234 816 200 0232 or +234 812 406 8181 | Send an e-mail to [email protected] | Log on to www.readingcorner-ng.com | Follow them on Twitter @thereadingcorner3 | Find them on Facebook: www.facebook.com/thereadingcorner
_________________________________________________________________________________________
Sponsored Content