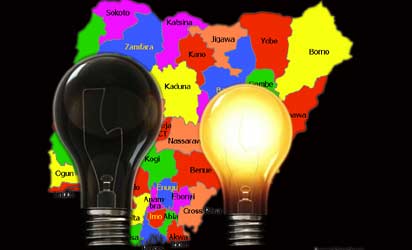 In the last one month, Nigerians across the country have experienced deteriorating power supply, especially in Lagos and Abuja.
According to a survey conducted by Vanguard about the recent drastic reduction in power supply, Nigerians receive only about two hours of electricity weekly on the average. Also, some regions have not had power for the past three consecutive weeks. 

Residents surveyed expressed their disappointment at the fact that the power situation has not improved despite the privatisation of the Power Holding Company of Nigeria, PHCN.
The former Minister of Power, Barth Nnaji,  and the chief executives of Distribution Companies (DISCOs), have allegedly blamed the energy supply problem on Nigeria's power generating facilities which they reportedly described as "obsolete and unreliable, dating back to 1896."
A DISCOs official also attributed the problem to the reduction of Mega Watts ever since PHCN was privatized. Lagos State reportedly used to receive about 900MW of electricity from the National grid, however; this amount dropped to 300MW after privatization.
To cope with the problem of distributing the limited 300MW equally across households, DISCOs has reportedly resorted to rationing energy supply. The  erratic power supply has also been attributed to the reduced Mega Watts.
Photo Credit: Vanguard