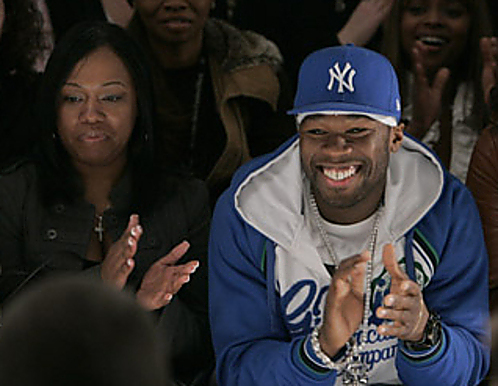 Shanqiua Tompkins, rapper 50 Cent's ex-girlfriend is calling him out in a recent interview. 50 Cent recently made headlines for not being present at his son, Marquise Jackson's graduation.
She speaks on 50 Cent physically abusing her in front of the children, on leaving 50 cent and child support.
Read excerpts;
On 50 Cent not present at his son's graduation: "I didn't know a parent needs an invitation to a graduation. I think you make time for what you want to make time for. You know your son is in the 12th grade. You know that children, depending on the state, graduate May, June-ish. You're busy, but that's why you have assistants. The assistants can call the school and you can fly on your private jet with your big gold chain.
He's privy to the same information that I'm privy to as a parent. You can call the school or have your assistant call. I'm not being condescending. It was no tickets. It was on the lawn of the school. People that I did invite, they stood on the side to watch the graduation. You could've been there. That's your choice. And being that you said you paid tuition — which he doesn't — you should've had a first class ticket then. You paid tuition, right? But he doesn't. He pays child support. He doesn't pay tuition. He promised me, but then he changed his mind. Like, I told him I wanted Marquise to change schools because I felt like the school he was going to was getting a little rough."
On people say she is bitter: "We all want the finer things in life, but I left [50]. I knew when I left him that I was leaving a lifestyle. It's not like he left me, I left him"
On leaving 50 Cent: "I can't say money changes a person. I was the girl that was on his grandmother's stoop when he got shot. He went to my mother's house to heal. I went to work when my son was four months old while he was sitting home being daddy day care, watching Sesame Street and Little Bill. He has created this persona. This 50 Cent character. I don't know this person. It reminds me of CB4. No I don't know this person."
On being abused by 50 Cent: "I'm a person who doesn't go out much. I'm very much a homebody so he started seeing my behavior change a little bit because I did meet someone. I was cheating on him after he done cheated on me numerous times. I met somebody. So I started going out and I'm smiling about it. He didn't find out about it. I think he had a clue, like, 'Where's your mom? She's always home.' He came home and I wasn't there. So when I got in, he called me first. But I know how he is so I said, 'I'm not going to come home until you calm down.' And when I got home he just lost it. He lost it completely. Just lost it. Even when my daughter walked in the room, he still was hitting me. I hate to sound like a battered woman but it just bothered me. He really lost it and broke down and cried. He's so scary because he was hitting me in one moment and he's angry, but the next minute he's in my lap crying like a baby. So it's a lot of issues there."