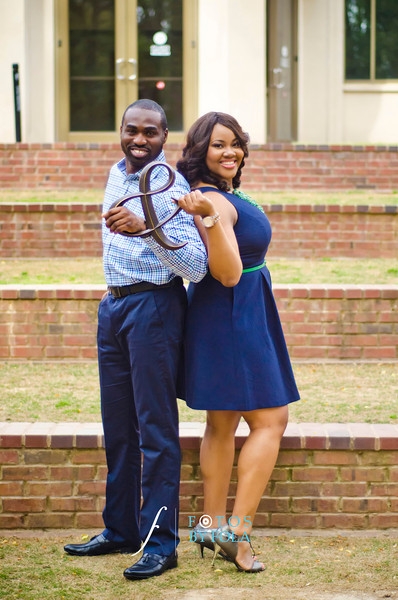 This Fotos by Fola pre-wedding shoot truly captures the essence of this couple – cute and sweet!
Chinasa & Emeka met through a mutual friend at church. Months later the groom conspired with his future wife's mum to propose at their family home – where the beautiful bride-to-be grew up. How thoughtful!
Enjoy their love story and beautiful pre-wedding photos!
***
Bride-to-be: Chinasa Ordu
Groom-to-be: Emeka Elue
How It All Started
by Emeka
Chinasa and I first connected through a mutual friend of ours at our church in Atlanta, GA. We were both very optimistic about our friends connecting us, but one thing that put me at ease when I first met Chinasa was her beautiful smile and friendly personality. We started off very casual and slow, (she played hard to get at first and put me on a phone limit of 2 hours a week, Haha!), but after our first conversation, I broke her phone limit as we were on the phone for hours! After our initial conversations I knew I had found a friend for life. Our conversations flowed naturally, the laughter never ceased, and the time between our next conversation seemed endless. Soon after we started talking, I asked her out on a date. It was during our first date that I realized that there was something very different about this beautiful young lady in my sight and unbeknownst to me at the time did I know that she would be the one to capture my heart. When God created her, He had me in mind and knew that our love would be one that would give Him glory! I have found my "good thing" and I am forever grateful to God for His favor in our lives!
Proposal
From Emeka
Chinasa is very inquisitive and I knew I had to do something out of the box in order to surprise her. I thought about taking her on a night out in town and then popping the big question, but I knew she would be suspicious. So I decided to contact her parents when she was coming into town for a visit and arranged to surprise her in the home where she grew up. When I arrived around 5:30am her mother let me in the house and I quickly set up in the living room. As I heard the dialogue taking place on the stairwell, I was tickled because I knew she would not be expecting anything at that hour in the morning and my thoughts were right! I caught her off guard and asked my sweetheart to spend the rest of her life with me and to my joy, she said YES!
***
Photography: Fotos by Fola | instagram.com/fbfatlanta |  info (at) fotosbyfola.com | www.fotosbyfola.com
Beauty – Make-Up: Boundless Beauty by Bola Oyeku (Instagram: @mrs_oye_cool)
Stylist: Funmi Ogunkunle from Anointed Hair Studio
________________________________________________________________________________
We love weddings as much as you do – get in touch for inquiries, inspiration & more!
E-mail: weddings (at) bellanaija.com | E-mail for #AsoEbiBella: asoebibella (at) gmail.com