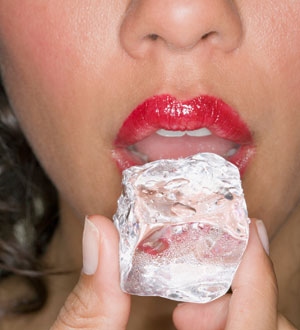 We just love it when we find new skin care remedies – especially those that don't take a toll on our wallets. From oil pulling to the honey body scrub, we have yet another beauty trick that can help you with your skin care regime.
Have you got blotchy skin? Do you suffer from skin discoloration? Well Australian Makeup artist Napoleon Perdis suggests you can suck on a ice cube. In a quick chat with Fashionista.com, he disclosed some tricks of the trade including the ice cube trick.
Blotchness is a form of discolouration in irregular areas in which there are changes in skin color, and this can be caused by any number of things like – a difference in your skins' level of melanin (the primary determinant of skin colour), injuries, bruising, lacerations, rashes, eczema, sun burns, acne, diaper rash and a lot of others. The most common of these that we encounter everyday is bleeding under the skin, bruising, rashes and the difference in your melanin levels; especially if you're Caucasian or light skinned.
According to their report;
When you're red and blotchy, it's due to blood vessels in your face dilating. So to get rid of that extra redness, which is what causes the "blotches," your blood vessels need to constrict. The nerve endings in the hard palate (the upper part of your mouth) directly affect the blood vessels in your face — the cold from the ice cube sends a message through the nerve endings that the vessels in your face to need to constrict, thus decreasing the redness.
Have they tried it and it worked? Yes. Apparently the trick to not getting a brain freeze from the technique is to alternate it between the roof of your mouth and swirling it around.
So BN Beauty Belles, do you think this is a sure fire method? Have you tried it and it worked? Would you be willing to try it? Let us know in the comments.
Photo Credit: Healthyliving.msn.com