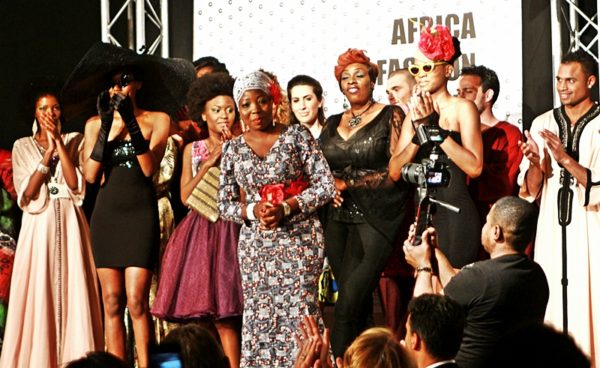 With 48 hours to go before the event, the 2nd edition of Africa Fashion Show, Geneva is set to be bigger and better.
To be held alongside the "Here Africa" art exhibition organised by Art for the World (AFTW), Africa Fashion Show Geneva will be taking center stage at the end of May, 2014.
"The Africa Fashion Show Geneva aims to create awareness and elevate the perception of African designs, bring African fashion to the rest of the world, as well as facilitate access to foreign markets, allowing for multicultural and cross-border arts promotion" said Tayo Omotola, CEO of Crucible Events.
Guests can look forward to fantastic African fashion on an exclusive runway, a display of African art and performance by UK-based Grammy award winner and former Rose Royce lead singer, Gwen Dickey (aka Rose Norwalt).
The event is set to host distinguished guests from Genève International, the diplomatic and UN community, such as  Michael Molle; Acting DG United Nations Office in Geneva, Anja Loetscher; Director, Geneva Convention & Visitors Bureau, as well as African Ambassadors in Geneva and leading names in Swiss business, media and fashion.
Africa Fashion Show Geneva will no doubt showcase African fashion to a Swiss audience for the second year running but what about African fashion globally? On the future of African fashion, Tayo added, "Since the 20th century, the progress made in the fashion industry has been phenomenal. Despite the myriad of challenges facing Africa, the fashion industry has tremendous growth potential to improve unemployment and empower the youth with a multiplier effect on other sectors of African economies. Crucible Events & Planners intends to be a major player in achieving this feat bridging the gap to discover African designers and to increase trade; and investment opportunities."
You don't want to miss this! Check out the schedule.
Day 1
Date: Friday 30th May 2014
Time: 7:30 PM
Venue: Château des Penthes Chemin de l'imepratrice, 18, 1292 Pregny-Chambesy, Switzerland
Day 2
Date: Saturday 31st May 2014
Time: 7:30 PM
Venue: Mandarin Oriental Hotel Geneva | 1 Quai Turretini, Geneva, Switzerland
Contact: For more information and general enquiry, e-mail [email protected] | Visit their website: www.cruciblevents.com | Find them on Facebook: www.facebook.com/AfricaFashionShowGeneva | Follow them on Twitter: @AFSGeneva | Follow them on Instagram: @AFSGeneva
_______________________________________________________________________________
BellaNaija is a media partner with Africa Fashion Show, Geneva.