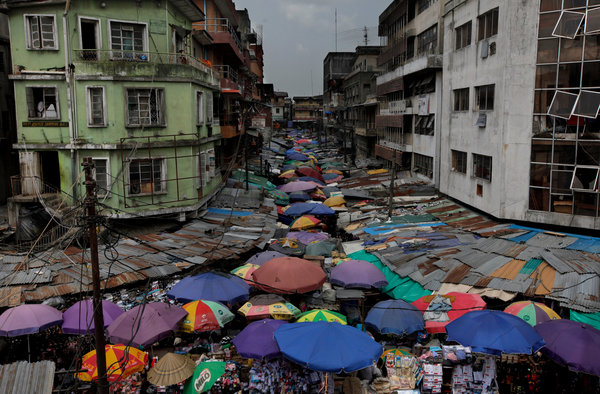 When news spreads, of how one more Naija brother or sister has shocked the world with artistic genius or business savvy, we are reminded of why we love the motherland unconditionally. When we immerse ourselves in our own special way of experiencing life – be it in the intoxicating rhythm of our music, the vibrancy of our stories or the fervency of our communion with the heavens — we revel in the spirit of this special name, 'Naija'
When over 200 girls are abducted from a compound of learning, away from their passport to the next tier of education, we wonder if this is really happening in the same country we fondly call Naija. When a bomb goes off, killing many in an area where, two weeks earlier, a bomb had ferried a greater number to the other side, we wonder if our pride for country, that makes us scream, "Naija for life!" hasn't sunk to the lowest of lows. We wonder … if we haven't become the laughing stock of the world. We imagine other nations jeering at us in pidgin: "Giant of Africa? For their mind!"
When almost a million youths throng stadiums and squares all around the nation, in vain pursuit of a few thousand jobs, most of which we believe have already been bought, we wonder if we should have given Nigeria an endearing name after all; we shake our heads as we ponder the tragedy of twenty plus souls who in the anguish of their last breath, pass on the bleak pursuit of happiness to the stampede.
And when I sit at the edge of my bed, close my eyes and imagine the horror of all these happening in one year, I shake my head—shake it again—and keep shaking it as several reasons why Nigeria should be one of the greatest nations on earth, three of which I share here with you, torment my mind:
A state like Taraba should have no business with poverty
At 73 recorded living languages, Taraba has far more indigenous languages than any other state in Nigeria, and more languages than those of some twenty African countries combined. The many cultures these languages have engendered should ideally position Taraba state as the potential hub of cultural tourism in Nigeria. Cultural tourism has been described by the OECD as one of the largest and fastest growing tourism markets in the
world.
Developing into a thriving centre of culture is even easier for Taraba because nature has been tremendously kind to it. Much of Gashaka Gumti National Park, Nigeria's largest and most scenic park, which many have described as Africa's best kept secret, is located in this state; a park that is home to the largest population of protected chimpanzees in West Africa and is imbued with pleasant micro-climates woven into various habitats that include rain forests, savannah woodlands, montane forests and grasslands, each of which supports a diverse community of plants and animals. Taraba's exotic Mambilla Plateau is home to West Africa's only highland tea plantation.
When you add this all up, you wonder why Taraba—and states like Plateau, Adamawa, Kaduna, Bauchi and Cross River that are endowed with arresting natural environments and many indigenous languages—can't be transformed into a paradise of world class resorts, museums, theme parks and commercial centres coexisting in symbiosis with cultural activities spread across the year. Even without oil revenues, 68.3% of Tarabans have absolutely no reason to live in absolute poverty as is currently the case. It is pathetic that this state's marvellous human and natural diversity has only bred deadly inter-ethnic strife that perpetuates poverty in such a blessed state. And is this not the case with many other states across the federation?
The Niger Delta should be one of mother earth's most prized sanctuaries
You might not know that the Niger Delta is the world's second largest Delta; or that the oldest surviving rainforest in Africa is located in Cross River National Park; or that Cross River state has the highest tropical biodiversity in Africa even as it ranks among the top ten butterfly zones on earth. Have you heard of the Cross River Gorilla, the rarest gorilla on the planet? Did you know that the swamp forests of the Niger Delta comprise the second largest swamp forests on the continent? It is on record that the Niger Delta's mangrove forests are the third largest in the world and that the Niger Delta ecoregion ranks among the ten most important wetland and coastal marine ecosystems in the world. Extremely rich in freshwater fauna, the Niger Delta ecosystem boasts the highest concentration of monotypic fish families in the world. Should I also mention that the Niger Delta Red Colobus Monkey, Sclater's guenon and about twenty species of fish exist nowhere else on the planet save the Niger Delta?
With all these amazing endowments from God it is befuddling why this region had to become one of the most polluted places on earth. With all the vast potentials for eco-tourism, sustainable large-scale fishery, and intensive
R&D that would have resulted in a high standard of living for the people of this region, it is a wonder how oil came to be this blinding curse of underdevelopment in the Niger Delta, and in Nigeria as a whole.
I can't help but wonder: if oil gave a visionary leader the power to transform a desert in the Middle East into this fabulous city our elites can't be tired of visiting, what degree of transformation would have been wrought on the Niger Delta under such kind of amazing leadership? Would it have become the most beautiful … most developed region on planet earth?
Agriculture alone can lift the Nigerian populace out of poverty
Examine the statistics. Nigeria's arable land is the largest of any country in Africa and ranks as the 9th largest of all countries in the world. According to 2011 estimates provided by Indexmundi.com, the value of Nigeria's arable land stands at 36 million hectares. This is thrice that of South Africa, comes very close to that of Australia, is half of Brazil's and a third of China's.
But when the percentage arable land of each of the top nine countries, and the three African countries coming after Nigeria, is computed in relation to the respective country's landmass, we get quite an interesting picture:
After studying this chart, aren't you wondering why hunger ravages Naija to this day?
I am, too.
And right now, I am hoping that soon, a constitution that allows for the full exploitation of Naija's natural and human resources, will emerge. I am hoping like many others that someday, every strata of this society will produce and be governed by leaders bent on making the Naija Dream, a reality.
Photo Credit: nytimes.com
____________________________________________________________________
Samuel Okopi has a Masters degree in Architecture from A.B.U, Zaria. He loves poetry and engages with architecture, nature and culture on his website www.samuelokopi.com where he takes readers, every week, on an exciting journey round the world. Find out why you should subscribe to his newsletter. Follow him on Facebook and Twitter.