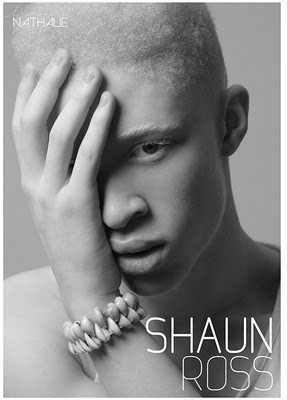 Beauty comes in various shades, sizes and colours, and for African/American Albino model Shaun Ross, "being different" has been his mark.
Shaun is one of the few Albino models who have made it into the fashion industry; having made waves in both fashion and the music industry with appearances in videos like Katy Perry's E.T and Beyonce's Pretty Hurts.
In a video created by Swedish filmmaker, Jonas Åkerlund for Nowness.com tagged "Beyond the Skin", Shaun talks not knowing he was different until he was 7 or 8; when he went to school and other kids asked him "what's wrong with your skin ?". He was always teased by kids who taunted him about the shade of his skin and asked questions like "why do your eyes shake".
But in the end Shaun came to one conclusion- "If people are always looking at you, give them something great to look at".
Watch his interview below.

The video was created on the streets and freeways on Los Angeles. Jonas had this to say about Shaun – "Hollywood is so good at only seeing what's on the outside, and using that first impression instead of going deeper". ""I think Shaun has spent all his life with those reactions. Look again and you see that this guy is really beautiful."
Photo & Video Credit: www.nowness.com (Beyond the Skin on Nowness.com) | estrellafashionreport | fashionbombdaily