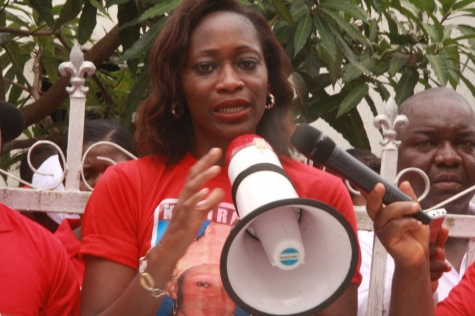 Hafsat Abiola-Costello, the daughter of late Moshood Kashimawo Abiola, said yesterday Wednesday 5th June 2014, that her father was greater than Nigeria's former President Olusegun Obasanjo.
Stating that he needed no recognition.
On Saturday, OBJ made a remark in Abeokuta that the late acclaimed winner of the June 12, 1993 presidential election, made sacrifices for the nation.
"Ogun State would have produced three presidents if not for bad belle. I want to agree with him (Alake of Egbaland, Oba Adedotun Gbadebo) that Abiola sacrificed for the nation" he said according to Punch
At the 18th anniversary of Kudirat Abiola, Hafsat said OBJ's statement was uncalled for.
"I feel that if he wanted to recognise MKO Abiola now, it's good for him. But, MKO Abiola was always the greater man. And you cannot recognise somebody that is more than yourself. MKO Abiola did not require General Obasanjo to recognise him." she said.
Activists, civil society leaders, and family members of Kudirat Abiola converged in Lagos yesterday at the her tomb. She was murdered on the orders of Sanni Abacha, it was carried out by Major Hamza Al-Mustapha.