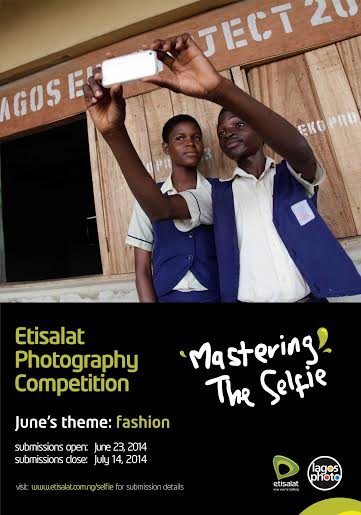 Are you obsessed with taking selfies? Digitally and social media savvy? Then this competition might just be for you!
Etisalat Nigeria, in association with African Artist's Foundation (AAF) – the organizers of the LagosPhoto Festival, have announced the 2014 edition of the Etisalat Photography Competition themed "Mastering the Selfie".
The competition which supports contemporary photography in Nigeria, is inviting you to upload your photos online via the Etisalat Photography Competition website here: http://etisalat.com.ng/selfie/
Each month, 20 photos will be shortlisted by a panel of judges and released to the public through the Official LagosPhoto App by Etisalat.
To view the top 20 shortlisted photos, simply download the official LagosPhoto Mobile App and share your favourite photo(s) on Facebook or Twitter. To vote, simply click on the 'Like' button beside your preferred photo.
What do you stand to win? The first prize winner of this year's competition will walk away with N100,000 and a Smart Tablet. The second prize winner will win N75,000 and a Smart Phone and the third prize winner gets N50,000 and an Etisalat Modem.
How cool is that?
So what are you waiting for? Get in on the selfie action and stand a chance to win amazing prizes courtesy Etisalat.
____________________________________________________________
Sponsored Content