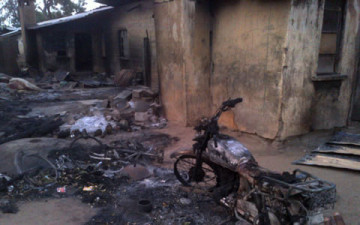 On Friday, Islamist terrorist group Boko Haram attacked Damboa, Borno State. 21 people have been confirmed dead.
2 weeks ago, the town was attacked by the sect leaving many residents, military personnel as well as members of the group dead.
According to Punch, the town as well as other 50 other communities in the troubled state are susceptible to terrorist attacks.
As there was no security to repel them, they really attacked.
Abbas Gava, a member of the youth vigilance group, told journalists in Maiduguri that the sect attacked from 5 am and began the massacre.
An anonymous security officer confirmed the attack.
Photo Credit: Punch