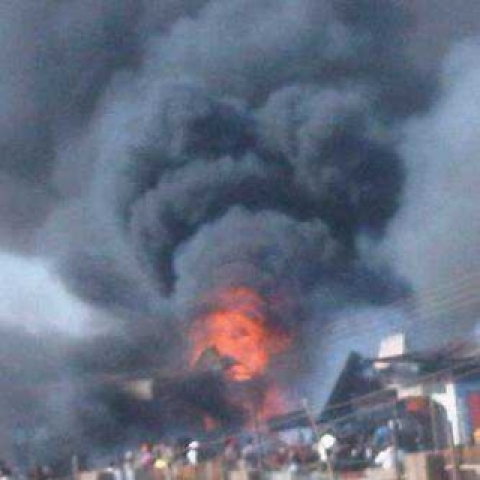 A female suicide bomber blew herself up today at Kano Polytechnic.
The incident occurred as students queued up to check an admissions list, according to BBC Africa.

Many are feared dead. However, information about the death toll is yet to be revealed.
We will bring you additional details as soon as they become available.
Update:
Kano (NAN) ― Three persons were confirmed dead on Wednesday in Kano when a female suicide bomber carried out an attack at the entrance of Kano State Polytechnic.
The Commissioner of Police in Kano, Aderenle Shinaba, who made the confirmation while briefing newsmen on the incident, said seven persons were injured in the during the attack on the school.
Shinaba said the incident happened at about 3.30 p.m. when some graduates of the college were checking their deployment for the National Youth Service Corps (NYSC) on a list pasted at the gate of the institution.
He said that the bomber, who detonated the explosives hidden on her body and two other persons were killed in the explosion.
"We are in a very difficult situation where we have a new dimension of suicide bombings in the state.
"This calls for vigilance and intelligence gathering on the part of everyone.
"The issue of teenage female bombers also calls for vigilance and serious attention of law enforcement agents; it is a fight for all of us,'' he said.
NAN recalls that no fewer than eight persons died in two bomb attacks in Kano on Sunday.
The incidents were carried out by suicide bombers, a male and a female. The male attacked worshipers at St. Charles Catholic Church along Zungeru Road in Sabon Gari and killed four people.
The female bomber detonated the explosive she concealed in her dress, blowing up herself and three other women who had queued to buy kerosene at a filling station at Kofar Nassarawa area of the metropolis.
Shinaba urged people in the state to be security conscious and report any suspicious character or movement to security agents.
"A situation where a teenage girl who has no business checking her name in the NYSC deployment list was among the people should have raised suspicion,'' he said.
He said all the injured had been taken to hospital for medical treatment.
The News Agency of Nigeria (NAN) reports that the area has been cordoned-off while security has been beefed up at the school.