One of Africa's most celebrated runway queens Millen Magese has previously discussed her battle with endometriosis.
But in the July/August 2014 issue of Radiant Health Magazine, the Tanzanian beauty speaks candidly about the condition.
She confesses that the condition has had a negative effect on her career, and personal relationships. Millen was first diagnosed at 25.
Nigerian beauty queen and fashion icon Nike Oshinowo has also been open about her battle with endometriosis – a gynaecological condition which can cause severe pain and infertility.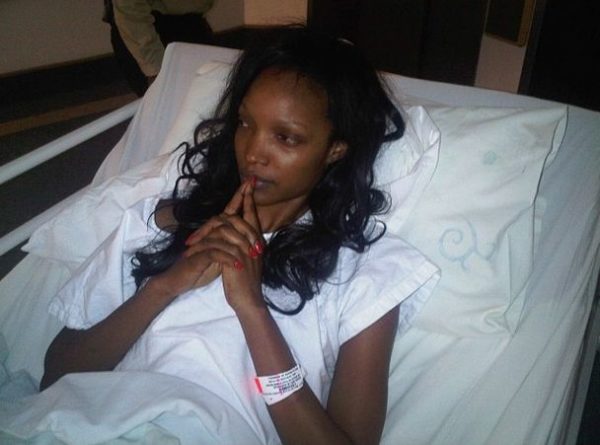 Millen who was reasonably private about the condition, tells Radiant Health that she underwent an egg-retrieval procedure in order to save her eggs, for a chance to have children in the future.
"I was not always open about it until my wake-up call in February. I was only able to produce three eggs. It takes its toll on you emotionally, in addition to the financial commitment involved. And when the trail to save my fallopian tubes came to naught, it was at this point that I decided to talk about it." she says.
Millen also credits Nigerian actress Rita Dominic for inspiring her. Millen became aware of Dominic's social media efforts raise awareness about the condition in Nigeria during the World Endometriosis Month in March.
On further going public, she says;
"I was still recovering from my egg-retrieval procedure, and the result was just too emotional. Together with all that was happening, I felt it was my call to speak out without a care about myself anymore. If I could help one woman, that was enough for me. It feels good that I was able to touch quite a lot of women, and even better that I'm no longer alone as I go through this. That I'm able to speak about my problem is part of my healing."

You don't want to know the emotional breakdown, the depression, the frustration and the questions I asked myself as someone battling with a medical challenge for which one of its symptoms is what looks and feels like a taboo subject to speak about as an African woman: 'Period pains or pains during sex.' These are things that are private for most of us Africans, and I didn't know how people would receive it, and as a public figure, I wasn't sure how it would play out. But I'm not talking about it as a public figure. I'm speaking out as a woman."
To read the full interview with Belinda Otas, click here
Cover Credits
Photography: TCD Concept
Make-up Artist: Joyce Jacob Beauty
Stylist: Bolaji Animashuan