Salut a Toutes!
First, I'd like to say a big 'thank you' to everyone that turned up for Chef Fregz Special! Thank you for your support.
The other day whilst doing the usual scrolling through Instagram, Sister Dooney dropped a chilli jam recipe and I almost took a spoon to scoop my share from my screen. It got me thinking because I love unusual condiments like that. From truffle mustard to key lime and papaya (pawpaw) chutney, chilli peach glaze which I use for chicken (perhaps I do that recipe another day). You know how it is for Nigerians, if it's not ata rodo through and through we no wan hear; but sometimes it really does work and I've decided to take that risk today.
By all means skip the sugar here today and keep it spicy through and through and I would be giving my tip for that as well.
So yes, I am taking on the sweet chilli sauce. You know that sweet option of chilli sauce you would find at a chinese or Thai restaurant…yes, those ones. We can make it ourselves, which is rather easy. You require a little patience.
I have opted for the green thai chilli or green shombo. The red variant was too mainstream and most people, like my mum, would use it in their designer stew. This condiment is perfect for people who come over and do not like so much heat but the sweetness is cool enough for them to handle pepper. Kids can enjoy this too.
What You Need
300g green thai chillies
1/2 cup white caster sugar
1/2 cup rice wine vinegar or regular white vinegar
1/4 cup water plus 1/2 cup for end of cooking
Ginger to taste
Garlic to taste
1 tablespoon chopped coriander or coriander paste/sauce
1 medium onion roughly chopped or sliced
1/4 cup dry white wine or sherry wine
2 tablespoons fish sauce
1/2 tablespoon cornflour mixed with 1tablespoon of water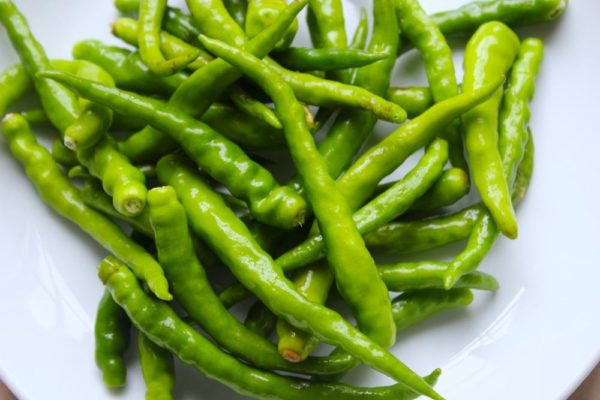 How To
Place all the ingredients in a food processor except the vinegar, wine and cornflour.
In a hot saucepan pour the mixture and allow it bubble away. After a few minutes (about 10 minutes) the mixture should bubble and start  to thicken. This means that the sugar starting to caramelise. Allow the mixture to cook till it almost dries out. Once you see it catching at the bottom add the vinegar and wine and deglaze the pan (a.k.a remove the bits that caught at the bottom of the pot). Then add the other 1/2 cup of water as well as the cornflour allow to simmer on a low heat while it thickens.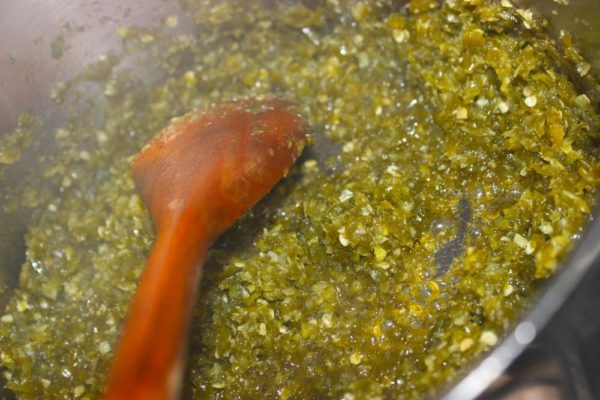 Allow to cool or you may decide to use hot.Remember that as it cools it thickens a bit more. I paired my condiment today with some prawns. Here's the recipe below:
For the prawns
8-10 medium/large prawns
1 tablespoon dark soy sauce
Garlic to taste
3/4 teaspoon seaosning cube like Knorr classic or adobo or aroma classic
1 teaspoon sesame oil
1 cup panko breadcrumbs
1/2 cup rice flour
1/2 desiccated coconut (optional)
Vegetable oil for deep/shallow frying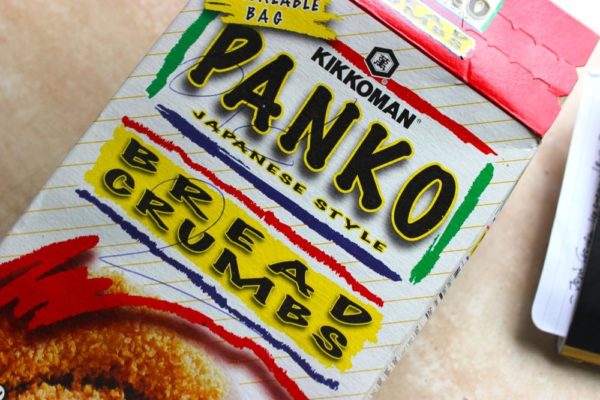 Season the prawns with all the ingredients listed except for the flour, breadcrumbs and desiccated coconut (if you're using it) Quite frankly just as you season, you can go ahead and dip in the breadcrumbs-flour-coconut mixture and fry straight away. However, there is nothing wrong with marinating for 20 minutes to overnight in the fridge.
So coat the prawns well and try to even press the flour mix well on to the crustacean, then place in your hot oil. You want your oil to be hot but not smoking hot so the coating doesn't burn and the prawn would still be raw inside.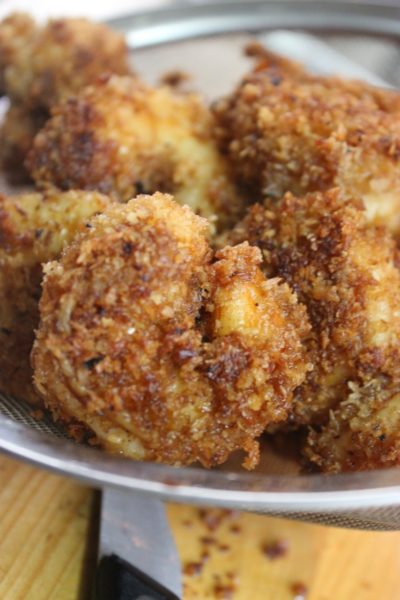 Fry for about 40 seconds on both sides and ensure it's a nice golden colour. Don't worry, some parts would darken slightly where the oil was a little too hot still.

This was my choice of what to eat the sauce with, especially as it was part of my freezer clean out. This sauce can stay in your fridge from 2 weeks to a month. Use it over roast chicken, fish, plantain chips, corn chips and whatever you deem fit.
Please feel free to use red chillies for this recipe but increase the sugar quantity to 3/4 or a whole cup.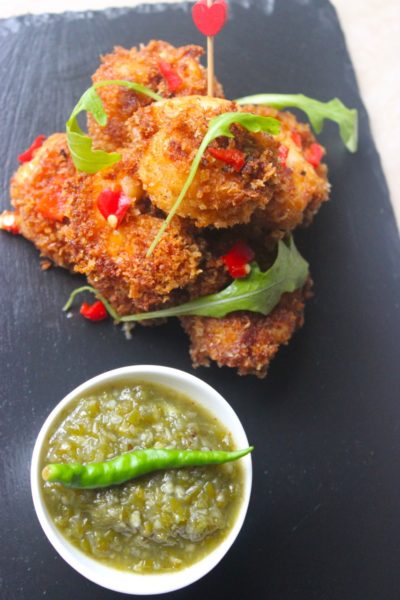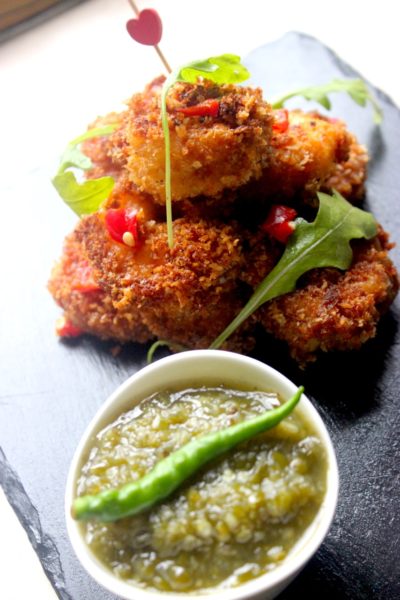 Go ahead and try one of the condiments that featured in this series.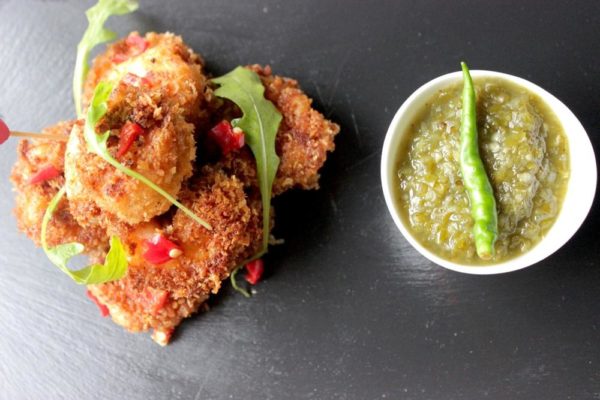 There are cooking classes coming up at Kogsy. It's the Chef Fregz Master Class at Kogsy. It runs form the 19th to the 21st of August. Please follow on Instagram and Titter on @chef_fregz for updates and of course updates would be put up here.
Alright…. Be great in your kitchen this weekend!
Ciao!