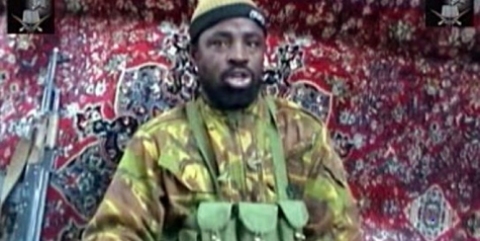 Last Thursday, Boko Haram took over Gwoza town in Borno State. And now, the terrorist group has declared the town as an Islamic caliphate.
Leader of the terrorist group, Abubakar Shekau, made the declaration via a video obtained by Agence France-Press on Sunday, Punch reports.
"Thanks be to Allah who gave victory to our brethren in the town of Gwoza and made it part of the Islamic caliphate. By the grace of Allah, we will not leave the town. We have come to stay,"
According to reports, the video also shows 20 men who are apparently civilians, with their hands tied behind their backs. The terrorists are shown approaching them, and subsequently shooting the men at close range.
The footage is also said to show the insurgents in action, taking over the town and wreaking havoc.
However, the Nigerian Military has debunked Shekau's claims of forming a caliphate.

Referring to his claims as "empty," the military said in a statement:
"The sovereignty and territorial integrity of the Nigerian state is still intact. Any group of terrorists laying claim to any portion of the country will not be allowed to get away with the expression of delusion and crime."