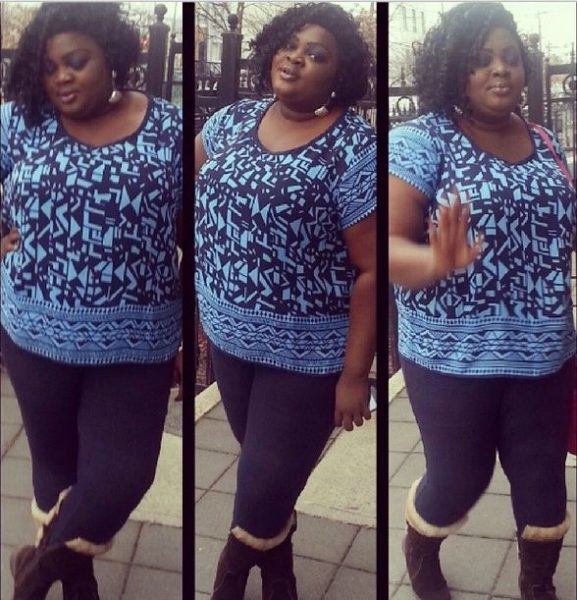 Nollywood actress Eniola Badmus was interviewed recently by Vanguard Newspaper and the Yoruba actress known more for her role in Funke Akindele's 'Jenifa' movie talks to Vanguard about her roles in movies, being plus sized, what she finds attractive in a man and much more.
Read excerpts from the interview below!
What has been your biggest challenge since you got into Nollywood? I've been in this industry for a long time; I don't even look at challenges anymore. When you stay too long in a particular stuff, it doesn't look challenging anymore because my life is all about this that I do. I've been doing this for over a decade so I can't just say one thing is challenging. I try my best in all that I do
You mostly play bad girl roles in movies, why? I don't remember the ones that I played bad girl recently, maybe before, but I know I've changed a lot of stuffs. I've been playing other roles too and the fact that I play bad girl role doesn't mean I am bad, maybe, I'm good at it though.
You and Davido were seen together recently, what were you guys doing? Shout-out to my brother, Davido! That's a movie shoot, that's my movie coming out sometime next year. I shot some in Yankee and I'm shooting part of it again in Nigeria
Have you ever thought of losing weight? Why is this my being big an issue to people? Okay, everybody has to be very very slim, right? In the US they don't discriminate like this o, it's only in Nigeria people get worked up about being overweight. I understand it is not healthy to be overweight at all, but should it be an issue as a lifestyle?
Has your weight affected your career in any way? How now? That is what has been working for me. It is not easy to be big and famous. Instead of my weight being a drawback, it has actually been a blessing.
Are you currently in any relationship? Yes, obviously, I would have someone I'm dating; I'll have somebody I'm planning marriage with, even if I'm not planning marriage, at least I have somebody I'm seeing.
What do you find attractive in a man? I just like a regular guy that has talent, even if he does not have talent, he has to be intelligent. A regular man, an average man; but please no body odour and no mouth odour, such are very important to me.
At your last birthday party, you were seen with bottles of alcohol… (Cuts) When you have a party, you don't give alcohol? See, I am a kind of person that doesn't see a thing like that as anything special. How can any normal person have a party without alcohol? I'm not an SU o, let them know. I'm a born-again Christian but I'm not an SU. When we have parties, we serve alcohol, it is normal. Party without alcohol is nothing, its zero.
Are you planning on getting married? Yes now, every girl wants to get married at some point in her life. Even if I'm getting married, nobody would know though.
Why? Because I just want to keep it like that. I am not the kind of person that wants her private life in the open. Any relationship I have, I just want to keep it off the news so it can last. If it's in the news, they'll frustrate the relationship and before you know it, the relationship ends, basically because the man may be scared off by the noise.
How would you describe yourself off camera? I like to chill a lot, I like to just be in my house watching TV, reading novels and watching my other jobs I've done that came out and try to correct my mistakes. I'm always in my friend's house when I'm not working; I like to chill with my friends and family because that's the only time I have with my people.
Read up her full interview with Vanguard newspaper here.
Photo Credit: Instagram