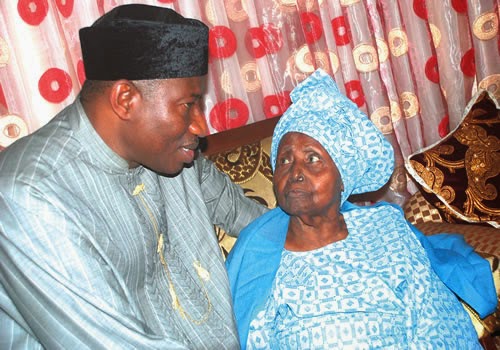 President Goodluck Jonathan has congratulated Hannah Awolowo on her 99th birthday , which is today, Nov. 25.
The News Agency of Nigeria (NAN) reports that the nonagenarian is wife of the late nationalist, political writer and statesman, Chief Obafemi Awolowo.
The president's congratulatory message is contained in a statement issued by his Special Adviser on Media and Publicity, Reuben Abati, on Monday in Abuja.
The statement said "President Jonathan and his family join millions of admirers of the late nationalist, renowned political leader and sage, Chief Obafemi Awolowo in wishing his "Jewel of Inestimable Value" very happy birthday celebrations.
"He prays that God will grant Mrs Awolowo many more years of worthy service as the matriarch and moral compass of the great Awolowo political dynasty which continues to play a
commendable role in national development.
"President Jonathan looks forward to personally participating in the celebration of Mrs Awolowo's landmark 100th birthday next year to honour the highly-revered spouse of one of Nigeria's famous founding fathers.
"He prays that God Almighty who has blessed Mrs Awolowo with remarkable longevity will grant her continued good health and very memorable birthday celebrations."
Photo Credit: Osun Defender