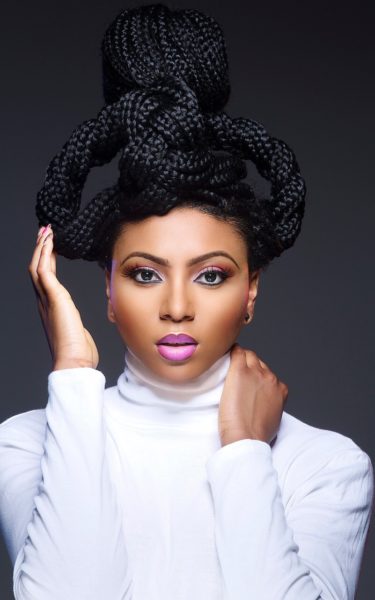 So we all know African women are quite versatile with their hairstyle choices. We could rock a good bob, a perm, twists, afros, "didi", Ghana weaving, dreadlocks, long and short weaves and of course braids. We love to look good; it boosts self-confidence and generally makes us feel great about ourselves.
Personally, I love a good weave. I like to play around with waves and curls, tints and highlights. Other times, I like to mix things up a bit and opt for well-made braids or twists: those long, well-made twists that you can tie up in weird ways and look utterly stunning with (who doesn't want to look like an African Queen?!) There is also the kinky type I admire on so many women but don't think I could ever pull off.
There are pros to both hairstyles. I'm sure many women would agree with me that fixing a weave is a lot less tedious than getting hair braided. It takes a lot of patience to sit for four hours (at least!) with people pulling and tugging at your head all to get your hair done. However, there is no denying that braids are a lot easier to maintain: you need not worry about brushing or curling or straightening; you just tie them up and you're good to go.
A thought occurred to me: what do the menfolk think about it? I decided to find out what our admirers (the men!) think about our hairstyle choices by asking which they preferred: braids or weaves.
I spoke to a number of men and even took a poll. The comments came rolling in and as it turns out, most of them actually prefer braids. Going ahead to ask why, the reasons given were quite interesting. I'll list some of them below:
1. Braids are neater and tidier; you don't have strands of hair falling in your food and on the floor with braids.
2. They last a lot longer and actually look better with age. The tacking of weaves could come off and become misshapen, and then the woman would have to go to the hair salon to get it fixed.
3. Braids make a woman look more confident in her own beauty.
4. Braids don't clog the bathroom sink like weaves do.
5. They look more natural; more African.
6. They're totally hot!
A few men (and I'm sure women too) are of the opinion that wearing a weave is born of the need to adopt a more Western look, rather than embrace African ethnicity. I won't go into this though.
Some men spoke for #TeamWeaves. They gave their reasons too:
1. Weaves give a woman an air of sophistication and make her look glamorous.
2. Good weaves are infinitely sexy.
3. Weaves are versatile; you could do a lot with them. You could wear your hair straight or curled, long or short. You could give it highlights or a tint in many different colours (red, gold, blonde, blue, black, auburn, etc). Braids look weird and almost ratchet (*gasp*) in unnatural colours.
4. Weaves are suitable for any occasion.
5. There are weaves to suit any woman but not all women look good in braids.
Of course, there is the category of men who really don't care either way, as long as the woman looks great.
You are probably now wondering, "why then the craze for expensive weaves?!" They are a good investment, since you can re-use your weave quite a number of times if maintained properly. The conclusion I came to after my (philosophical) pondering was that although the majority of Nigerian men certainly prefer braids, women would ultimately fix themselves up however makes them feel most comfortable and beautiful. For now, it's #TeamBraids 1 – 0 #TeamWeaves.
What do you guys think though? Do you prefer: braids or weaves?
Photo Credit: BigH Studios