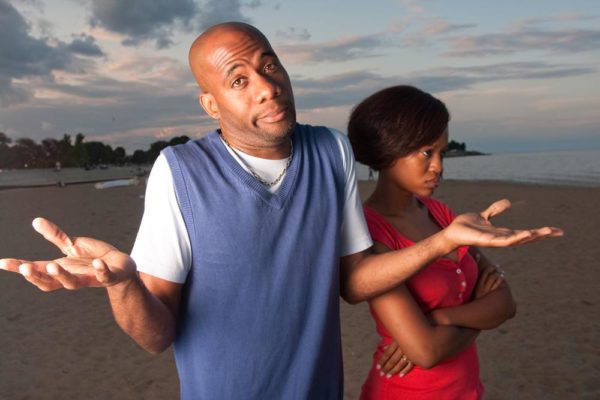 Well, as a guy, we would almost date anyone who gives us eye, and is willing to do anything we want them to. But, babes, in this era of main chic and side babe, you have to know the one you are. So, from a guy who has not had a lot of experience with dating girls, here is a rundown of the reasons why I would date/not date a girl.
All natural, no sugar, spice and everything nice
Confession – I like "Deeper girls". When you see a really beautiful deeper life girl, you know she is fine. No makeup, no nada. But, women, please, you have to know that men like a little bit of "Extra". Have concealer, and all those gbogbo e things. Ahnhan? Look presentable please. We like your natural beauty, and we love you like that, but if you do not look presentable, "On to the next one".
Also, wear nice clothes. Don't give me all that "It's not about what I wear, it's about who I am". See eenh, men like it when other men are scoping their babes. Wear a nice skirt and blouse, with nice shoes. You don't have to break the bank to look good. Don't buy Brazilian hair; there are cheaper weaves you can buy. Men do not kuku know the difference between Brazilian or Peruvian hair anyway.
All lies, no truth
In relation to the above point, yes we like all that "extra extra"; but when you now do it too much that we cannot recognise you, now that's bad. The one that you will go home with a girl the night before and in the morning, you are wondering who the "Ogbanje" sleeping beside you is.
Also, what's the business with all that fake "yansh" and "Bobbi"? My friends and I went for one wedding last year, and we wanted to allow one girl with this fine piece of behind sit on our chair. That's how as she was about to sit down, her "Yansh" shifted. Wait, did the bone dislocate? Personally, I don't like it when a girl is showing off all her assets even before I start talking to her. You will wear short dress and be adjusting it every minute because it's too short. You will wear dress and be pulling it up because all your breast is showing. Please, there are ways you can arrange yourself and look decent, but still look like an "I'm sexy and you know it" babe.
Bey behaviour
I still have a huge crush on Beyoncé though. These days, because babes are now making money more than men, they feel like they can insult them. Let me tell you something, "Shove your money…" I mean, men like women who can handle their business, but it does not warrant misbehaviour. When you will be rude because you are working in oil company and making armed robber money. A man wants to take care of a woman. Some men will not approach you just because you are very proud, and you will be wondering why you have no boyfriend at 35. In some cases though, men are intimidated by successful women, and it might be because of the male ego… they are just scared. Women, tone down that feminist behaviour and get yourself a boyfriend today. FYI, I'm a big feminist though. Female presidents and all that pro feminist stuff.
I go chop your dollar
I detest broke babes with a passion. When a girl is always asking… "Bobo, buy me this, bobo send money to my account, bobo, pay for my brother's school fees". Omo, na to run o. I'm not saying I don't like buying babes stuff. I'm not stingy. But, some women will make you feel like it's your obligation to sponsor their life. Why? Are you an orphan? Babes, spend money on a man. That's one of the sexiest things u can do for a guy. A man, even after he marries you does not have to buy you everything. Don't ask your boyfriend or toaster for something you or your parents can't afford (Okay that might be a bit extreme sha…). I dunno, I won't date an "I want, I want" babe sha.
100 yards of China White
"Mummy, what will you have for dinner? I can make you Indomie alacat". What's that? It goes beyond cooking sef. These days, people don't regard the knowledge of cooking as something important. Me, I like food. A man will not find a woman who has no basic knowledge of taking care of a house attractive. Stop watching "Keeping up with the Kardashians" and think that's how life will be. Even if you have life all fab with maids and man servants, please, know how to cook and clean. My dear, you don't have to do it, just know how to do it. My darling, the past is not really the past. Even though I hope the world gets past the "A man is a bad guy, a woman is a whore depending on how many sexual partners they have" phase, it still tells on who would find you attractive, and who wants to just gbensh. On the other hand… I'm starting not to make any sense right now.
Photo Credit: Dreamstime | Bryan Creely