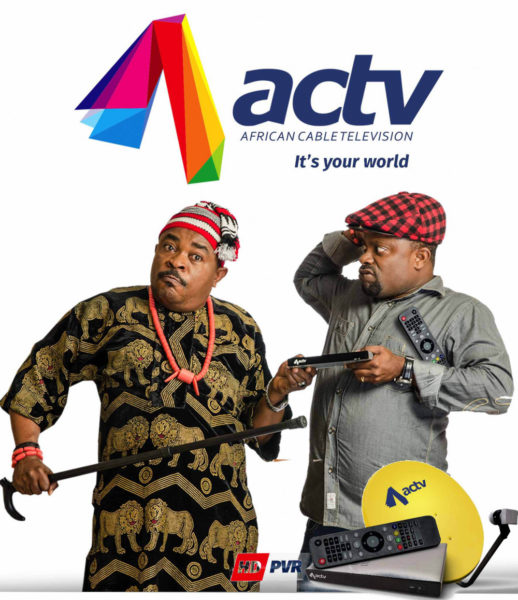 Hi BellaNaijarians!
Did you know that you can watch TV stations like MTVBase, Nigezie, BBCWorld News, Nickelodeon, Aljazeera on the Go and you would pay so much less than other satellite TV stations?
Find out More about how #payTV just got a lot better for Nigerian entertainment lovers.
You can now watch your favorite entertainment channels, Telemundo-esque American Spanish Drama, Indian Movies, Fashion and Fitness Channels in Nigeria for a whole lot less. While other satellite TV companies might require you to break the bank just for TV, ACTV is apparently offering the same service for less.
ACTV carried out some personal research to do a quick review of their services in comparison to others:
Here are some answers to FAQ you might have about ACTV – African Cable Television!
What kind of stations do they offer?
ACTV Prime has 18 channels which include BBC World News, Channels, AIT, STV, and new channels such as Area TV (with PIDGIN content), OJI (with Igbo Movies), IBILE (with Yoruba Movies) and RANA TV (with Hausa Movies)
The full Bouquet ACTV Premium has 60 channels which include MTV Base, MAN-U TV, FOX (News, Movies, Crime, Sports, and Business), NAT GEO, Nickelodeon, Sky News, Aljazeera English, and American Spanish Drama
Would I pay extra for HD content?
No, you don't. The HD channels come with whatever bouquet you choose.
How exactly do the play, pause and rewind feature work?
It's all in the remote control. Details for use exist in their TV guide.
Can I stop my kids from watching too many Nollywood movies?
Yes. There's parental control and it is so easy to use.
What else can I achieve with this super ACTV-6000 decoder?
You can watch movies and view pictures that you have on your hard-drive by connecting it to the decoder. This means whether or not your TV is smart or dumb, once you have the movie on your flash drive, you can watch it via their decoder.
For more information, questions or enquiries call: +234-1-255 1111, 08070700500
You can follow them on Facebook, Twitter, Instagram, and their website.
______________________________________________________________________________________
Advertorial – Sponsored Content