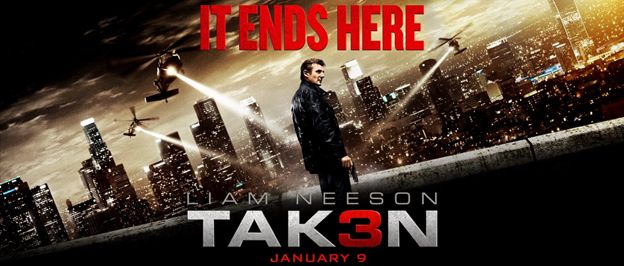 Happy New Year Tripican fam! We know it's been a while but we are back and ready to get 2015 started.
Now, you've seen the memes, but this time Liam Neeson is back and it all ends here in the 3rd and final installment of Taken.
Don;t forget you can see any movie today at just N700 at Genesis Deluxe Cinemas. Get a free popcorn and a drink as you buy your tickets now here – http://bit.ly/18qZyNE
Synopsis
Liam Neeson returns as ex-covert operative Bryan Mills, whose reconciliation with his ex-wife is tragically cut short when she is brutally murdered. Consumed with rage, and framed for the crime, he goes on the run to evade the relentless pursuit of the CIA, FBI and the police. For one last time, Mills must use his "particular set of skills," to track down the real killers, exact his unique brand of justice, and protect the only thing that matters to him now – his daughter.
Cast
• Liam Neeson as Mills
• Maggie Grace as Kim
• Famke Janssen
• Forest Whitaker
• Sam Spruell
• Dougray Scott
• Dylan Bruno
• Leland Orser

Watch the Taken 3 Trailer

On a scale of 1 to 5 rate the trailer in Stars
• 5 stars
• 4 stars
• 3 stars
• 2 stars
• 1 star
Movie Images
For this and more movies at discounted prices, visit www.tripican.com