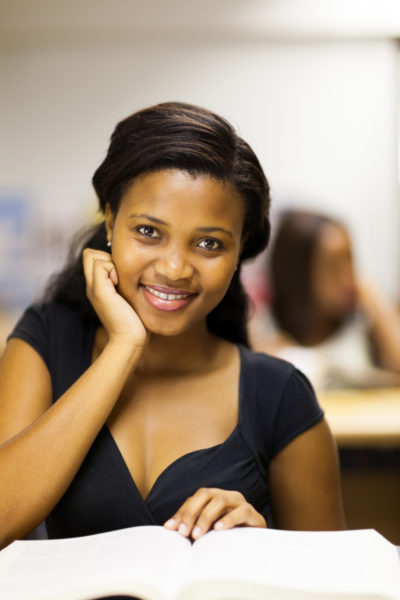 Poverty, desperation, peer pressure or greed? What could possibly be the constituting factors responsible for the increasing rate of prostitution burrowing deep into the ivory tower of learning institutions in Nigeria?
Indeed, it is right to say that tertiary institutions in Nigeria have become citadels of indecency and sexual activities.
As a student, I have witnessed some of these things.  I have come across good girls from proper families obliging to this pitiful lifestyle regardless of having every basic need at their disposal: proper education, monthly allowance, food, shelter and clothing. Although, poverty is a contributing factor to this problem, is the excuse of lack, justifiable for engaging in this act?
Girl! No situation is permanent, you cannot define your future by your present situation,nothing good comes easy; the people you see at the top today did not just appear there, they all have their stories to tell.
Sex has become cheap and easy to get from female students of Nigerian higher institutions; they readily sell their bodies to anyone willing to pay good cash, buy designer purses and shoes, sponsor luxury vacations, buy Brazilian and Peruvian hair, buy the latest smartphones, even something as ridiculous as paying for outrageously expensive drinks at nightclubs. Needless to say, anyone willing to spoil them silly is in for a good treat.
This sex trade is booming on campuses and even extending to hotels and night clubs across the country. These "bad b*tches" as they call themselves would leave their school work to be gallivanting the whole place in search of only God knows what.
Who do we blame for this situation? What is the government doing about this? O wait! What can they do? They actively patronize the trade as well, through agents otherwise known as 'pimps'. These pimps make a lot of money by organizing call girls for these irresponsible men throwing caution to the wind and engaging in lewd activities with girls young enough to be their daughters/granddaughters. These pimps carry albums about, containing pictures of these girls to present to clients who are interested but too busy to carry out a life interview. The buyers have the right to choose from the various options available to them, they pick the ones they find attractive and take them for a price.
Shame is not even considered as an obstacle to these "bad b*tches" and "runz girls"; they form cliques amongst themselves parading the campuses with luxury cars, high quality textured weaves, designer purses, bleached skins and the latest smartphones you could find around. They have improvised new techniques using social networks to patronize their services by posting racy pictures and videos hoping to attract potential customers. They even go as far as putting up contact numbers and email addresses for "bookings and enquiries" to make what they are doing seem less disgusting than it actually is.
They really do not have the time to listen to you if you are not talking money. Did I hear you say love? If you are not talking money, you are definitely not talking anything. Looks are not even on the list of their specifications anymore. I once heard a girl say "I can date a monkey as long as that monkey has money!"
Celebrities also have a part to play in this epidemic; they portray perfect luxury lifestyles without telling the world the struggles they faced on the journey to becoming who they are today. If you ask some of these girls who their role models are, they will tell you significant figures in the entertainment industry who flaunt their lifestyles on social media. They want to own a Michael Kors purse, Elizabeth Arden perfume and Christian Louboutin shoes like the popular figures, forgetting that these figures have passed through challenging phases and as such cannot compare and expect to live such flamboyant lifestyles without passing through their own ordeals. The problem with these girls is that they want a ready-made life. Nobody wants to work hard for anything anymore.
I am a girl from an average family, I wasn't in any way born with a silver spoon, and I learned to do things for myself at a very little age. Growing up for me had its ups and downs; there were times when things were really difficult and I had to manage the little I was given. Depending on people has never been a thing for me. My parents send me monthly allowance but frankly speaking it is never just enough to cater to my evolving needs. The need to be independent basically pushed me into digging deep and discovering my talents, making money out of it has definitely enabled me to support myself. I don't need to wear designer clothes and fake my lifestyle because I know that if I work hard towards achieving my dreams I would succeed and success comes with living that lifestyle.
Patience is a virtue many of these girls lack. Climbing the ladder one step at a time is really not an option; they believe the fast track to the top is selling their bodies.
In my 300 level, I was still using a Blackberry Bold 6, basically I could do all I wanted to do with it plus the cost of subscription was very affordable so I had no reason to change it. I became a laughing stock to some of friends, they will say "ahn ahn Anne, when will you upgrade and change your phone, nobody uses Blackberry as a major phone these days". It got to a point where someone told me she would hook me up with a guy that would change my situation. My Dad got me a phone few months later on. It was far better than theirs. This just goes to show that contentment comes with a reward.
It is our duty as Nigerians to take whatever steps we can to see to the eradication of this problem facing us. Awareness should be created on this issue; it is too serious to be overlooked. If you are a regular patron, have a rethink, you could be of help to a young girl in need without accepting the price she has placed on herself. If you have a friend or neighbor that engages in this lifestyle, a word of advice could go a long way.
The government also has a duty of setting regulations and implementing them in order to curb this phenomenon; they can also provide work study jobs and avenues for supporting talents. The school administration has a function of discouraging these acts as well.
To all my "bad b*tches" out there, take bits of that bad b*tch and see if you can fuse it into becoming a queen, anything that can be purchased is essentially worthless. Do not let the mistakes of your ignorance be an obstacle to your future, because at the end of the day it's not worth it.
Photo Credit: Dreamstime | Michael Zhang