Hi BNers,
It's time to get the latest information on deals, discounts and sales with our BN Bargains.
Be Part of Omotodun Organic Skincare's 'No More Blemishes' Workshop with over 70% off the Original Price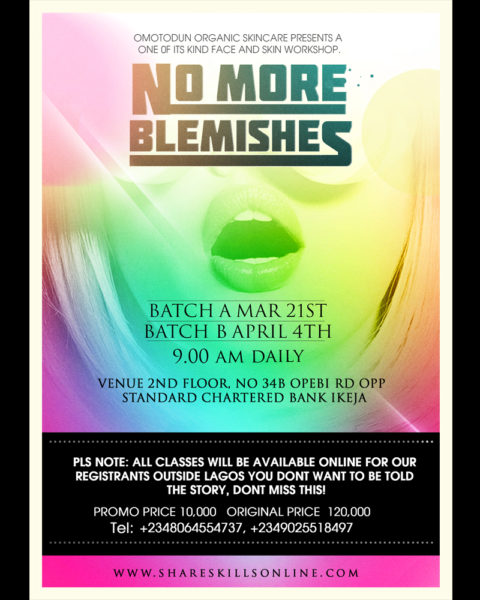 Omotodun Organic Skincare is offering an opportunity to be part of a workshop – a natural beauty intensive weekend that promise to be creative, informative and filled with lots of fun.
It's a complete training on how to produce a wide range of standard skincare products for personal use as well as business in a very conducive interactive atmosphere.
The course content includes:
*Producing Face Cream for Blemishes & Other Skin Problems
*Their Newly Discovered Asian Secrets Anti-Aging Glow Spa
*The Supermodel Coconut Brazilian Glow Spa
*Packaging and Sourcing of Raw Materials
…and more!
The promo price for the workshop is #10,000 – giving you over 70% off the original price.
Date: Saturday, March 21, 2015 | Saturday, April 4, 2015
Time: 9 AM
Venue: 2nd Floor, 34b Opebi Road, Opposite Standard Chartered Bank, Ikeja, Lagos
Account Details: ABAABEE Enterprise | Diamond Bank | 0053195532
For more information visit www.shareskillsonline.com or call 08064554737 and 09025518497.
Miskay Boutique is Offering Half-Price off EVERYTHING!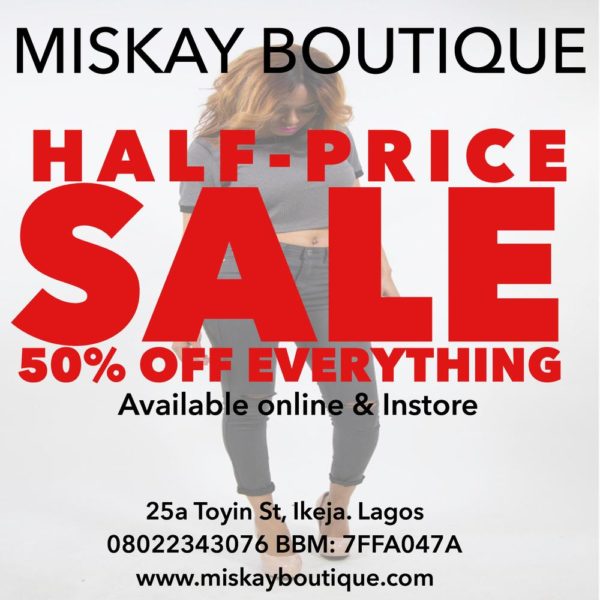 The Miskay Boutique's 'Half-Price Sale' Kicks off today in both their offline and online stores.
The fashion retailer is currently having 50% discounts on all available pieces and this offer is valid while stock lasts.
Be sure to visit their store at 25A Toyin Street, Ikeja, Lagos.
For more information call 08022343076 | BBM: 7FFA047A | Website www.miskayboutique.com
Enjoy House of Lunettes' 15% Discount off all Women's Sunglasses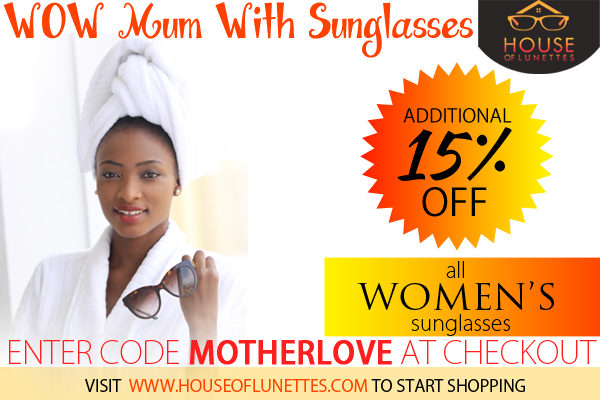 House of Lunette is offering a special way to appreciate mothers this Mother's Day with a special 15% discount off all women's sunglasses in their 'Sight the Deals' Promo.
Simply visit www.houseoflunettes.com and view all Women's Sunglasses priced at an extra 15% off at checkout when you enter promo code "MOTHERLOVE".
Sale ends Monday March 16th, 2015.
Get Up to 80% Discount In The MyLuxeDeals March Madness!
There is so much happening in March; from post-Valentines' catchup/makeup to Easter holidays to elections. That's why Fashion & Home Décor Online Store, MyLuxeDeals.com is going a step further in stealing the hearts of its members with massive discounts of up to 80% in a combo set of steals from multiple collections (My Sweet Cherub, Easter Bunnies-Season etc.) tagged "MYLUXEDEALS MARCH MADNESS."
The race has begun, and the deals run till March end. The deals are changing rapidly every couple of days, so hurry to get this great value steals.
To order visit www.myluxedeals.com or Call 08100682439 or Email sales@myluxedeals.com & info@myluxedeals.com.