BellaNaija received an email from 'Tosin Silverdam' – stating that he had been abused as a child and he recently met his abuser. We asked him to share his story with our readers in a more in-depth way.
It is our hope that other victims of this horrendous crime will find strength to rise above it all.
Who I am?
I'm Tosin Silverdam, born on July 11th 1990. I am from Kogi state. I'm the last born of my mother. I come from a scattered polygamous family. My dad married 3 wives but my mum is the first wife. My mum is a retired Chief Nursing Officer with the Lagos State government. I grew up in Ikorodu with my mum and brothers, while the other wives lived separately so there was no war. My father abandoned us when I was barely 5 years. My father abandoned us due to the fact that he lost his job, so he was ashamed and was not capable to fend for us any anymore. I'm a fresh graduate from Olabisi Onabanjo University, where I studied Mass Communication. Thanks to my mother who made sure her 3 sons graduated, she struggled to pay all our fees in the absense of my father who abandoned us.
Joy in My Childhood
The happiest part of my childhood was having my father around. I was always happy whenever he was home. I loved my father so much and he loved me, he was always carrying me around, sitting on his laps, feeding me, the toys and pastries he bought for me, my first bicycle as my 2 year old birthday gift. I remember he never laid his hands on me. He chastised my mother anytime she punished me. I still remember when I was in Nursery school, it was the closing hour and I was waiting for my mum to come pick me, but to my surprise both parents came to pick me. The funniest part was that my mum came with her car while my dad also came with his car, so I was confused on whom or which car to follow, but I decided to follow my dad because I loved him so much. I didn't like my mum then because she was strict. But as it is now, I love my mother more than anything in this world. I just had to love my mother when I couldn't find him anymore. So, having my father around me was the happiest part of my childhood, because today, when I see father's playing with their kids, it brings back those memories – happy moments with my dad too.
When My Dad Left
When my dad left us, I was very young, I didn't know anything, I was naive. I remember so many times on weekends, I would go outside our gate, waiting for him to come. I would wait outside for hours for my dad to arrive but he didn't show up. I asked my mother countless times, when my dad was going to come home, she kept telling me 'soon'. The soon became 1 year, 2 years, 3 years. I still didn't lose hope. I was hoping and praying he would come back home. During this period my father left us, things were difficult for us. It was hard for us live up to the society. The landlady was disturbing because we were owing 2 years house rent. We lived in a 3 bedroom flat. The landlady would come to our house and embarrass and threaten us. My mother would weep and beg. She had to sell her car because there was nobody to support her. How much was she earning as a salary back then? She was still a level 8 officer so her salary was so little to cater for the whole family. It was really tough for us. I remember how she used thread and needle to sew my torn school uniform.
Anytime I remember this I cry because my mother suffered. Despite all these problems, my mother didn't give up. She sold almost all her clothes and jewelries just to pay our fees. I remember the concoction rice, beans, garri and kulikuli, we used to eat. She made sure we never lacked even though it wasn't sufficient. Thank God my mum was working because I wonder what would have happened to us if she was just a full house wife. Things became so easy and better when my mum got promotion and she began to earn good salary. I've come to realise these challenges we faced back then actually made us stronger because no matter what the situation is, I can easily adapt. I've learnt a lot and it's really helping me now. I've reconciled with my father. I saw him again after 15 years. Even though I never had a father figure, my mother was the both, she was there for me and my brothers but no matter what there will always be a gap that needs to be filled by a father
My Abuser – Uncle K
Uncle K was a neighbour. My relationship with Uncle K was so smooth. He was like a big brother to me and was there for me when my mum and brothers were not around. He gave me gifts, money, chocolates. He would help me out with my assignment. I was always rushing to his place immediately I come back from school to go play video games. He was nice to me and my mum and brothers liked him so much. Sometimes I'd sleep over at his place. He was reserved and didn't constitute a nuisance because he's from a rich family. He was also from a deep muslim home. His elder brothers and sisters were abroad so he was the only one in Nigeria with his mother.
When it Started
I was only 11 years old when this tragic incident happened to me. Initially it started out with the kissing; he would kiss and peck me. I saw it as a friendly kiss because I was naive. What did I know?
I was in his place as usual, he was home alone.  I was playing a video game in the living room, while he was in his room, then he called me to come take "Goody Goody" a chocolate candy. I quickly rushed to his room and found him naked on the bed, watching porn on the TV screen. He got up from the bed, gave me chocolate, locked the door and told me to sit down. What did I know? I was naïve, I sat down watching the pornography with him. He kissed me unexpectedly. I wasn't bothered or shocked because it wasn't the first time Uncle K would kiss me on my lips, so I thought it was nothing. Uncle K said I should touch his erected penis, I declined, I was scared. He forced my hands on his penis. I told him I can't but he eventually had his way. My hand was on his penis already, he asked if I liked it, I couldn't give an answer. He wanted me to give him a mouth action.
I knew nothing, I was young, I gave him the mouth action, while he was moaning. He touched my buttocks, instructed me to pull off my trouser. I declined and that was when I realised something bad was about to happen to me. I told him I wanted to go home. I wasn't comfortable anymore, I was nervous. He forced me to undress, I struggled, I cried, then he gave me a dirty slap. I cried louder, screaming I want to home. He hit me again and told me to keep quiet. I wasn't strong enough to fight someone who is way older than me. Uncle K forced me, pulled off my trouser, pushed me on the bed, trying to penetrate me. He was unable to penetrate me probably because my anus was too tight. He quickly got up, begging me. I cried bitterly, threatened I was going to tell my mother. He begged me not tell her. He said he was sorry and continued begging but I insisted I was going to inform my mother about it. Immediately he rushed out of the room and came back with a knife threatening to kill me if I tell my mother. Uncle K became a monster all of a sudden.
Who I Told
I couldn't tell anyone about it because I was scared of dying. Uncle K threatened to kill me if I told anyone about it. I was naive and young. I couldn't even tell my mother about it because I was ashamed. It became the deepest secret of my life…but not anymore.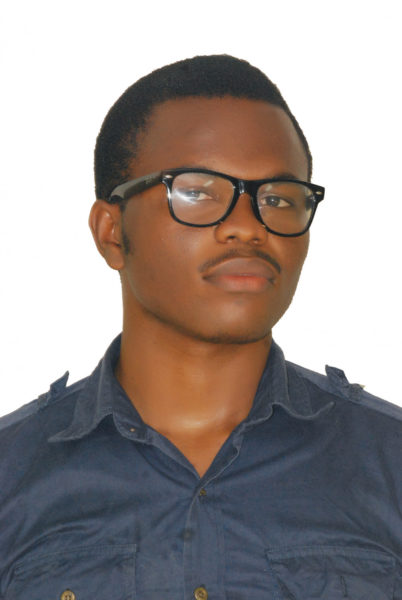 After the Abuse
That was the first and last time he abused me. I was just 11 years, so I stopped visiting Uncle K after that horrible day but my mother insisted I go to his place for my assignment, you know she's ignorant, to the extent that she even invited him over and instructed me to follow him to his place. I was scared, I cried, screamed that I don't want to go to his place neither do I want to see him. Thank God my mother didn't force me to go his place, because I'm very sure the abuse would have continued.
My mother tried to know the reason for my sudden hatred towards Uncle K whom I cherished so much. I couldn't tell her probably because I was ashamed or I was scared of dying. Few weeks later, Uncle K travelled out of the country, so I regained some peace, freedom and courage to walk in my street without stumbling unto Uncle K. So that was how the abuse stopped.
Other Abusers
When I was much younger, I had this very feminine look so I was just getting this unnecessary attention. I still remember my first year in the university, the husband of my female friend's aunt tried to take advantage of me. I noticed this man was always staring at me anytime I visit them. He sexually harrased me. I was 18 years. Till today, I couldn't tell my friend about it.  He begged me not to tell my friend about it.
Abuse & Social Interaction
The effect of the abuse made me scared of keeping male friends.  I wasn't comfortable in the midst of boys ever since that terrible ordeal. It made me loathe boys. I can't even go naked in the presence of a guy. I'm still fighting with this low self esteem. Till now I can't stay in the midst of guys for hours for a chat. I'm just not comfortbale with guys but I'm fighting with this. I'm getting better. I remember back in school, boys in my class would come and attack me and force me to come sit and chat with them, instead of me mingling with girls, they were complaining because I don't walk with boys.
Getting Help?
Who was going to help me? A shrink? I was too ashamed to ask for help, I kept it as a secret. It was my burden and I had to carry it. The only help was from God who kept me going with my prayers. The only person I could ask for help from was God and he's the only one I could confess to, because he knows my secret already and it was safe with him.
How I Kept Going
It was God that kept me going through out this emotional turmoil. I was going through a lot but nobody knows about it. I was going through a lot, my father abandoned us, growing up without a father and also sexual abuse, that still haunts me till today. But with God, my prayers, my mother's prayers, I'm still moving. Moreover, I'm getting older and matured so I just have to fight it because this life can't be perfect after all. Nobody is perfect. The environment also kept me going because I've heard and seen worst cases than mine, I just have to thank God for my own.
Confronting my Abuser
No! Why would I confront him? I see it as past. Although, I saw him years later, but I never confronted him.
Child Abuse & Sexual Orientation
Child abuse has affected so many lives negatively. A lot of people like me are going through psychological trauma. I've even heard and seen worst cases. It's increasing everyday. This can damage the sexual life of a child when he or she grows up. A friend of mine who is a victim of abuse told me she is a nymphomaniac because of her uncle's incessant sexual abuse. It's only a few that can fight or survive such abuse. Assuming I was continually abused by Uncle K, my sexual orientation would have been totally changed. I've heard so many stories of many people's sexual orientation being faulty due to child abuse.
Letting Go of My Anger
I just have to let it go. I've forgiven him already. He never asked for forgiveness but I don't know if I still hate him or not. I just have to free my mind, set myself free. I actually saw him 14 years after in a filling station. He was in his Jeep, I was surprised when I saw him though. Uncle K couldn't recognise me because I've grown fatter. He was staring at me, while I was smiling instead of me to be scared, crying and screaming that I don't want to see him again. I guess I'm now matured and strong. If I don't let go of the anger and resentment towards him what should I do in the case of my father? I've forgiven both of them. I'm at peace with myself.
No Buried Resentment Towards Mum
I can never blame my mother for this, I can't blame her for my mistakes in life. When I was abused, she tried to find out what was wrong with me but I didn't tell her. She did her best as a mother, she was the only one we had, she was my mother and father, she did the things that some both parents can't do for their children. I'm not angry with my mum and I can never be. The problem was that she trusted him and no mother would ever thought of such happening to their son. Assuming I was a girl, she would have been more worried but I'm a boy she can't have thought of Uncle K molesting me. As it is now parent shouldn't trust their child with anyone; that was the only mistake my mother made.
Speaking Up Now
I decided to share my story so that others can learn.  A lot is going on in this life. Seeing Uncle K at the filling station without confronting or fighting with him prompted me also to share my story. I want parents to be careful with their children. Their childhood really matters a lot, I want parents, especially the single parents to guard and guide their children. There are animals in form of human beings out there, please watch over your kids. Make them talk to you, let them be free with you, ask them questions.
Lessons From My Experience
Any young person being abused should be able to speak out, speak to someone, ask for help. So many people are going through this but they can't tell anyone, they decided to keep it as a secret, it would only do more damages to you if your don't say it out or ask for help. I know it's not easy to come out and reveal. I actually struggled with it. I'm at peace with myself, assuming I had told my mother about it earlier on, it won't affect me like this. My mother would have arrested and dealt with Uncle K.
People like Uncle K needs to be punished. Things like this are too big to be kept as a secret. You just have to be strong and take away the shame, you have to be a fighter.
I remember a little girl my mum treated of minor STD, she's just a S.S 1 student, still in secondary. My mum was dumbfounded when she found out the girl had sexually transmitted disease at that age. The little girl later confided in my mum that she was being abused by her step mother's younger brother and their neighbour. When my mother asked her why she didn't tell her parent, she said she was scared of telling her wicked step mother. My mother had to take up the case. A lot of these things are happening and we need to speak out.
I've grown up to be a strong person, matured mind. I can easily adapt to any situation in life because I've seen the good and the bad side of it, I don't get scared anymore. I still remember when I had an accident, I couldn't walk for 3 months, I missed lectures and exams but today I survived. I graduated with a second class division, without any references. This life is beautiful but it's just not perfect. I'm stronger now. My priority now is to get a good job and start earning to pay the bills for my mum now because she's retired.