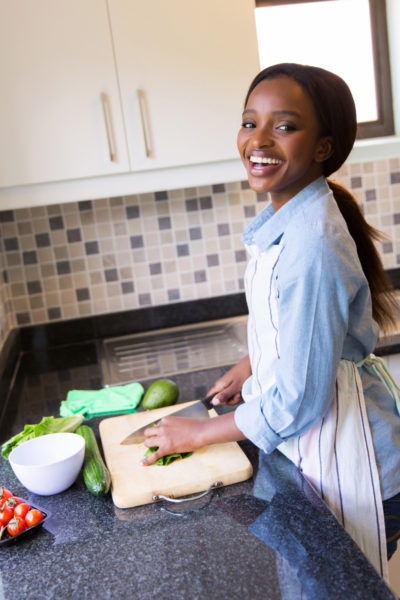 I do not like stress or 'long thing', as we say in our colloquial English. I like easy, simple, straightforward things and it reflects in my cooking. I love Nigerian food but I have noticed that there is a lot of stress in our cooking e.g. pounding yam, turning hot amala, extracting banga from palm nuts. We spend hours and hours to produce one meal. Why?
I know our mothers were Superwomen – I don't know how they did it. To produce fresh meals cooked from scratch every day for a household to me is a mighty thing to do. And when I find young women trying to do the same thing today with everything else they have to juggle, my mind is blown.
A true Chef will tell you never to compromise in cooking. They have a puristic attitude towards cooking and that's fine. This is their life's work and we understand wanting excellence, but my grouse is with us everyday cooks. Why put ourselves under so much pressure when we don't have to?
An example is if I want to cook Jollof or Fried rice, of course I need meat stock. But do I have to boil meat just to get stock when I can buy store bought stock in cartons. They taste good so why not? Or if I want to make Banga soup, what's wrong with using the canned palm nut extract? It tastes fine. I know I see people rolling their eyes and saying it doesn't taste the same. Really, are we sure it doesn't taste the same or it's in our heads?
Pounded yam can be made with a food processor; it's less stress and quicker. Amala can be made with a food mixer, saving you the extra muscle strain. Use a pressure cooker for beans, use a blender to grind up okro, chop up vegetables with a food processor, use a blender to peel beans for moimoi and akara (a fantastic method I saw on someone's food blog), or don't peel the beans at all, another healthy easy option I saw on someone's else food blog and there are so many more out there.
I am always looking for shortcuts. I don't have to bake a cake from scratch, there are cake mixes where I can add three ingredients and voila, they are ready and they taste good too. In cake school, my lecturer was always attacking me for looking for easy cake recipes. I didn't see the point in trying to get the butter, scratch that margarine, hard Naija margarine and sugar fluffy for that long when there are cakes baked with vegetable oil and didn't need much mixing and tasted fantastic. The irony of this whole thing is once I showed her my chocolate cake recipe using vegetable oil, she started making it for her customers, and she never went back. (I would never advocate baking cakes for buying customers using cake mixes; this is seen as fraud in the culinary world)
Now I am not preaching compromise because you need to spend less time in the kitchen. Things like canned vegetables or already ground cheese are just yucky, fresh always always tastes better. In my opinion, the only vegetable that makes sense canned is sweet corn. There are some foods that do well with canning though: fruits, fishes, tomatoes (which is also a fruit) The taste is well developed and the preservation removes nothing from the taste. A good shortcut is to have canned goods in your pantry; you could make all sorts of sauces in a flash when the need arises.
I love ofe owerri or oha.  It follows the same methodology, just add different vegetables but it's not my go-to soup because it takes a long time. First you peel the cocoyam, then boil then mash and you have to boil the meat before all the other addendums. All in all this would take about two hours. Nah, I will pass. Or I will buy it outside or let someone else cook it for me. Thank you very much.
I love to make pasta; it's fast, delicious and you can make it as gourmet as you please and it has way less calories than its evil twin, Rice. The canned goods I said you should have on hand in your pantry can transform your pasta dishes.  For a romantic dinner, pair with crusty bread like a baguette and buy a leafy green salad from the supermarket with a good glass of red wine and you are good to go.
If I ever wanted to have a food blog, it will be filled with easy peasy recipes, I can't kill myself abeg. My sister was still teasing me recently on my loving shortcuts. I don't like to pick beans, and it was a chore I hated as a kid. Now I just pour water on the beans, allow the dirt to come up and rinse and rinse, so far not one stone or chaff in my beans.
We overlook the fantastic invention that is called an oven, every modern cook should know how to throw stuff in the oven. By throw, I really mean learn to throw stuff in there. It will shock you just how many people ignore their oven, always cooking food the traditional ways, some even go as far as using the oven as a storage space.  Amazing. The possibilities with what you can do with your oven are endless. It creates variety in your cooking and it's a great stress saving tool. I saw a method on a food blog of roasting onions, tomatoes and peppers in the oven before blending to make our Nigerian stew; that was just brilliant, I have not tried it yet but I am sure it will be great, it means no more splatters and washing up and straightforward cooking.
Also, I will urge everyone to learn the art of making casserole dishes, there are so many recipes to choose from, all you need is to just assemble the dish beforehand, put in your refrigerator to allow the ingredients come together properly and develop their flavour then put into your oven and voila! Magic happens. I make Lasagne this way and it's heavenly.
I also think if you can afford the gadgets, please stock your kitchen, this will help your life in the best way possible. If you can afford it, buy a food processor. This is a juicer, blender, mixer, chopper, grater, mincer, slicer etc in one. I don't have one yet but I have one accessible to me. It is a fantastic tool by the way.
Food is great, it makes life beautiful, I do not think it should be stressful or with plenty long thing. I know I am not the only one who feels this way so what are your shortcuts? Or your 'no long thing' methods in cooking?
Have a great weekend, Love and Chocolates!
Photo Credit: Dreamstime | Hongqi Zhang