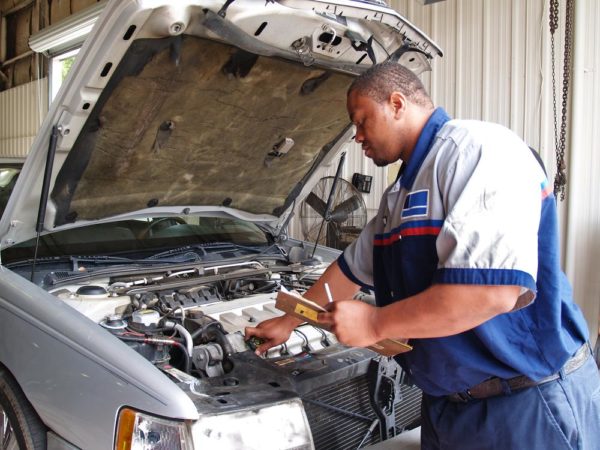 We just love to hate them. They are that group of people we wish we never relate with, but really cannot do without. They are mechanics, and the ones in Nigeria are a special breed; with most of them out to do you in, squeeze as much money as they possibly can from you through purchasing spare parts and having very little regard for your safety or indeed your life. Paying serious attention to mechanics in this part of the world and their antics is critical to your health, safety and overall survival as an automobile owner.
And it doesn't matter if they appear top notched, sophisticated, located in some highbrow area and rather expensive to patronize; or they are the run-of-the-mill, dirt and grim type located by the road side in some run -down shanty town. Most Nigerian mechanics are incredibly incompetent, and regardless of the state-of-the-art gadgets some of them parade in their shops, your car can still come off worse with an aggravated problem than what took it there in the first place; while leaving a hole in your pocket as well.
That they charge cut-throat prices for spare parts is not the problem. But why can't they just procure the genuine parts even after collecting so much money? And if the problem is with the importers of automobile parts, why can't the mechanic association petition the Standard Organization of Nigeria, to insist that such bad marketers be sanctioned?
Nigeria is one of the few countries in the world where you go to purchase something and the seller excessively declares it as 'original'. My usual reaction is 'please do you have the fake?' While they quickly decline that they do not sell fake products, they still go ahead to bring other variations of that item with equally varying prices, leaving you more confused than you were before the encounter. And the price margin between the 'original' and not so original is no joke! On the issue of brake pads, their various costs and the number of times you may need to replace them before you get the right ones; we shall discuss that another time.
Mechanics often collude with spare parts sellers to inflate the prices of auto parts. As it is, they determine what the problem is with your vehicle, proffer the solution, tell you what needs to be bought, suggest who to buy it from and generally tell you how much it cost. It sure feels like mechanics have the yam, the knife and even the firewood; leaving the hapless car owner no choice but to cooperate. Even if you change your mechanic, the drama just continues at a different location. Occasionally when you go to the market with them to get the spare parts, the advent of mobile phones in Nigeria has made it easy for them to call ahead and fix the price with the seller whom they will eventually lead you to. When you think of it, it appears mechanics around here have personal vendetta against vehicle owners. It looks like the sleeker and pricier your car is, the greater the level of squeezing you get.
My brother in Abuja once asked his mechanic to get another engine for his former car several years ago. The cost of the engine as stated by the mechanic came to about 120,000 Naira. After it was purchased, complete with receipt as proof for amount paid, he (my brother) felt an urge to go to the auto parts market and verify the cost of that engine. Randomly walking into a shop, he bargained for that type of engine and the seller told him he would sell for 80,000 Naira – and write whatever sum my brother wants on the receipt! (just in case he wanted to make some quick cash) As proof of that kind of arrangement, the seller brought out his receipt book and showed him a similar transaction carried out a few days before. To his shock, he was looking at his name, vehicle and chassis number on the book. Apparently, his mechanic had bought the engine for 80,000 Naira and not 120,000 Naira as stated on the receipt he presented, a truth which was only revealed by sheer providence.
What is perhaps worse than the deviousness and greed of mechanics is their carelessness that could be fatal. Sometimes, they fail to re-attach parts properly, fail to reconnect wires they loosened, advice you to remove the thermostat of your car (as if the manufacture was wrong to have put it there in the first place), they can work with your vehicle tools like wheel jack and spanner and fail to put them back in the car or replace them with someone else's. And most annoying is the grease they smear all over your car just because they worked on it.
Not too long ago, my perfectly functioning car which self-indicates when the oil should be changed was worked upon by my mechanic. Since it was a working day, I arranged with him to take the car from me while I was at work, so he could do the oil change routine and return the car before the close of business. Sounds like a good plan right? When I got home, I decided to check that he returned my tools in the car as well as clean up the trademark 'mechanic grease' from within and without the car. When I was done, it was dark, and rather than be satisfied that the car was now clean and my tools were intact, I became restless. Something didn't feel right. I opened the hood of the car, everything looked good there. I checked all the lights they were working. I decided to take a flashlight and check the tires, it was then I saw it. The front tire, passenger side was missing two bolts! Two other bolts were loosened and fell off as I touched them, and the last bolt was the only thing holding the tire because all the tires are fitted with one locking wheel nut each that requires a key to open them. That discovery made me taste bile in my mouth.
If God is not with me, and I wasn't naturally vigilant, it is that kind of negligence from my mechanic that causes tires to fly off fast moving vehicles, causing avoidable accidents. Who knows how many other unsuspecting vehicle owners have been maimed or killed by acts or omissions from their mechanics? When I confronted him later on, my mechanic blamed my loosened tire on his apprentice who failed to screw it back on and expressed his deepest apologies.
Now we know Nigerian mechanics can cause tragedy to us, we must be on guard and take responsibility for our safety. We must now study our vehicle manuals like our lives depend on them and get very familiar with our vehicles, ensuring things are in order. Especially when they just return from the mechanic's; considering there are no 'fake or original' spare human body parts or lives available anywhere to replace the one we have. It would be monumental tragedy if anyone gets maimed or killed due to the greed, incompetence or negligence of some mechanic chap.
Photo Credit: Dreamstime | Linda Johnsonbaugh