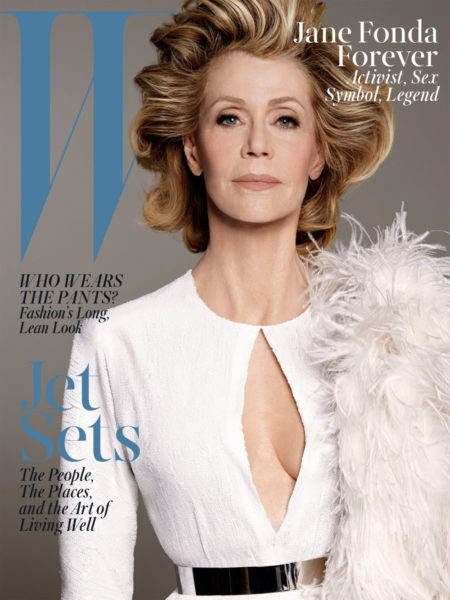 Jane Fonda is 77 and still slaying.
It doesn't come as a surprise though seeing as she is a fitness enthusiast and has been for the past few decades.
The gorgeous actress is the cover star for the June/July 2015 issue of W Mag and for the shoot she is photographed by Steven Meisel and styled by Edward Enninful.
For the cover shot she is gorgeous in a Giambattista Valli Haute Couture gown and cape with her waist emphasized with the help of an Oscar de la Renta belt.
Read excerpts from her interview below.
On being a fashion icon: I think it's a hoot that, at my age, people are calling me a fashion icon. Truthfully, my relationship to fashion has always been strained. When I was starting out as an actress in New York, I worked as a model because I needed to pay for acting classes. But I didn't have what it took to be a model. I hated all the emphasis on how I looked, and I never paid much attention to clothes.
On her outfit to the 2015 Grammys: I suppose I've always known what I like on my body. I took one look at that Balmain jumpsuit, and I said, 'That's it!' I'm best when I'm wearing something structured, with no frills or bows. Something that will show my waist and bum, because I've always had a good bum.
On being self-conscious about her body: Now these [her upper arms] only come out during candlelight on a very dark evening. I'm older now, and I have to be more self-conscious. When you're young, you can get away with more. I always thought that being self-conscious was a negative. But now I feel differently.
You can read up the full feature, including details about her 3 ex-husbands, here.
Photo Credit: W Mag