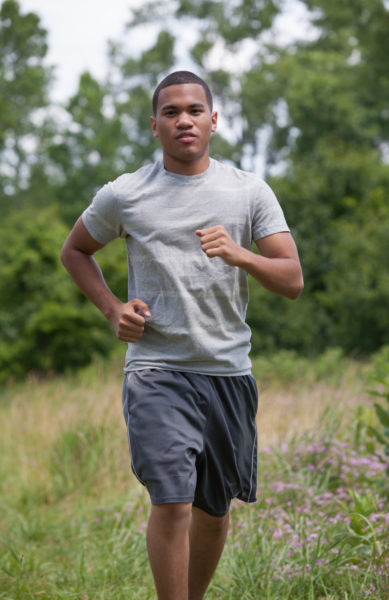 If you thought the trekking trend would end soon, you thought wrong! We have yet another trekker in the house.
News Agency of Nigeria (NAN) reports that Joseph Iyoke, a 200-level student of the Open University of Nigeria, trekked from Aba to Nsukka to honour the Enugu State Governor-elect, Ifeanyi Ugwuanyi.
Iyoke, who hails from Ukehie in Igboetiti Local Government Area of the state, told newsmen on Saturday in Nsukka, that he took off for the journey from CMS road in Aba on May 4, at about 4: 30 a.m.
NAN reports that the trekker arrived Nsukka town at about 1:02 p.m. on Saturday.
Speaking on why he decided to trek for Ugwuanyi, Iyoke said:
"I did it to honour the governor elect of Enugu State; we have been waiting who will become governor of Enugu State from Nsukka for long time. I started on Monday at 4:30 a.m.; it is joyful journey I took, it is full of joy. I was not told by nobody to embark on this journey. If I have been told by anybody, I could have withdrawn because it is full of stress. I did it to know the governor-elect.
Iyoke, who was dressed in a polo T-shirt, shorts and white sneakers, said Nsukka people had suffered marginalisation for a long time, adding that "it's somebody from Nsukka that knows the needs of Nsukka people."
"There is no good roads and electricity in Nsukka; only the people from Nsukka know the needs of Nsukka people. Nsukka people have been marginalised for a very long; I am happy that Nsukka man has been elected governor of Enugu State. This small signpost on my hand were many when I started this long trekking, I dropped many of them along the roads I passed. At night, I look for where to sleep in order to continue the journey by 4:30 a.m. the next day."
Receiving the trekker on arrival in Nsukka, Paschal Ugwu, Director-General, Youth to Youth Campaign for the governor-elect, said that what Iyoke did was a landmark achievement as well as and his own best way to celebrate the governor-elect.
"It is not an easy task; it shows the governor-elect as man of the people. At the appropriate time, he will be taken to the governor-elect for special hand shake, as Ugwuanyi has been informed of what Iyoke did to honour him."
NAN reports that Iyoke's arrival in Nsukka was greeted with jubilation by his friends, family members, and well-wishers.
Photo Credit: Flashon Studio/Dreamstime.com (*Photo is for ILLUSTRATIVE PURPOSES only*)