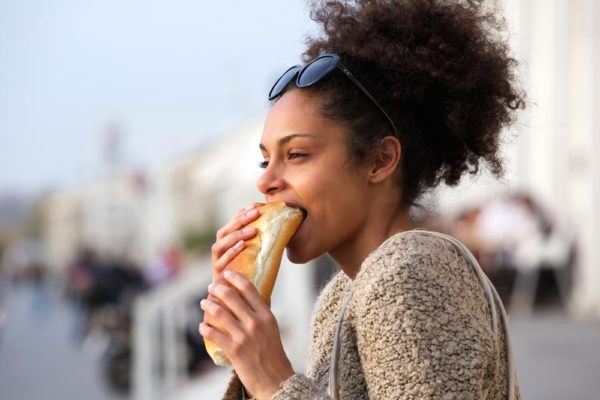 I have always wondered why certain tribes and races are thinner than some. Why are some people from certain nationalities predisposed to obesity or general unfitness? Is it laziness? Is it the type food being eaten? Or is it the attitude or food culture? This food culture or attitude is what I'd like to explore.
It seems to be a recurring trend amongst thinner nationalities that they have a leisurely attitude towards food – as in they take their time and enjoy their food as opposed to the ones who tend to be overweight.
The French, Japanese, Chinese, Italians are mostly thin or to be politically correct, 'are of ideal weight'. And these people consume carbs like no man's business, even more than us. The Japanese diet comprises 70 percent carbohydrates and they have a two percent obesity rate.
The French are famous for two hour lunches and brunches. They are also an authority when it comes to sugar filled pastries. They do it right…and they are not fat. Have you ever seen a fat French woman? No, I don't think so.
One common thread amongst these people is that they enjoy their food. Can we love food like the Italians? And the foods are fatty – pasta, breads, cheeses, meats and sausages etc.
One of my all-time favourite TV series ever is The Sopranos. I realised from this that Italians can EAT. The spread on the table was always humongous and food for them was for every occasion even when they were plotting murder and crimes. People who have travelled to Italy tell me the men tend to be more overweight than the women. I love Italian food; it's a close second to Nigerian food for me. I can't wait to go to Italy and experience the food first-hand by myself.
I have also seen close-up how Chinese people eat food. They eat a lot of food. My God, it's something to see; forget that they are eating it daintily with chopsticks, they can put away food.
I once was in a restaurant and I was observing a very 'tiny' woman eating, she was with three other guys and they ate for like an hour or so. The amount of rice this woman put away was substantial and I kept wondering how she stays so skinny! I know some people would say it's the many teas they have with their meals. But I drink tea too, lots of it, and I battle with my weight.
Enjoying our food. What a concept? But do you know we don't, we are always in a hurry to finish eating. It's a norm to ask someone eating twenty minutes after they start eating 'Are you still eating?' and we ask this question like the person is doing something very wrong and should be scolded. I think the only times people enjoy their meals are at Owambe/Parties. It is a festive occasion so people tend to lean back and take their time with eating. They are amongst friends and the atmosphere is relaxed and boisterous which helps food enjoyment. Remember the fact that tension doesn't help enjoyment of food.
Science has shown that slower eating curbs you from overeating. When you eat slowly,  It sends a signal to our brain to communicate to your stomach that you have had enough; they say this process takes about fifteen to twenty minutes.  So if you eat too fast, you will overeat because you don't feel full.
Go to any eatery and watch how long people eat their meals for? Seven to ten minutes max! What's the rush? Where are we running to? Lunch should be an hour – so what's the problem?
Some tribes in Nigeria also tend to be slimmer than some – Northerners for example. I notice that they also take their time when eating, and they have a sweet tooth like something else. When I was in the north, I saw it first-hand how much sugar they poured into their cereals like Fura de Nunu, a dish of millet and fresh cow's milk. But they were leisurely about their meals. The men will gather around the suya vendors and take their sweet time with the food. In the western part of Nigeria, we tend to view it as time wasting; but what I saw was many ideal weight people.
Is there something to my observation or reasoning? Is your attitude towards eating directly related with weight gain or loss?
Truth is I am not entirely sure this is the major basis for weight gain. You do need to be careful with what you eat; but I have tested this theory personally and I am the better for it. I enjoy my meals more, I think this is really important, why eat when you can't pause to savour the meal? Plus it helps with the weight battle. I propose the following methods if you want to start enjoying your food:
Eat At a Table
And by this I mean, sit down and eat at a table. Most of us eat while seating on a chair and holding the plate or standing or seating in a car. All of these automatically puts pressure on you to shovel down the food and be done with it.
Eat With People
When you eat with people, especially loved ones, you tend to take your time and enjoy the meal. Conversation and a relaxed atmosphere make the meal more of an event. It's sad that because of our busy schedules, most families don't have at least one meal where they are all seated together. It's a habit we should bring back.
Dine Out
This works but I know it might not make too much financial sense so I will preach prudence and a balancing act in trying to eat out.  No matter how fantastic our home cooked meals are, it can get monotonous and boring. Taking a break now and then is very very important.
Eat with Chopsticks
This is a silly one of mine. I always try fooling around with chopsticks when I am at an Asian restaurant. But I must say, if you put your mind to it, you eat slower because you can eat small bites at once.
So that's it people. Do you agree we need to enjoy our food more? Do you know of better ways of doing this? Love and Chocolates.
Photo Credit: Dreamstime | Mimagephotography