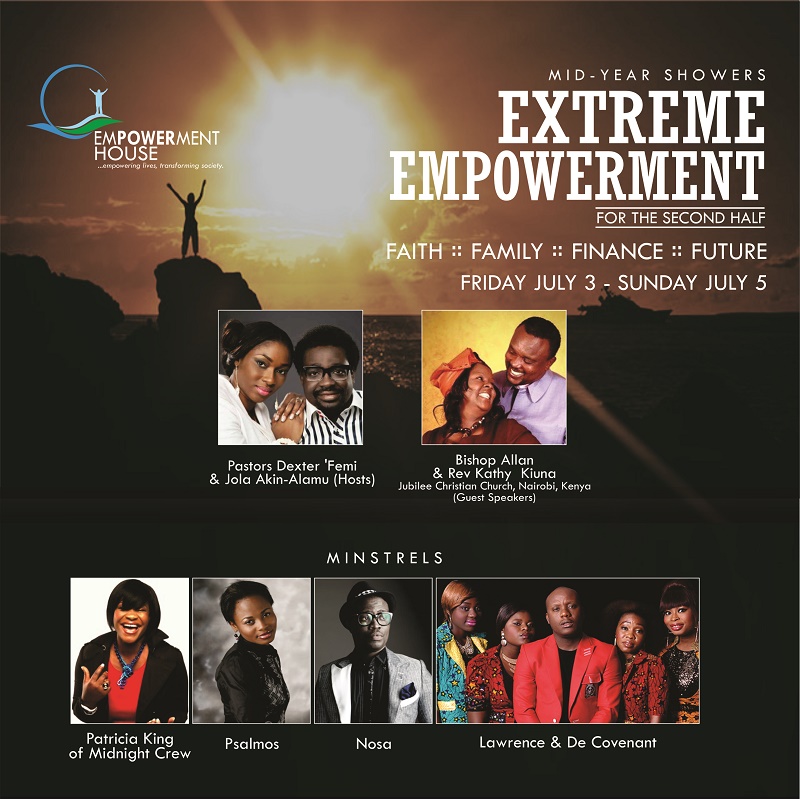 This is your personal invitation to be empowered for the second half of 2015. The rest of your year is the best of your year, be empowered for it at Mid year Showers – Extreme Empowerment for the 2nd Half, in your Faith, Family, Finance & your Future from Friday July 3 – Sunday July 5.
With Guest Speakers, Bishop Alan & Kathy Kiuna of Jubilee Christian church, Nairobi and hosts Pastors Dexter Femi & Jola Akin-Alamu together with annoited psalmists Nosa, Patricia King of Midnight Crew, Lawrence and De covenant and Psalmos.
Receive Faith Empowerment For Success & Breakthrough in the 2nd half at SET – Spiritual Empowerment Training:
Date: Friday, July 3rd
Time: 6 PM
Be Empowered for Financial, Business & Career Success in the 2nd half at BEST – Business Economic & Success Training:
Date: Saturday, July 4th
Time: 11 AM
Family Empowerment For a Marriage you will ENJOY & not ENDURE whether you are Single or Married at REST – Relationship Empowerment & Success Training:
Date: Saturday, July 5th
Time: 5 PM
Be Empowered for your future at the Special Phrophetic impartation service, The REST of your year is the BEST of your year:
Date: Sunday, July 6th
Time: 8 AM (1st Service) & 10 AM (2nd Service)
Venue: The Empowerment Centre, 122 Aina Street, off Isheri road, Adjacent Ojodu Grammar School, Ojodu, Ikeja, Lagos (Grammar School bus-stop)
Admission is FREE for all sessions but Registration is required, you can register at the door but if you pre-register before the date you will receive a FREE copy of Pastor Dexter's empowering 2 pack Teaching CD on Financial success "Money thou art loosed" at the door.
For Pre-Registrations visit www.empowermenthouse.com or send text message starting with Name, Email Address & Phone Number to 08051552000
________________________________________________________________________________________________
Sponsored Content