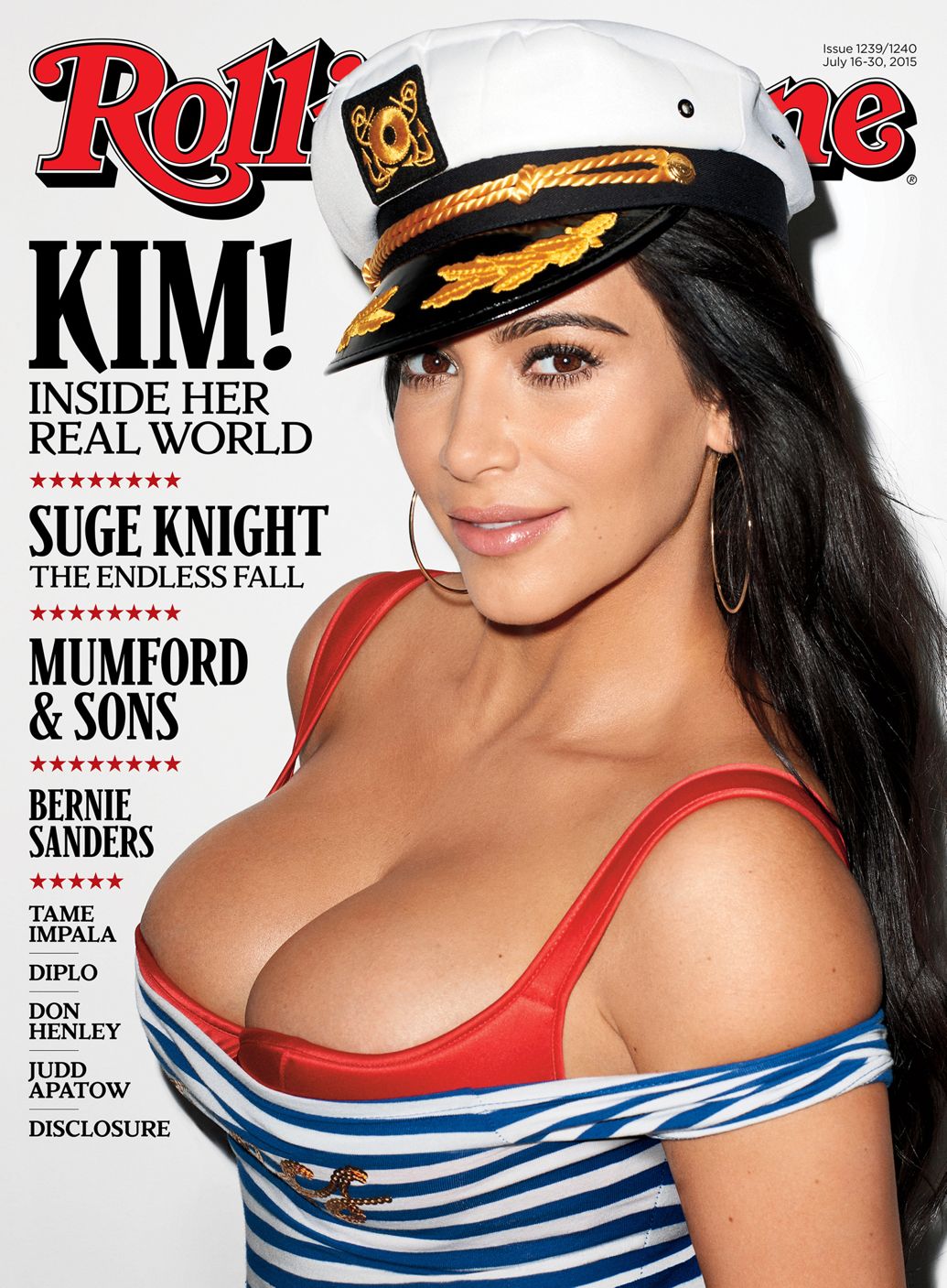 Here's the latest on your daily dose of Kim Kardashian West!
On the cover of Rolling Stone magazine in a revealing sailors outfit, Kim strikes a rare smile as she reveals even more about her life. In the interview, the KUWTK reality TV star who believes you can have it all and thinks she is much smarter than people give her credit for, goes deep talking about her AWOL brother Rob Kardashian, meeting Caitlyn Jenner 12 years ago, living with O.J Simpson and more. Some juicy stuff.
Read excerpts from her interview with Rolling Stone Contributing Editor, Vanessa Grigoriadis;
On walking in on Bruce Jenner dressing as a woman at the age of 22
"I was shaking. I didn't know if I'd just found out his deepest, darkest secret, and he was going to come after me." Jenner called her on the phone a half hour later, and said, "One day, I'll talk to you about this. Until then, don't tell a soul." Eight years later, he said, "Let's have that talk."
Before Kim's wedding to West, Kardashian talked to Kanye about it. "I wasn't sure if Bruce was going to be comfortable walking me down the aisle," she says. "He had just had his trachea shaved, so I knew something was going on." She was afraid of what West might think, but West calmed her concerns. "[Kanye] obviously moves to his own drum," she says. "He lives his life the way he wants, a really authentic life, and he was like, 'If you can't be authentic and you can't live your life, what do you have?' "
On O.J Simpson living in Khloé's room for a while during his trial
"It was surreal, with Johnnie Cochran and Robert Shapiro and all these guys having meetings at my dad's house," Kim says. Kris was close with Nicole Brown Simpson and believed that O.J. was guilty, creating a massive amount of tension in the family. "I definitely took my dad's side," Kim says. "We just always thought my dad was the smartest person in the world, and he really believed in his friend." As far as what she believes now, she says, "It's weird. I just try not to think about it."
Kim eventually found out who leaked her sex tape. She said…
"We're in major confidentiality, so I can't talk about it," Kardashian says of the culprit. Does she still think about the fact that a great deal of humanity has seen her in flagrante? "I don't really think about it," she says quietly. "I thought about it for a long time. But when I get over something, I get over it."
On why Rob Kardashian left the spotlight
"It's not that mysterious, what's happening with Rob," Kardashian says. "He has gained weight. He feels uncomfortable being on the show, and that's OK. Do I think he smokes weed, drinks beer, hangs out and plays video games with his friends all day long? Yes."
Her interview goes into more detail. Read the rest on Rolling Stone Magazine.
Photo Credit: RollingStone.com